Crossing of the Alt Pireneu mountains while running away from a snow storm !
Because of all the troubles I had to deal with yesterday, I decided to start over my journey. Only now, I am faced with a new and unexpected issue… The weather ! Doing this trip during the fall, I knew the shorter days wouldn't leave me much time before the sun went down. However, what I wasn't prepared for in late October, was a snow storm coming my way ! Climate change anyone ?
Originally, I had planned to cross the high mountains of the Alt Pireneu in three days, all of which, supposedly, under a bright sunshine. That way, I could at least get out of the car, and explore some more on foot. The Vall d'Aran, the Vall Dell Varrados, the Marimanha Protected Natural Reserve, the Alt Pireneu Natural Park, and finally the Aiguestortes National Park… So much to see in so little time !!
Doing it in only two days instead of three was already a stretch, but with a sudden snow warning, calling for a storm to hit my location by 8pm on that same day, I was left with just one, and no other option than just drive, drive, drive, and hope for the best.
I saw nothing of the Vall d'Aran but a thick fog hovering over the Garona river, and it's only after getting out of the forest covering the lower parts of the Vall dell Varrados, that I began to notice some sky. What was blooming in sunlight yesterday afternoon, was all moody and mysterious in this early morning hour. Thankfully, I had taken a few pictures the day before during sunset to record the stunning beauty of the place. In the distance, I could ear the Saut Deth Pish water cascade, breaking the overall silence of dawn, as its pure waters were taking the 35 meters dive, impatient to join the Varrados below. Two charming mountain streams soon getting lost in the Garona, on their way to the Atlantic ocean.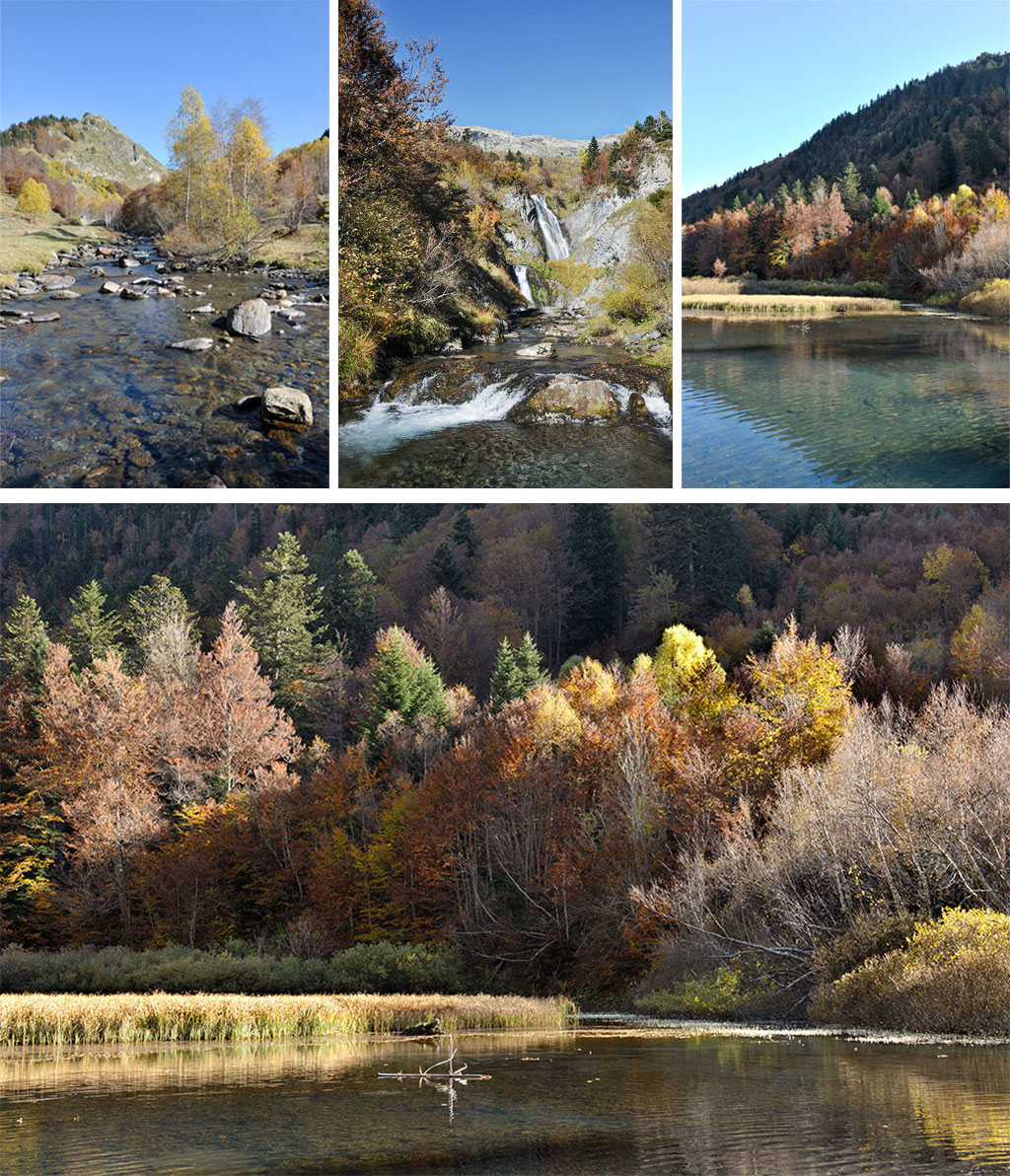 The old road filled with holes is now a "pista". A rocky mountain track climbing up towards the grassy pasturages of the Varrados pass. I think it's called the Varrados pass, because there is no sign, and if there was, it would probably be in Arese, the local dialect, which I wouldn't understand anyway. The way it goes around here is Arese first, Catalan second, and maybe Spanish if they have room or feel like it. Just don't expect English anywhere to inform the poor tourists that we are on anything!
I stand alone, enjoying a view stunning no matter what direction you choose. Behind me the Pales Varrados, in front, resting far below, the Arriu Unhola valley… If only the sun was to show up !
It is just the beginning of a never ending roller-coaster, climbing up before rolling down, concentrated on where you put your wheels, while at the same time trying to safely enjoy your surroundings.
The next climb takes me to the origins of the Garona, or as it will soon be called, once it crosses the border with France; La Garonne – one of its largest and longest rivers. If you don't know it's there or pay close attention, you will for sure miss it, as it is hard to imagine that such a tiny, minuscule, stream has such a long voyage ahead of it ! Just a few meters away, but going the opposite direction, is the source of Arriù Noguéra Palharesà, on its way towards the Mediterranean. It is my new lead, as I head down again.
The sun is finally up, but for what will be a very short presence, as new clouds begin to appear. On my left, the Montgarri monastery, where a few photography students came on assignment, hoping to get the best of the site magnified by the fall colors.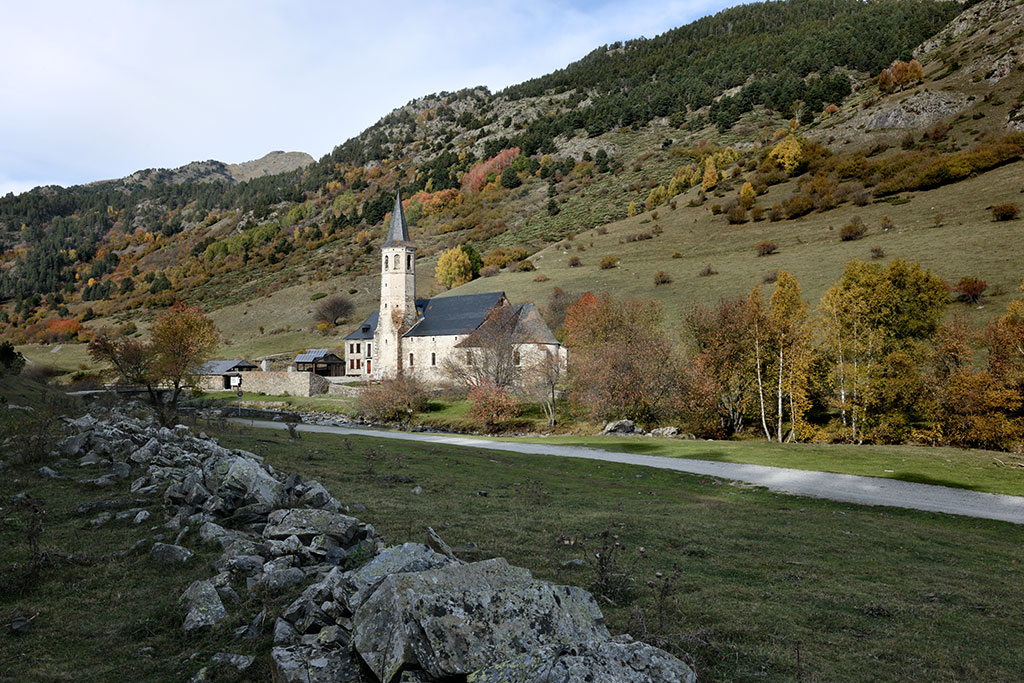 It stands on the edge of the Alt Pireneu Natural park, and many hiking trails are marked around for people to enjoy. A small group, all in colorful high tech outdoor gears, packed-up as if leaving for a 3 months trek in the Himalayas, is getting ready for their walk. In the past, during the WWII, those trails have been used by jews escaping the Nazis, hoping to find refuge in free Catalunya, and many signs are found to commemorate their ordeal.
It reminds me of today's refugees, crossing the mountains of Europe under similar conditions, hoping for a better life away from their war ravaged countries. Those signs tend to show that people here back then were more welcoming that we seem to be as a all today !
Another set of signs I see, is related to the reintroduction of the brown bear in the area. Needless to say that it is a dividing issue ! Being a nature and animal lover, not particularly educated on the subject, I'm all for it. That sentiment doesn't seem to be shared by many of the locals. They have come up with their own sign to express their discontent. A bear inside a red circle, with a red diagonal running across. It can be seen everywhere. Large on the side of trucks, cars, houses, on flags, even on the t-shirts and sweatshirts the shepherds were, expressing their rebellion against the authorities responsible for the animal's presence. I would have loved to see one myself, but all I saw so far are cows and protesters!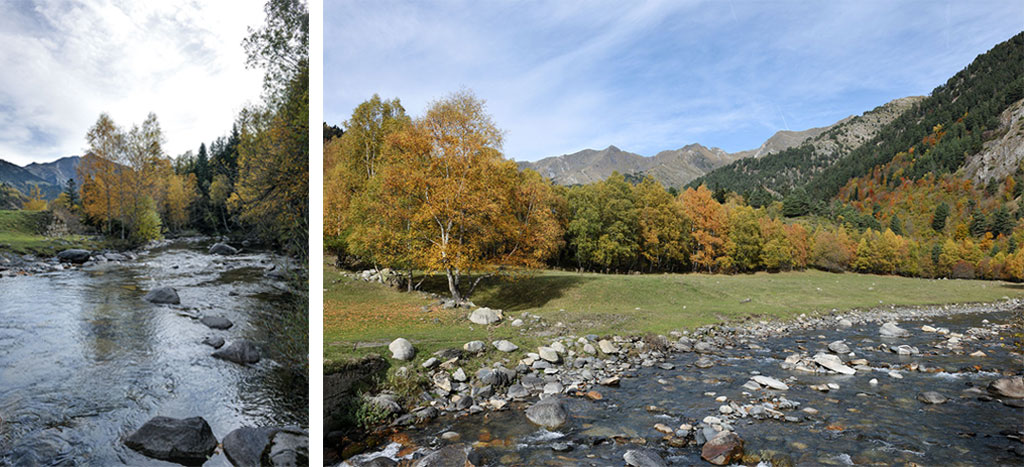 It's now 2pm. I have roughly 4 hours of light left, and I don't know if that will be enough to go from Escart to Espui. A long climb up the Escart valley, before plunging back the Vall Fosca on the other side of the Pic de la Mainera. It's too early to call it a day and miss out on the Aiguestortes National Park, but if I get caught up by the night before reaching Espui, I will have to drive through potentially treacherous tracks with no visibility, and maybe through foul weather, if not a snow storm, as camping high up is not an option tonight !
Thinking about it is wasting precious time. I won't know what I'm faced with until I get a better view of the challenge. And a challenge it is. Those climbs since the start of the day are always on rocky tracks where it's hard to get any speed without taking a chance on the car. Breaking down on the first (real) day would be embarrassing ! As they say; as slow as possible, as fast as necessary !
The ascent is stressful. It feels like a never ending technical climb through a dense pine forest. At that rate I will never make it on time. Only after an hour do I escape the confinement of the trees, and reach a grazing area where sit a small dry-stone house, and roam a few horses… On its porch sits a young woman with two small children. Here, high on the slope of this tall mountain, far, far, from the village below, removed from it all, lives a young family with a dog and horses. Heidi…Captain fantastic… sweet dreams of mine… This seems so idilic, so pure, especially as the sun still shines on, I can't believe my eyes… I wave, they all wave back… I would like to stop and join them for the rest of my days… But the clock is ticking, and the pressure still on…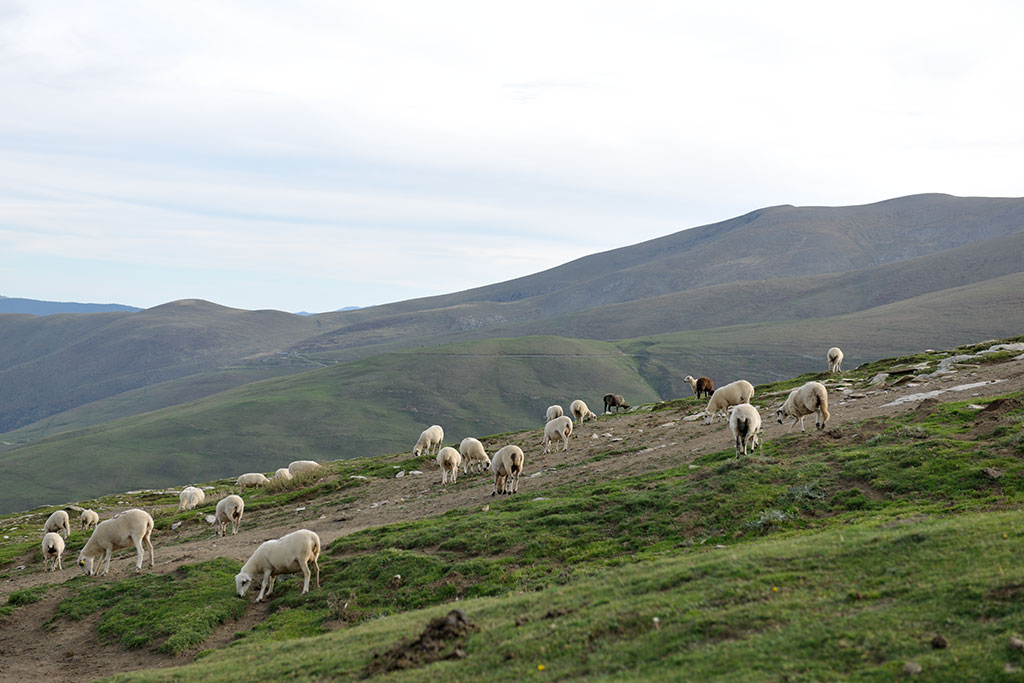 When I finally reach the higher grounds, the sun is gone, and the clouds now dark. I have thirty kms to go. At 10 km/h, which is my average speed so far, I'll barely make it. But luckily, the track is now much better, allowing me to pass on a few more gears and catch up with time. All around, sheep, cows, horses, graze peacefully. Streams, running down from lakes hiding higher up, come crossing my way. It looks beautiful, it feels serene.
But everything can change so fast in the mountains. As I finally make it back down to Espui, rain starts to fall on my windshield. Tonight, as we were warned by the weatherman, snow will fall heavily on the summits and cover them all with a white blanket. I feel for those animals up there, for whom the night must have been very cold. Harsh reality in those harsh, but beautiful, surroundings !
Make sure to check our dedicated guide for the Spanish Trail where you'll find all the informations you'll need to complete it on your own.