Looking to get away from the malls and resort brunches Dubai is famous for ? Follow us as we test the best adventures the region has to offer…
---
Table of contents
---
With its ever expanding skyline bursting out of the sand, its luxurious hotels, its over-sized malls, its vibrant nightlife and its lavish lifestyle, Dubai showcases itself as a gateway for well to do urban travelers. Fortunately, for those of us looking beyond the glitz and the glam, the region is also a little known paradise for the adventure minded visitor. Regardless of your budget, as long as you avoid summer, the city, its stunning surrounding deserts, the geological marvels of the Al Hajar mountains, and the preserved mangroves of the coast, all offer many outdoor opportunities. Here is a mix of activities we have selected for you, ranging from peaceful natural explorations, to adrenaline rush fest, making sure you'll avoid the usual tourist traps and enjoy your time in Dubai.
---
Explore the desert.

The most popular, yet least attractive way, to discover the Arabian desert is to pile-up in a 4×4 with fellow tourists, and be driven around a couple of dunes by a tour operator. It may look like fun on brochures, but we can assure you there are much better ways to get the most out of the desert experience.
Dune bashing the right way.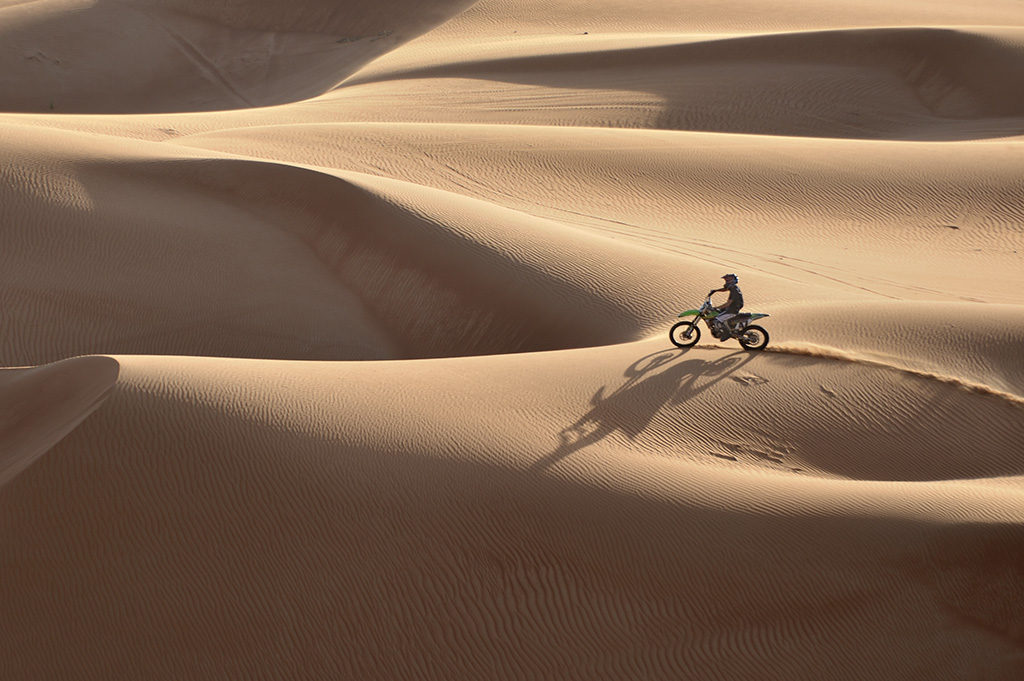 Forget the 4×4 and the hired driver, if you're an adrenaline junkie we advise you to rent a KTM bike from MX Dubai instead, and roam the desert freely. Nothing beats the sensations of riding in the dunes. Offering well maintained and easy to handle dirt bikes, as well as all the gears required for your safety, their dedicated team of specialists will help you get the best out of your ride. You'll also get special advices from coaches on how to read the sand and recognize the ultimate lines, improve your riding position and balance, or learn how to properly break and shift in the sand.
Now if you don't have the skill set, or don't feel comfortable out on your own, no problems. You can choose the buggy option, rent a quad or simply take the beginners tour with an instructor. No matter your choice of vehicle or your experience level, you are guaranteed an amazing experience.
For all the details on prices, how to book and location check out the MX Dubai website.
MX DUBAI
Falcon Oasis Desert Camp
Al Awir- Dubai – UAE
www.mxdubai.com
info@mxdubai.com
+971 55 262 2707
Camel ride.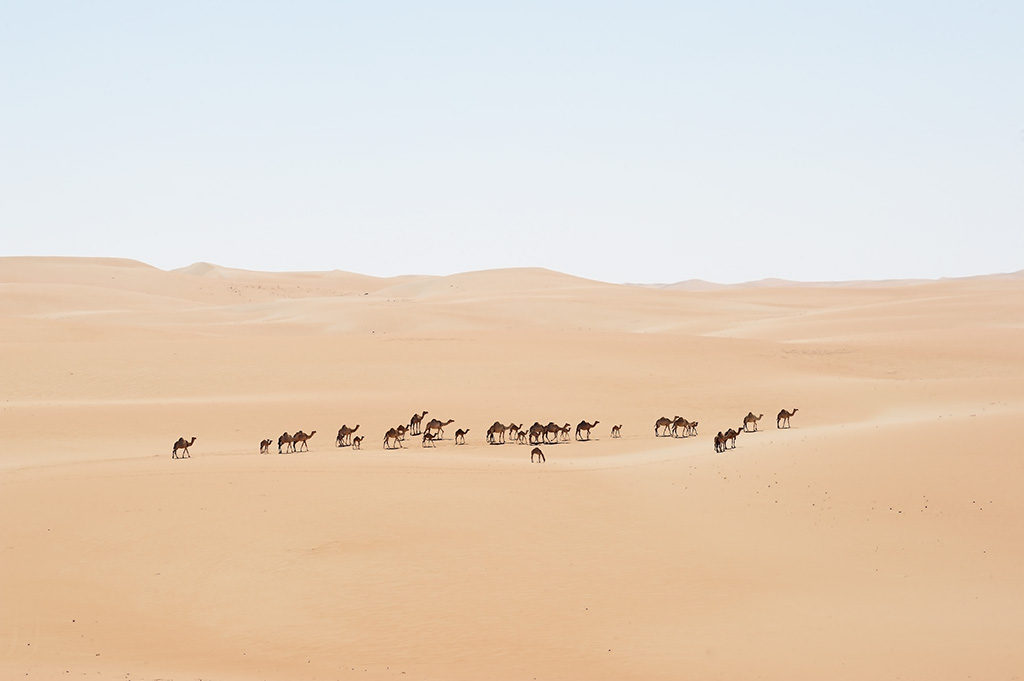 Looking for a more peaceful way to explore the sand ? Leave the noise behind and go back in time, when camels where the kings of the land. Head towards some of the most beautiful dunes of the Emirates in the Liwa crescent of Abu Dhabi, and spend the night at the Qasr al Sarab Resort, one of the best hotels of the region. Besides outstanding accommodations, it also offers a wide range of activities for its guests. We recommend the Sunset Camel Trek, a one hour and forty five minutes camel ride through astonishing landscapes. Everything here has been thought of with luxury and authenticity in mind, making the excursion memorable.
For all the details on prices, how to book and location check out the Hotel's website.
Qasr Al Sarab Resort
Abu Dhabi
United Arab Emirates
+971 2 886 2088
infoqas@anantara.com
For reservations
Tel: +971 2 895 8700
crome@anantara.com
Hot air Balloon.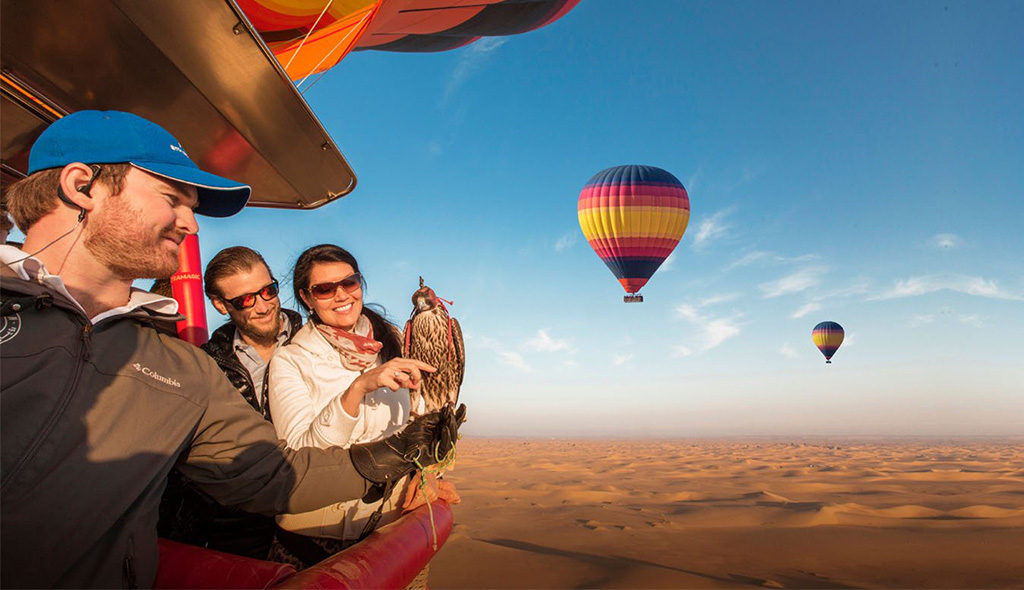 Now, for the best perspective and view on the desert why don't you take it to the sky? Enjoy the sunrise above the sand dunes in a hot air balloon, in company of peregrine falcons. Flying at 4.000 feet above the sand will allow you to take some of the best pictures of your trip. As if this wasn't enough, after the flight, you'll be driven around the desert in vintage Land Rover Series to a camp in the middle of the dunes for a delicious breakfast.
For all the details on prices, how to book and location check out Balloon Adventures' website.
BALLOON ADVENTURES EMIRATES LLC,
1303 Control Tower
Motor City – Dubai
United Arab Emirates.
+971 4 440 9827
info@ballooning.ae
---
Explore the mountains.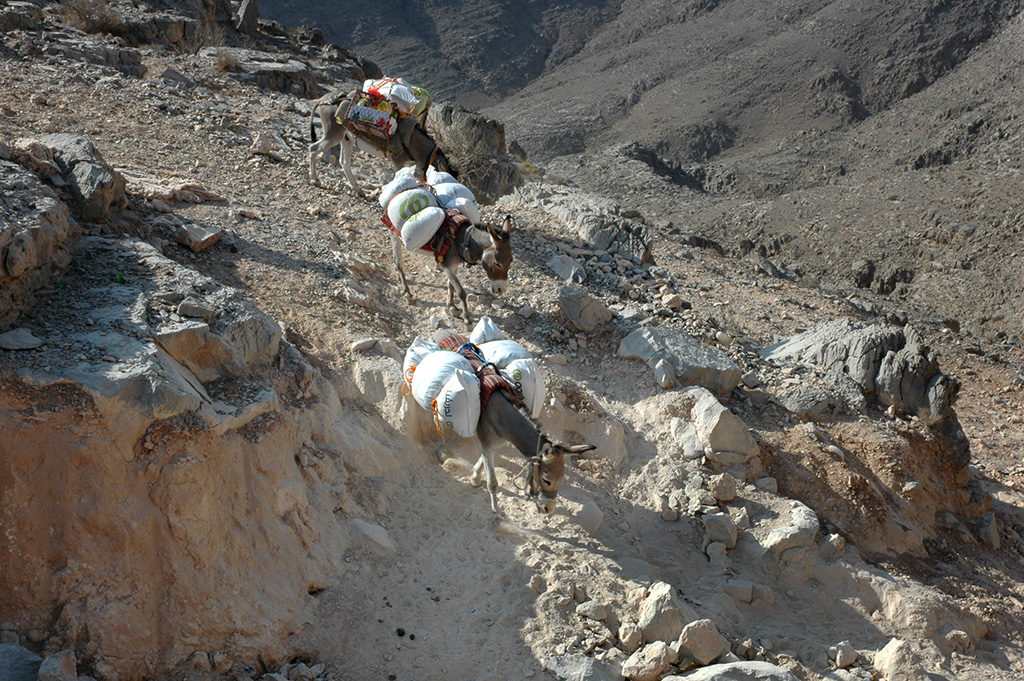 Beyond the sand stands the stunning beauty of the Al Hajar mountains. The highest peak in the Emirates, Jabal Jais and its 1934 m, stands in Ras al Khaimah. It offers multiple hiking routes for all levels, from family fun to dare devil.
If you want to explore safely, you should go for the Via Ferrata and the zip lines set up by Toro Verde. Between three different level climbs supervised by professional instructors, leading to record breaking zip lines traveling above stunning sceneries, you'll find all you need for a day of fun.
If you are an experienced climber, have the right gears and are looking for a real challenge, the "Stairways to Heaven" is your best option. An old shepherd's trail on the sharp edges of wadi Ghalilah, linking the coast to the camps on the high plateaus, this treacherous track is now the most notorious climb in the UAE.
It is called "Stairways" because it is man made. A lot of rocks piled up to make up bridges between cliffs along the way. And that is what makes it a bit dodgy, as those rocks are not always steady. The other exciting part is how narrow the ledges along the cliffs can be at times. If you fear heights you're in the wrong place. This is a real rock climbing sensation, not a peaceful walk along a trail.
Consider an entire day to climb. Bring camping gears so you can spend the night at the top overlooking the sea, before descending the next day.
No booking, no fees, no rules… At your own risks.
For all the details on prices, for the Via Ferrata, how to book and location check out Jebel Jais' website.
Toro Verde
+971 56 548 9738
varce@toroverdeuae.com
---
Explore the coast.

Kayak in Umm al Quwain.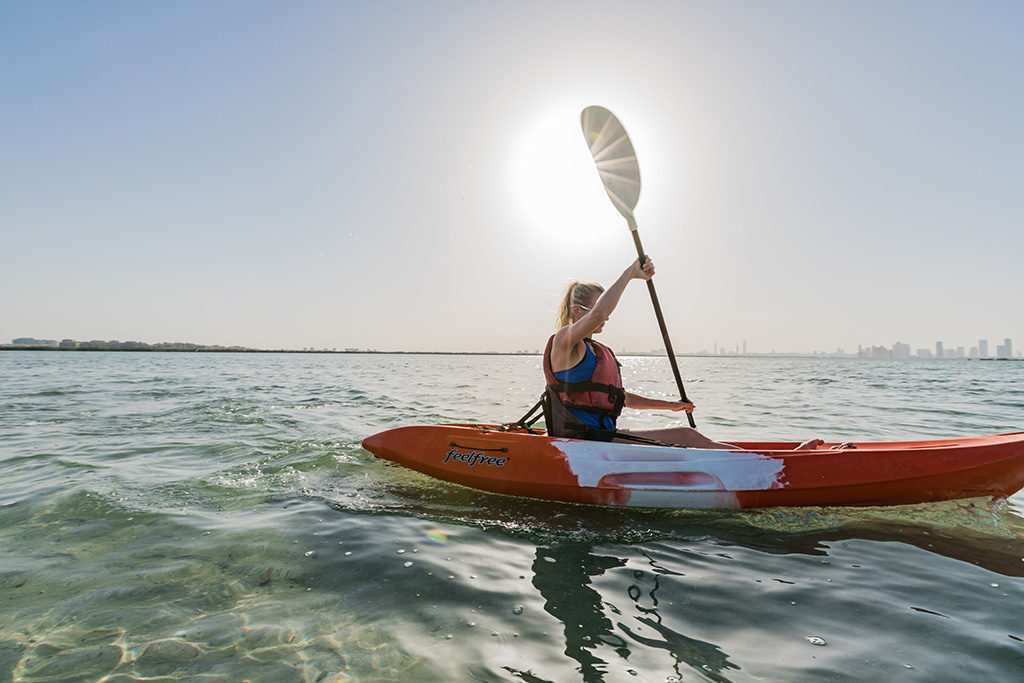 Beautiful lagoons, exotic mangroves, Umm al Quwain (the forgotten Emirate) remains today an oasis for marine wildlife. Flamingos, great cormorants, herons, turtles, rays, dugongs, crabs, and many others, find refuge in secluded creeks only accessible by kayaks and paddle boards.
Sitting East of the mainland peninsula, this natural eco-systems of sandy islands protected by mangrove forests is a delight for nature lovers and bird watchers. Al Sinniyah, the largest of the islands is a dedicated marine sanctuary where you can even find gazelles. Other islands like Jazirat Al Ghallah, Al Keabe or the smaller Al Sow, Al Qaram, Al Humaidi, Al Chewria and Al Marmala are a maze of beauty and tranquility. By the end of your journey, you will have lost count of all the incredible birds and marine animals you ave seen.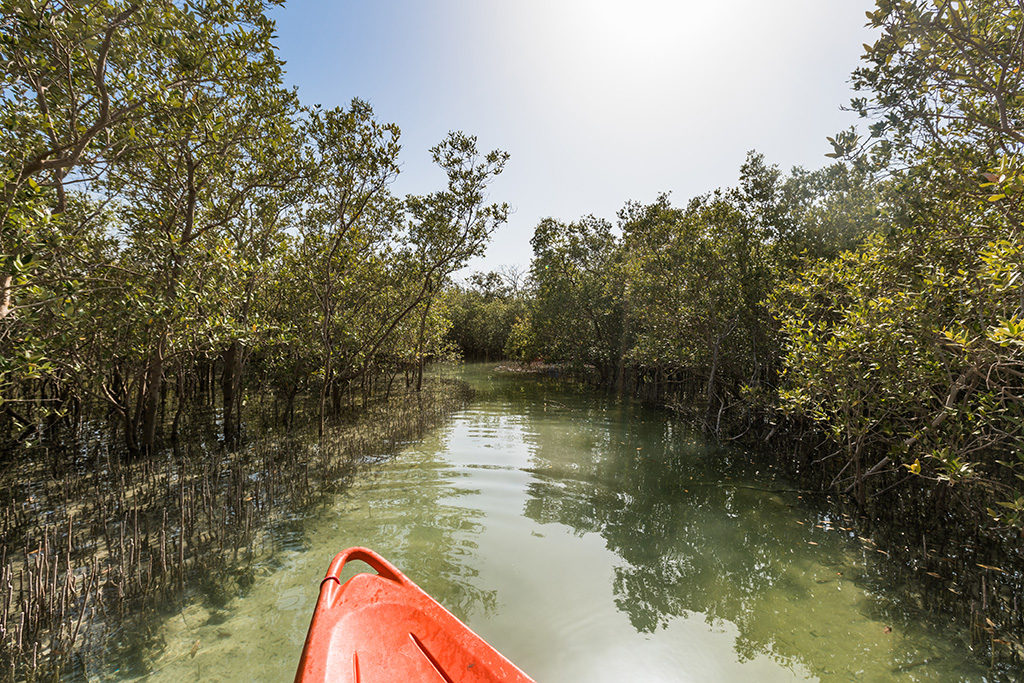 There are no tour operators here, you're on your own, free to explore as you wish. The best way to do it is to rent a sea kayak or a paddle board at Adventure HQ in Dubai for 24 hours, put it on the roof of your (rented) car (they provide the equipment to install it safely on your roof) and drive to Khor Al Beidah in Umm Al Quwain. Park on the beach and get in the water !
For renting informations, check out Adventure HQ's website.
Adventure HQ
Time Square Center.
Ground floor.
Sheikh Zayed Rd.
Dubai – UAE
+971 4 346 6824
Scuba diving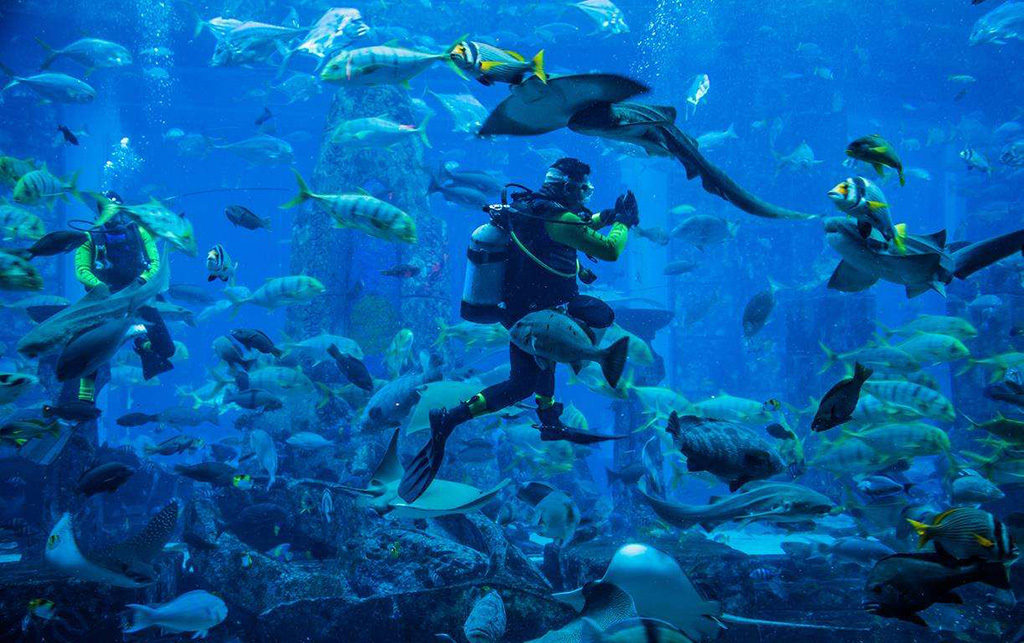 The East Coast of the Emirates, to which you should add the Musandam Peninsula of Oman, offer wonderful diving opportunities. As a matter of fact, Musandam is probably the best diving spot around, while the coast of Fujairah is more suited for beginner divers. Another fantastic option for beginners is the Dubai Mall aquarium, where you can dive with an instructor and safely see everything you could hope for in the wild, without having to search for it.
The best months for diving on the East coast are April, May, September and October when the water is clearest. Popular sites like the Martini Rock, the Pinnacles, Lima and Octopus Rocks, just to name a few, offer a mix of corals and marine life such as sea snakes, stingrays, barracuda tunas, murray eels, lion fishes, lobsters which makes for great pictures.
For all your diving needs while in Dubai contact Al Boom Diving. They offer courses, organize diving trips in Musandam, as well as diving sessions a the Dubai Mall Aquarium.
Al Boom Diving Main Shop
Building #123,
Street 26, Al Quoz Ind 4,
P.O Box 119734,
Dubai, United Arab Emirates.
+971(0) 4-341-4940
---
Urban thrills.

Be a race car pilot for a day.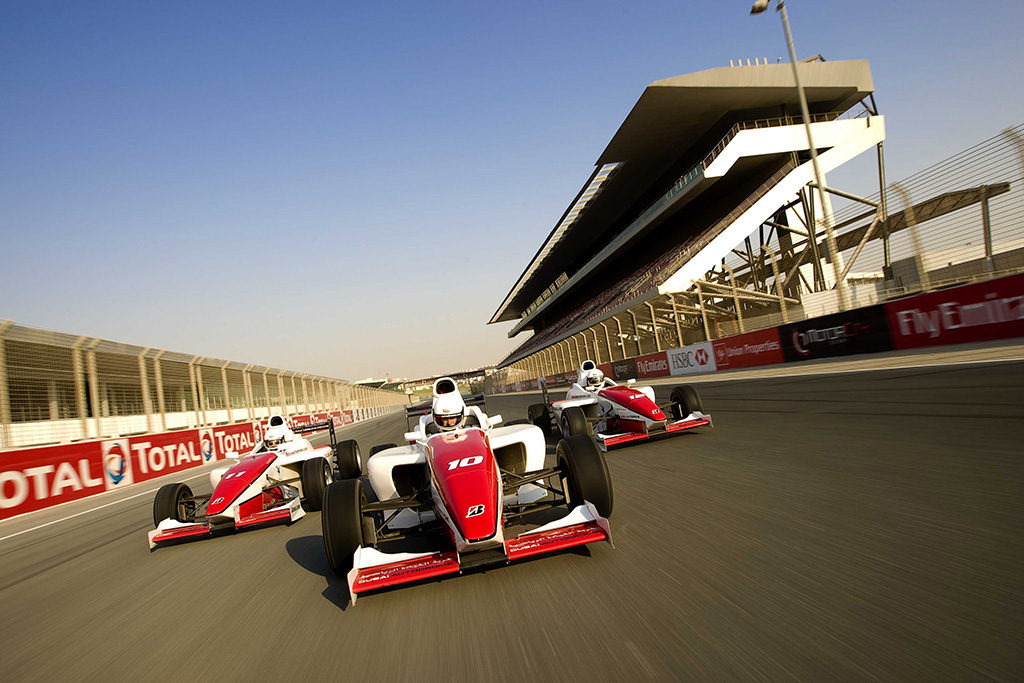 Dubai is a car mecca. A place where you can probably find the largest number of "supercars" per capita. Bugatti, Ferrari, Lamborghini, Porsche, McLaren, you name it, all seeking attention as they purr all over town. But what better place than a race track to experience the thrill of speed ? Forget Jumairah Beach rd. and take your skills to Motor City and its Dubai Autodrome.
Offering a wide range of race cars to drive around the circuit. From the 205 BHP Clio Cup, to the 625 BHP V8 McLaren Sprint, they have all you need for an adrenaline fueled experience. If you choose the supercharged McLaren, prepared specially by the 24h of Dubai winning team Dragon Racing, you'll first go through a safety briefing on the circuit and the driving techniques it requires to complete safely. Next, you'll put the theory to practice in a 2.0 litter Audi TT, with an instructor showing you the proper lines and breaking points. You'll then be ready to tame the beast, and let the Le Mans driver in you express himself during four fast and furious laps behind the wheel of a true monster. Going from O to 100 km/h in just 3 seconds, The McLaren is not for the faint hearted. Better be ready !
Have a look at their website for all the important informations and see what proposed option fits your wishes and budget. For a more family oriented version, I suggest you cross the street and go Karting.
Dubai Autodrome
+971 (0)4 806 2220
P.O Box 57331
MotorCity
Dubai, UAE
Skydive.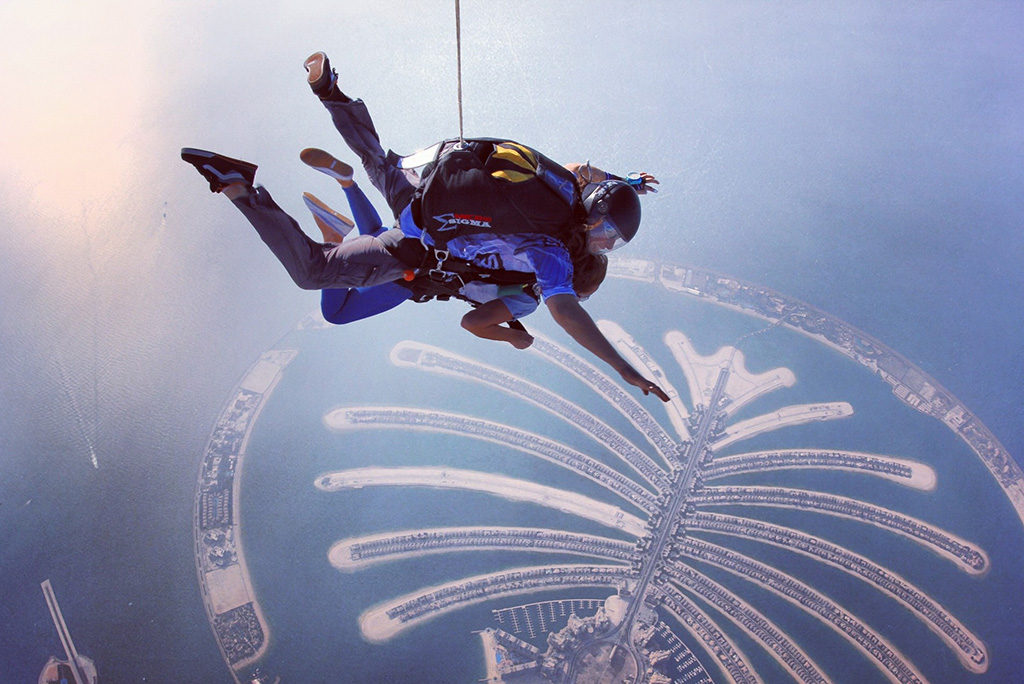 You liked the idea of seeing the desert from above, what about Dubai's famous skyline then ? What better way to do it than sky diving in one of the most amazing drop zone in the world? Jumping from a plane 10.000 feet above ground, reaching speeds up to 200 Km/h or more while free falling towards the ground, you'll be offered a unique look at the city and its natural surroundings. A team of pro-jumpers will accompany you to record the experience with photos and video footage, you can then use on your social feed for bragging rights.
Whether you are an experience diver or going for your first jump in tandem with an instructor, SkyDive Dubai has the package for you. Check out their website for the necessary informations, the prices and booking availabilities.
Skydive Dubai
Al Seyahi Street,
Dubai Marina
Dubai UAE
---
Enjoy your stay in Dubai and make sure to get back to us with your impressions and comments.
Happy travels.
Share us on Pinterest.