California tripping.
14 days on the roads less traveled, through beautiful deserts, the Sierra Nevada, the beaches and cliffs of the Pacific.
Welcome to our extensive travel guide dedicated to the state of California, where in the span of 14 days you will complete the ultimate road trip all around the Golden State. California is full of fabulous places to visit, and we have made sure to include all the major ones for you on this adventure. But what also matters to us, is the journey between each one of them. Forget the main crowded highways, this blog is all about scenic and less traveled back roads.
Let's get your motor running… and let the journey begin !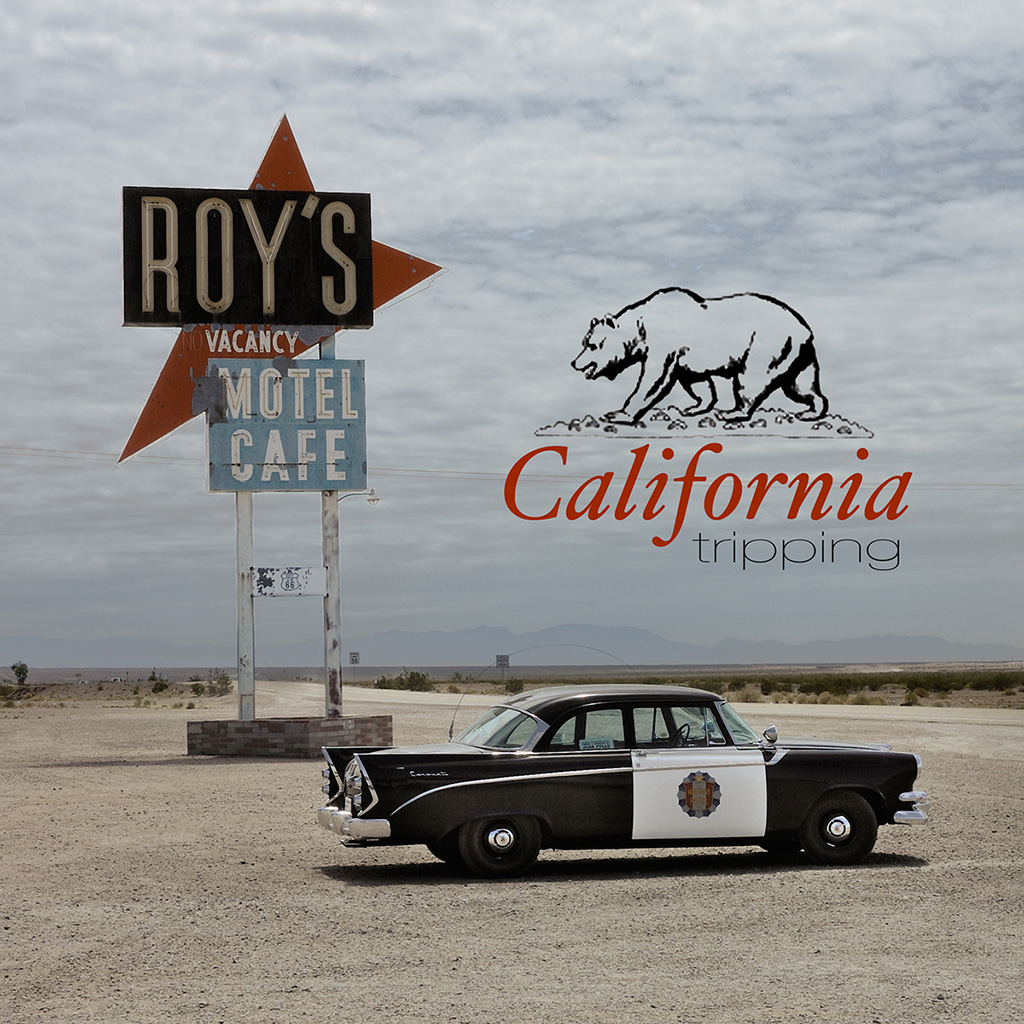 ---
Table of contents
---
What you need to know:
General. This is an American road trip ! That means endless open roads, in other words, long hours sitting in a car admiring the sceneries. I have tried to divide it to allow you to stretch your legs as often as possible, but it remains a driving experience for the most part. If you don't like driving or be in a car for long, you're gonna be disappointed. If you speak Jeremy Clarkson's language, you'll love it ! Make sure to start your day early to make the most of daytime (especially if travelling during early spring or fall). If you can't get yourself out of your hotel before 10h30, you'll never reach your next stop before night fall. It would be silly to drive for hours and see nothing. We were out as early as we could, making a point to see the sunrise (Jet lag did help!). Taking a walk in majestic nature under the first rays of the sun remains the best way to start your day. That way we were able to make many scenic stops and visit Landmarks (We even had time for shopping in San Francisco)
Last, don't forget a good soundtrack. Radio stations outside major cities are just awful, some borderline scary!
The California Republic. 

California is a country within a country. The most populated state of the union, probably the most diverse, and in my opinion the most advanced.

Languages: 

English and Spanish.

Visa: 

The new administration in place has changed the rules lately. Check the official US Government

website

concerning visas to see what you need to enter the country.

Money: Dollars. To find out the current exchange rate with your respective currency click here.
Sales Taxes: Prices in California are shown free of tax. Taxes vary depending on the product or the location, but on average are between 6 to 10 % extra. It's always an unpleasant surprise to suddenly see prices jump when it's time to pay, just remember that what you first see advertised is never final !
Flying: This trip is a loop, from Los Angeles and back. But as it passes through Las Vegas and San Francisco, nothing stops you from starting from those two cities. You'll just have to adapt your search for airlines and car rentals accordingly. 

How to get there? Most of you will fly. Choose your favorite airline, but just remember it can be quite a long flight depending on where you come from, try to book it off season. We flew to LAX from Dubai. That's a 16 hours flight. To be congested in economy for 16 hours on a full flight is not fun. Mid October, the flight was almost empty and we could sleep on four empty seats.

Lodging: 

Finding the right hotel in the big cities is easy, in the backcountry it can be more complicated. We have tried to find the best option available for you and review it for you each day.

Food: 

We all know what American cuisine taste like. Burgers, fries, sodas and ice creams ! But fortunately there is a lot more to it than that. Big cities obviously offer more choices than a lonesome joint in the desert, but overall it wasn't too complicated to follow a strict Vegan diet all along.

When: 

You're about to cross a wide array of climates, making it tricky to get it perfect all the way. For sure avoid summer, when the temperature in the southern deserts becomes unbearable. Spring would be best if you want to see all the desert flowers in full bloom, but most mountain passes of the Sierras are closed due to snow till at least May. This year, because of a very wet winter, most were still closed mid June. We went mid October and that turned out to be perfect.(Check with

Caltrans

for road conditions and openings)

In case of an emergency:
Driving. 

For a road trip you'll need a car. Obviously ! And since you are gonna be sitting in it for long hours at a time, better choose it wisely ! Now what kind for this particular trip is the real question? 

So let's see our options: American muscle car ? 4X4 ? Camper van ?

The american muscle car.

Ford Mustang

Pros: 

It's definitely a fun option. Most rental car companies offer either a Ford mustang, a Chevy Camaro and for those on a bigger budget the all mighty Corvette. You might even want to grab the convertible option to fully enjoy the views.

Cons: 

If you are a big family with kids, a dog and a gold fish, this option is not for you ! 

Those cars aren't very good on mountain roads full of curves. They were designed with the straight highway in mind, not the Monte-Carlo rally. 

If your trip is during summer, the convertible option is of no use, it's just way too hot to enjoy it.

The 4×4 / SUV (our choice)

Jeep Wrangler I © Jeep

Pros: 

More comfortable than a muscle car. It can also take you places off the main road and let you explore the surrounding trails. If you like that option bring camping gears with you. A night in the wild is a nice change from hotels.

Cons: 

If you go for the Jeep Wrangler make sure it has a hard top, otherwise you won't be able to leave anything in the car.

Campers, RV's and Trailers. 

This option must be divided into three; the small camper, the large RV's and the trailer. The small camper is a VW combi type or a minivan with a roof tent for example. They will have a place to sleep and cook, but most won't have toilets or showers. The RV is much bigger and offer all the comfort of a home on wheels. 

As far as budgets, you must compare the price of a camper with the price of a normal car rental + hotels and restaurants to see what is your best option. Again seasons matter when it comes to prices.

Camper van

VW Combi I © Unknown

Pros: 

It handles like a car, and won't kill you at the gas station. 

You save on hotel rooms and can cook your own meals. 

You can park it anywhere for the night.

Cons: 

You won't have showers and toilets, it's definitely roots. 

A VW camper is slow particularly on mountain roads. But who said you were in a hurry ? 

Some travel restrictions apply on the older vans. For example you won't be able to visit death valley during summer because of the heat. But who wants to be in Death Valley during summer ?

RV's

Pros: Y

ou have everything you need with you on board. 

You save on hotel rooms and can cook your own meals.

Cons: 

Slow, cumbersome, not cheap with gas. 

You can't stop anywhere like the smaller versions, you must park in a designated campground and pay a fee for the night.

Trailer. 

Who hasn't dreamt about an american road trip with a silver bullet ? The ®Airstream trailer is probably the ultimate trailer, but there are other funky options available to you.

Airstream trailers

Pros: 

Looks so cool ! 

Some are small enough to go and camp almost anywhere.

Cons: Y

ou need a car that has a trailer hook and the towing capacity if you choose the bigger options !

Renting a car. 

Compare companies, reserve early, look for specials, and make sure the deal includes unlimited mileage, after all you are about to put some serious miles on that car. The advertised prices are not the final price. Add the taxes and see what options you may want. Real insurance, the one that covers you fully, will definitely steep up your quote. See with your bank if your credit card offers insurance when renting a car. All gold cards do and that makes a huge difference. You'll need a card to rent a car anyway. No major car rental company takes cash deposit. The card has to be under your name, can't drive away using your friend's card. If you only have a debit card, you'll need to have enough money on your account to cover the deposit. 

Check restrictions if you are under 25.

Last thing, below the car shown on the website it is mentioned "or similar". Be ready to be disappointed when the ultra cool SUV you had your eyes on is not available that day, and you drive off with a boring minivan instead. It happens often especially on special offers, I speak from experience !!

Here are the useful links depending on your choice.

Rental car companies
List of comparatives
Camper rentals
RV rental

For informations on where to camp while in California check out

Camp-California

.

Trailer
---
A first night in Los Angeles.
Sleeping at the Mama Shelter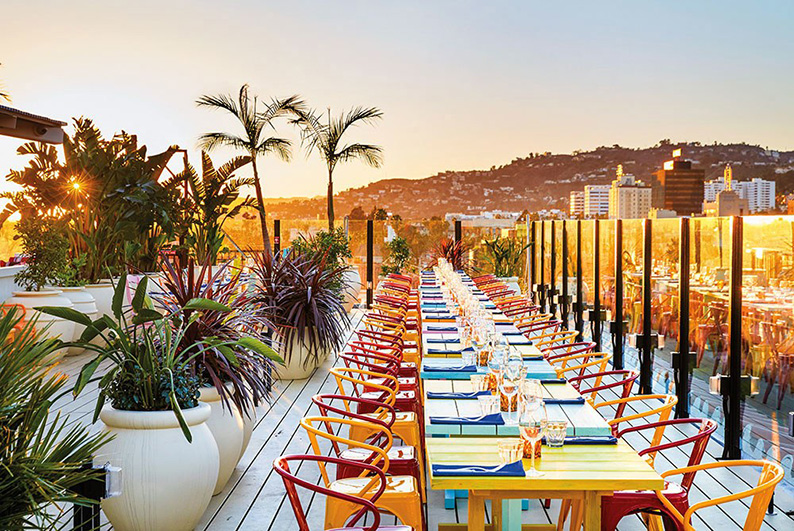 This trip is different from my regular solo explorations, where I usually lay my head where my hat rolls. Very little camping this time, no sleeping under the stars, or in the back of my Jeep, there shall be no room for improvisation in regards to accommodations this time around (except while in very remote areas in the Sierras). I'm here with my wife who enjoys a more "civilized" way to travel, where we can rest in the best hotels along the way. Our first choice in LA is based on my experience with the original concept in Paris, where I have been to a few diners and parties.
It's trendy, fashionable and affordable, what else would you need ?
Well a bit of quiet would have been nice, particularly after a 16 hour flight…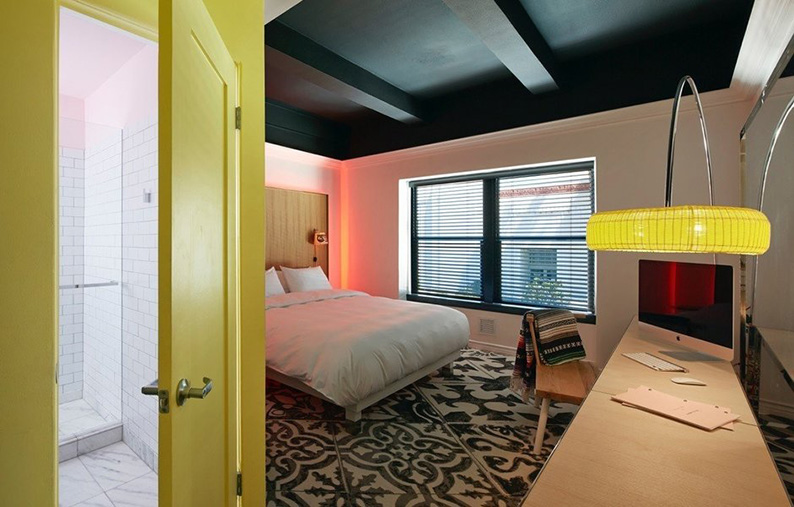 Hotels should start to realize that their main purpose is to provide sleeping accommodations. Sounds obvious ? Think again ! Yes, it's nice to be trendy. Yes, it's nice to be stylish and fashionable. Yes, it's nice to be young and hip. Yes, it's nice to have a cool restaurant. Yes, it's nice to have a night club catering to the young and wannabe famous. But in the end, what really matters is a competent staff, comfortable beds, clean and quiet rooms.
If you don't have that, you're not in the hotel business, you're in the entertainment industry !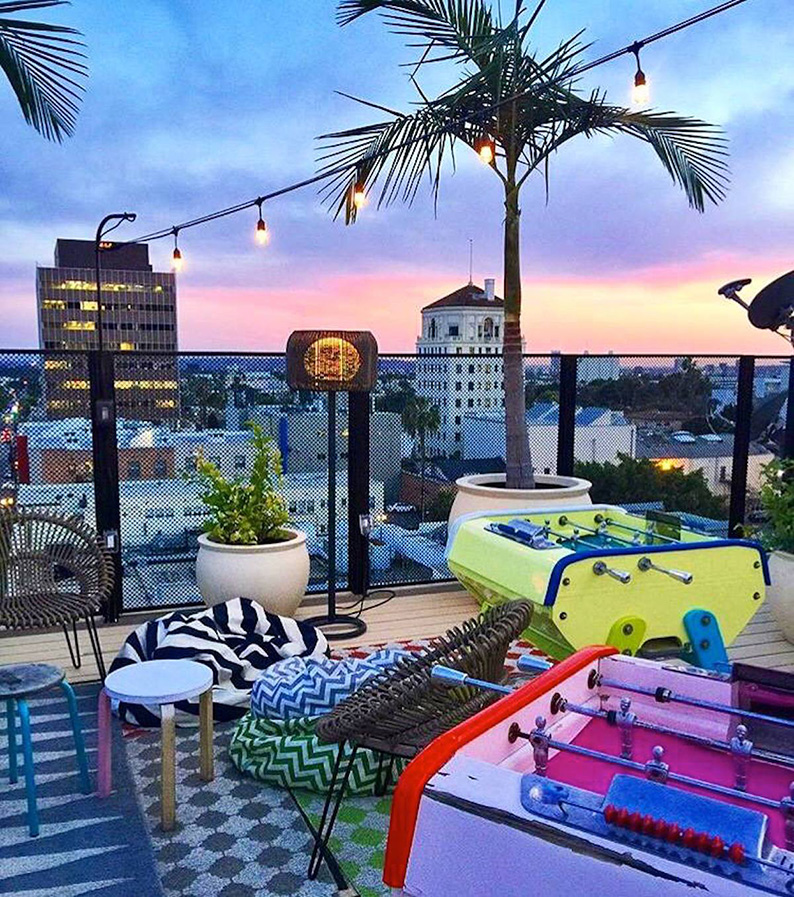 After complaining to the management, I request to be moved to a quiet room. Experience as told me that it's a waste of time. If you didn't get it on arrival, chances are the second option given to you won't be any better. That did not fail. The quiet version of a room at the Los Angeles Mama Shelter is on the fifth floor right below the Dj booth of the roof deck ! No comment !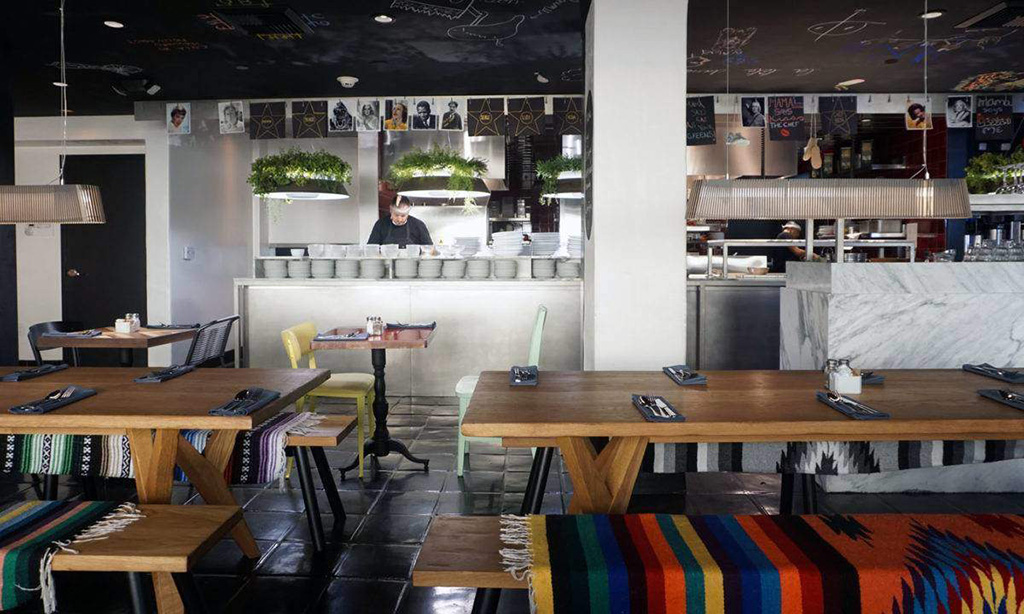 That is not to say that the Mama Shelter is bad, I just don't recommend it if your looking for a quiet place to sleep. For the rest it's actually great. Great looks, vegan options on the menus, great local crowd, fantastic roof deck, all of it in a great location… Your call, you've been warned !
The Mama Shelter
6500 Selma ave
90028 Los Angeles CA
(323)785-6600
Price $$
(Basic room around 200$ + taxes)
For a more complete review of the hotel, check out my dedicated post.
---
Day One.
Let's get lost on the Highway…
From Los Angeles to Pioneer Town.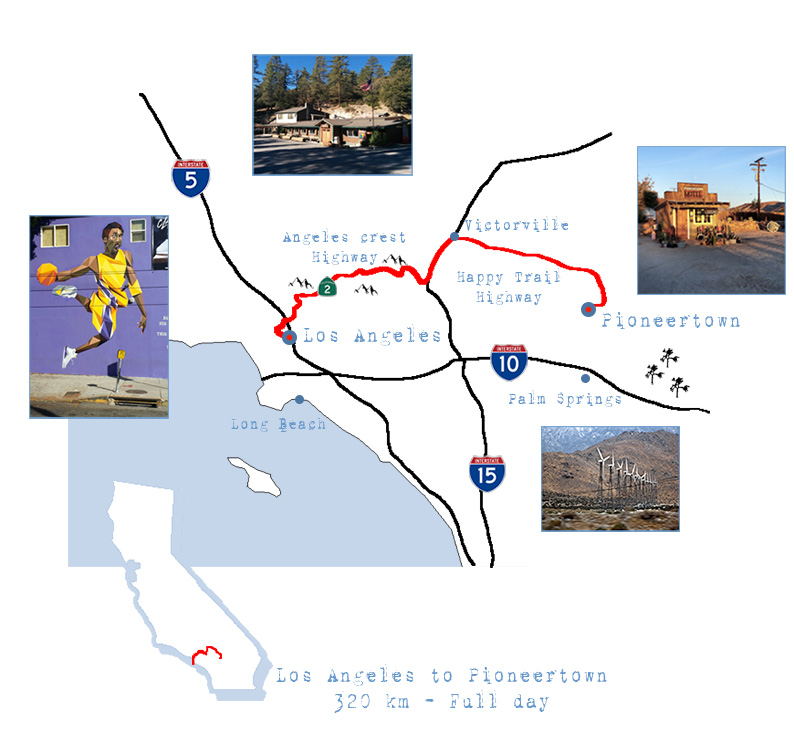 Our destination for the evening is Pioneer Town in the Yucca valley, near by Palm Springs. The normal route from Los Angeles would be heading east on Highway 10, but why look for boredom on large highways, when you can find excitement on small state routes ?
The scenic way starts with the Angeles Crest Highway. Also know as the California State Route 2, it is one of the most exhilarating drive in the state. Located North of what is considered the greater Los Angeles area, this old fire access road dating back from 1929, was transformed into a true highway in 1956. Its 106 kms wind through the San Gabriel Mountains National Monument and the Angeles National Forest, displaying all the characteristics of a scenic mountain road; isolation, altitude, breathtaking views, and never ending stretches of curves.
Some come for the views, taking it slow, stopping on the numerous vista points along the way. Others, sometimes at great risks, come for the adrenaline of speed while the sound of powerful engines echoes back on mountain slopes. Whatever is your goal, this Highway is a pleaser.
Count a minimum of two hours to complete, if you don't stop. But plan for much more, especially if you are having lunch at The Newcomb's Ranch.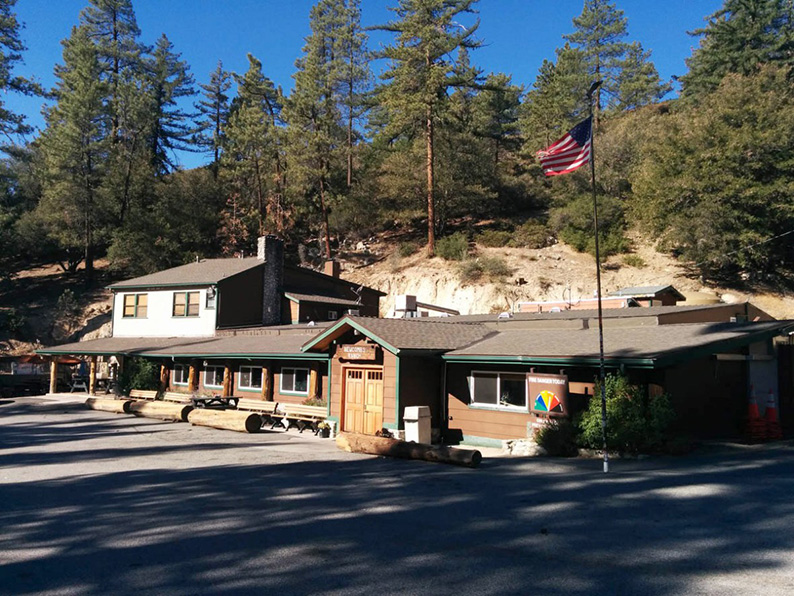 Half way through the drive, this is the mandatory dining spot with a rich history of its own. During the hotter months, most will drive up form Los Angeles, stop at the ranch for lunch or drinks and head back to the city. On summer week-ends the parking is filled with hundreds of cars and motorcycles, making your chance of getting a table close to impossible.
After Newcomb's the rest of Angeles Crest Highway is less busy, slowly bringing us down to a completely different landscape; the endless, flat, dry and dusty Mojave Desert. There we enter the "Happy Trails" Highway, soon followed by the Old Woman Springs Road, where we indulge in a beauty of a different kind, diving in the memories of the Wild West, along cacti and tumbling weeds, where pioneers and indians roamed for survival. In the distance, against the pink and orange light of the setting sun is our destination; Pioneertown and the Yucca Valley.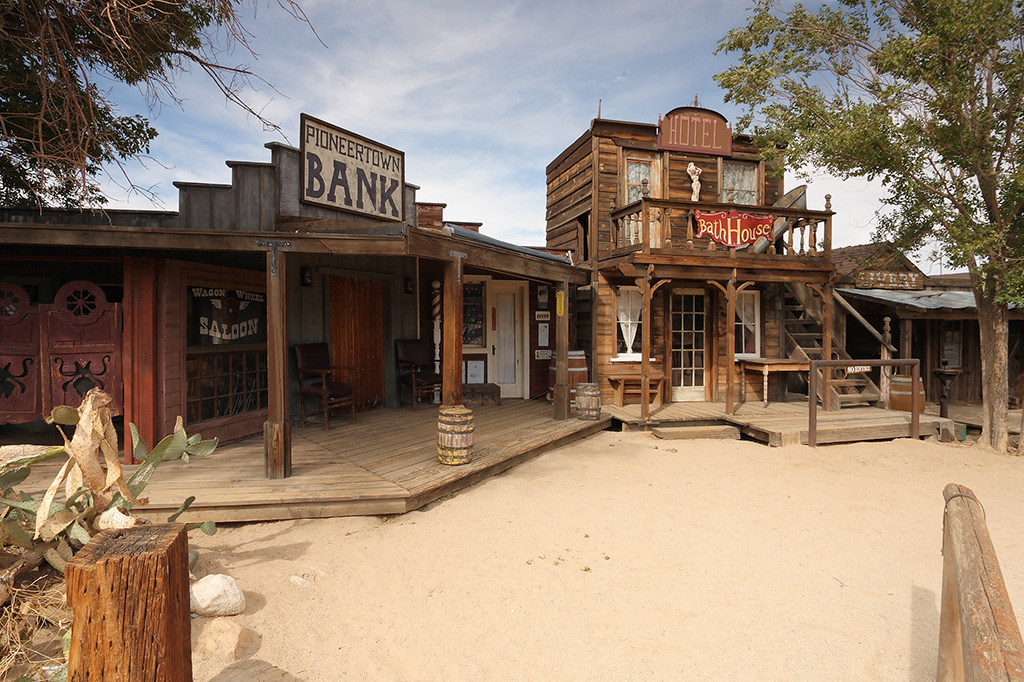 Directions & Essentials
THE DRIVE
This portion is roughly 320 km long, on scenic byway roads. Count a full day worth of driving and stop as often as you can to appreciate the views. The first 106 km of the Angeles Crest Highway are sinuous, the rest is on desert flats.
For road conditions make sure to check Caltrans website before leaving.
Be aware that on some part of the drive phone coverage is sporadic at best.
Last, petrol station are few, refill accordingly.
Take Highway 2 off Interstate 210 at La Canada Flintridge. Drive all the way to Highway 138, take right toward Interstate 15. Take left on 15 North towards Victorville. Exit right on the Happy Trails Highway 18. Keep straight after Lucerne Valley on the Old Woman Springs Road 247 towards PioneerTown. Turn right on Pipes Canyon Road and right again on Pioneertown Road.
FOOD
The Newcomb's Ranch
34°19'50.19"N – 118°00'01.60"W
California 2 Mile Marker LA 50.93
La Canada Flintridge, 91011 CA
(626)440-1001
Classic American cuisine – No real Vegan options
Princing $
Check website for events.
Pappy & Harriet's Pioneertown Palace
34°09'25.88"N – 116°29'35.82"W
53688 Pioneertown Rd
Pioneertown, 92258 CA
(760)365-5956
Classic American cuisine – Best Vegan Burger ever.
Pricing $
Check website for events & concerts.
HOTEL
Pioneertown Motel
34°09'27.53"N – 116°29'35.97"W
5240 Curtis Rd
Pioneertown, 92258 CA
(760)365-7001
Pricing $
---
The Pioneer Town Motel and Pappy & Harriet's Palace.
The best surprises hiding in the middle of nowhere…
(Motel & Restaurant informations)
We have booked a room at the PioneerTown Motel. The place looks straight out of a movie. And it's no surprise because the entire town is an old movie set. Built in the 40's this place has seen a lot of filming since.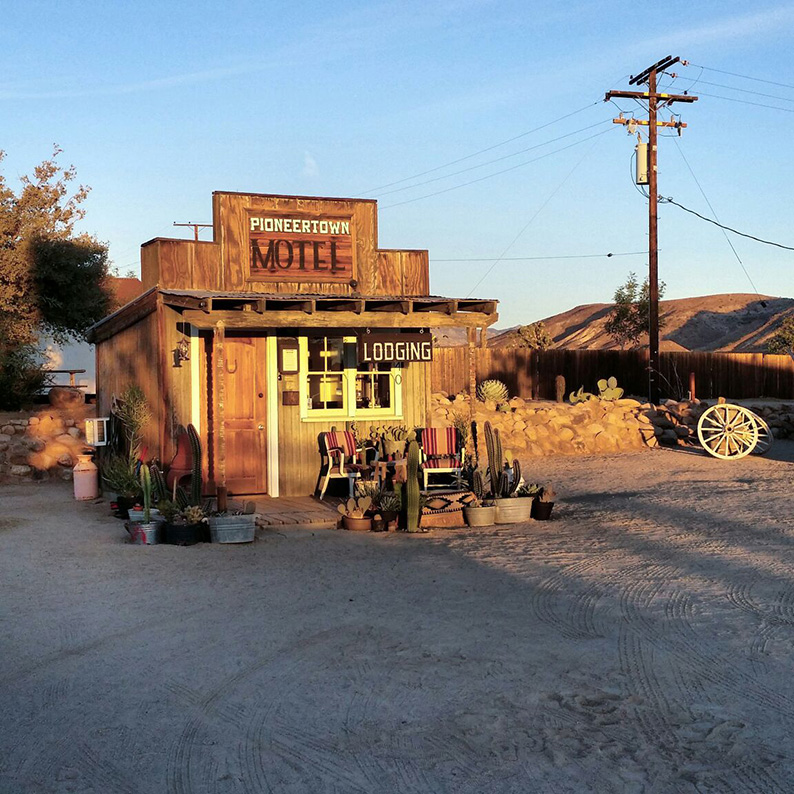 The hotel is a dream. The design is perfect in its simplicity, and It's so quiet in and out I know we are gonna sleep like babies.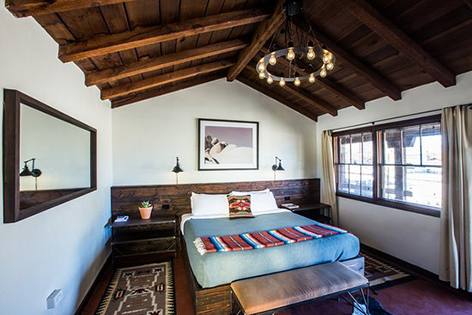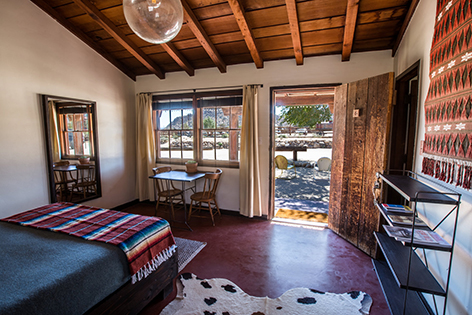 Before that, diner ! You're only choice in town; Pappy & Harriet's PioneerTown Palace. What a surprise ! Not what you expect in the middle of nowhere.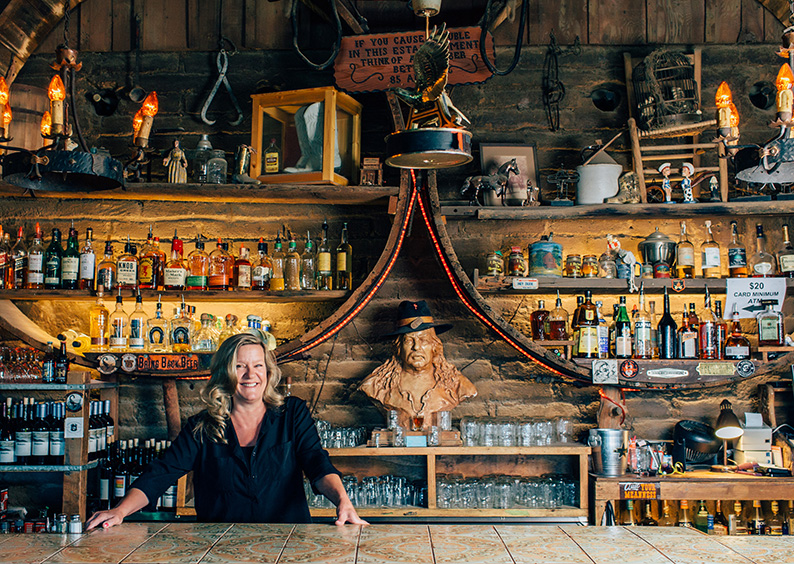 You would fear some kind of outback biker's joint, like those so often caricatured in Hollywood B movies – empty, sleazy and dirty -. Instead it's packed, and the music coming from inside sounds fantastic. A sign above the hostess warns you; "If in a hurry, you're in the wrong place", and indeed the waiting list is a mile long. We are some of the last guests having a shot at a table before the kitchen closes, some two hours later. An hour and half roughly for the two of us will be necessary. The sign wasn't lying !! We wait at the bar enjoying the band. Again, not your usual local country folk band. This place is famous for hosting some of the best artists. The list of them reads like a musical Who's Who. The crowd matches the vibe of a West Hollywood club, with a cowboy here and there.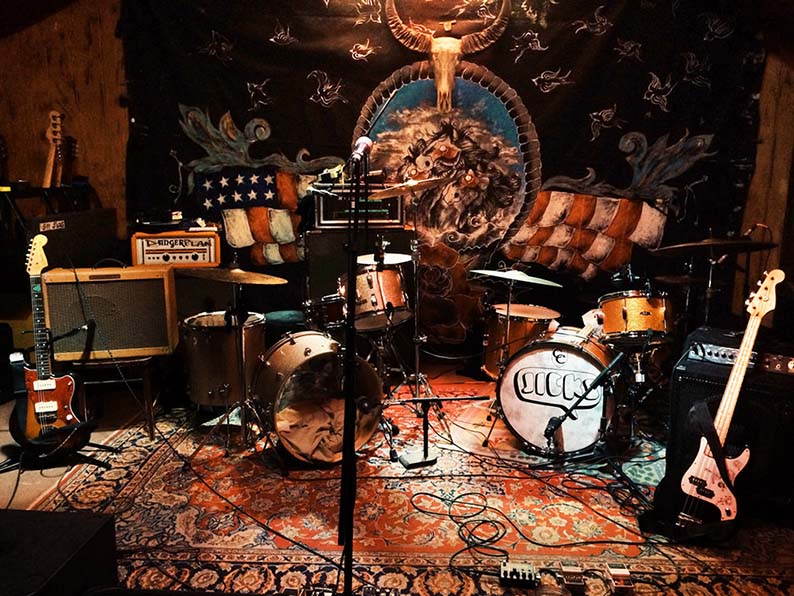 The food is simple, the expected Tex-Mex cuisine, only it's the best Vegan burger I have ever tasted. It is so good, I take a moment to check if they didn't mess up the order and gave me a real steak instead. I have been to many many places in the world. Many culinary hot spots and tried many vegan burgers before, but this is the best one EVER ! Who would have thought I'd find it in a place I didn't even expect them to care about serving a vegan burger. Definitely worth waiting that long for it !!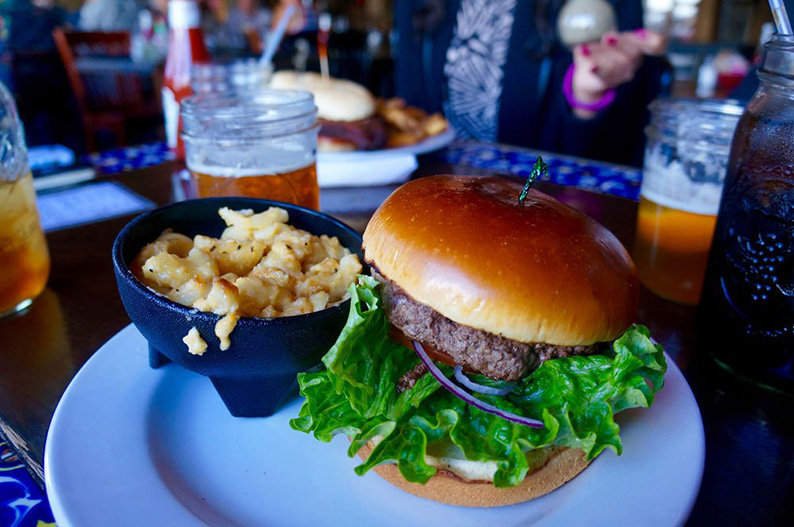 Motel & Restaurant Informations
MOTEL
Pioneertown Motel
34°09'27.53"N – 116°29'35.97"W
5240 Curtis Rd
Pioneertown, 92258 CA
(760)365-7001
Princing $$
About 240 $ per night.
FOOD
Pappy & Harriet's Pioneertown Palace
34°09'25.88"N – 116°29'35.82"W
53688 Pioneertown Rd
Pioneertown, 92258 CA
(760)365-5956
Princing $
Classic American cuisine – Best Vegan Burger ever.
Check website for events & concerts.
For a more complete review of the hotel, check out my dedicated post.
---
Day Two
A scenic journey through the Mojave desert, all the way to the Sin City….
From Pioneer Town to Las Vegas.
The Joshua Tree National Park, Twentynine Palms, Route 66, Roy's Motel, Rail roads and Hobos, the Kelso sand dunes, Ghost Towns… Hot day ahead !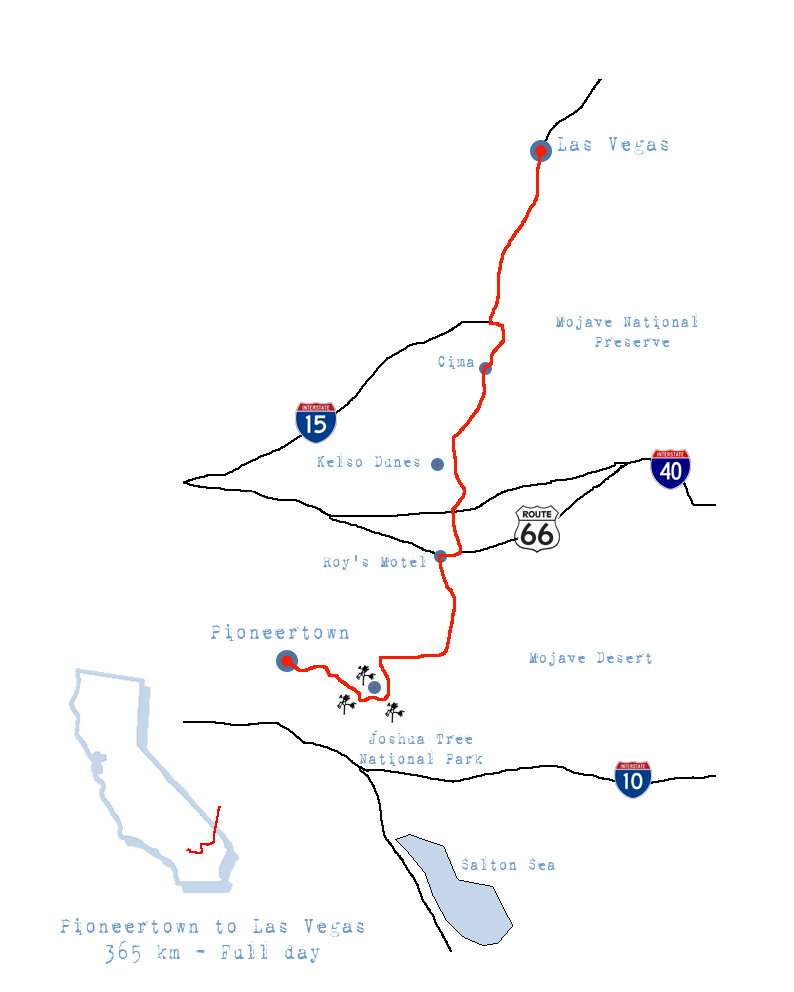 ---
The Joshua Tree National Park.
An outdoor adventure heaven.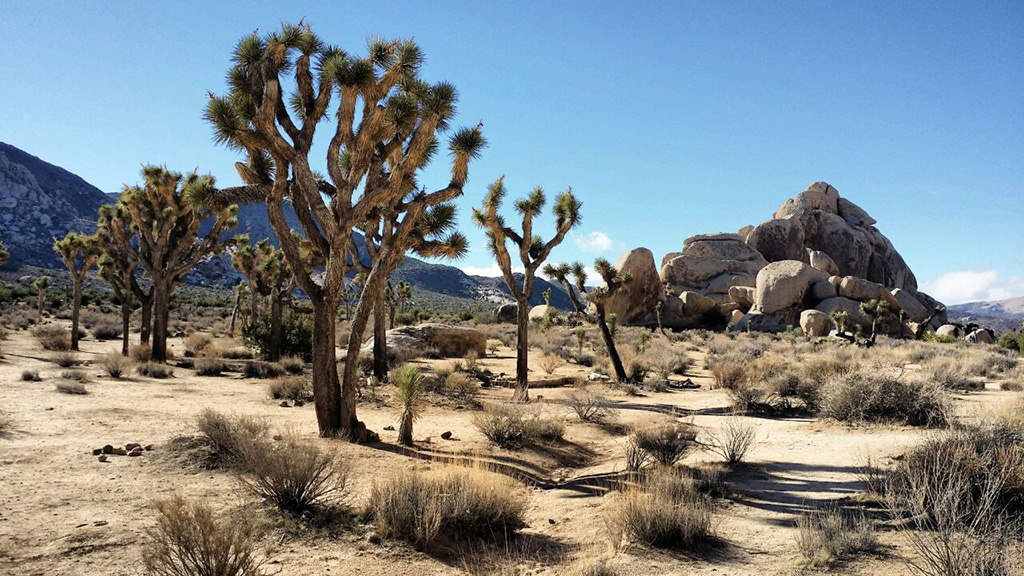 This guide is a 14 days road trip. As such we can only spend so much time in one place in order to see it all. It's a choice to make, knowing each "attraction" is a destination in itself, where we could spend days to fully explore. Passing by too fast, simply driving through for a snapshot of its emblematic trees and boulders, is missing out on everything else it has to offer… We made a point of waking up early, to spend some time walking around.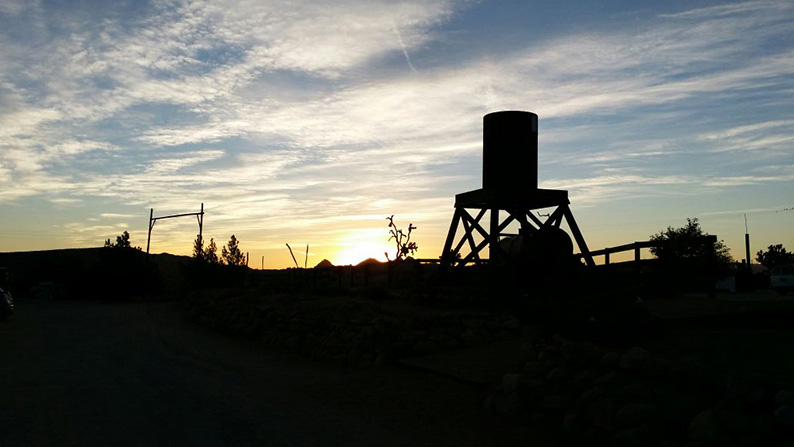 As expected the night at the Pioneertown Motel was fantastic. And with the jet lag still in full effect we are up with the sun, ready for an early stroll in the desert.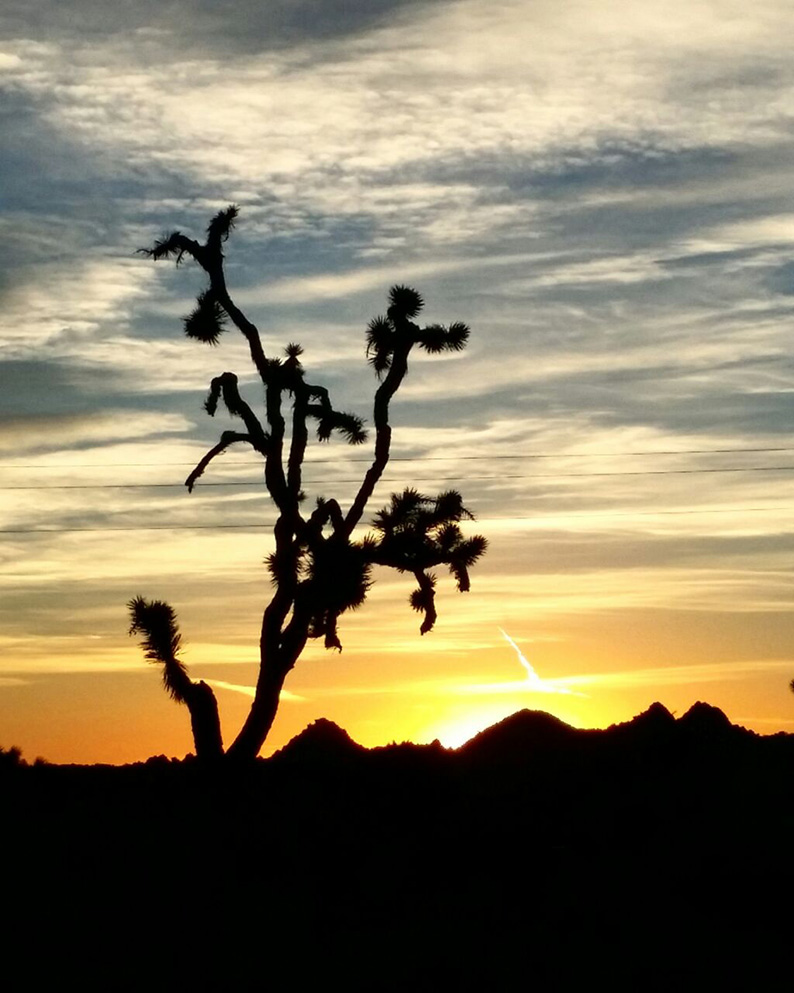 From one desert to another…
Having just left the deserts of Arabia, we are now in the deserts of California. At the junction of the Mojave and Colorado deserts to be precise, on the edge of the Joshua Tree National Park, one of my favorite places in California. It is an outdoor adventure heaven, where you can climb, trek, Mountain bike, enjoy a night under the stars while sitting by the campfire.
You must absolutely take the time to observe more carefully how diverse a desert is. People see deserts as empty spaces. Exploring them extensively as I have in the past few months in Oman has taught me otherwise. They are vast ecosystems full of life and surprises.
When entering the Joshua Tree National Park you must purchase a 25$ 7 day pass. (That alone is an indication it requires time to be truly appreciated.) Divided in 6 major sections – Black Rock Canyon, Cottonwood Spring, Covington Flats, Indian Cove, Keys Views and Skull Rock – each displaying a particular aspect of the natural surroundings, and as such deserving all your attention.
As I said we can only spend a few hours because we are on a schedule, but nothing stops you from planning for more. If you are planning on staying a few days, 9 designated campsites are open inside the park for 15$ to 20$ a night. 2 require advance reservations, while the rest are on first comes first serves basis, but arrive early as they fill up fast. Choose your site based on the primary activities you have in mind.
Hidden Valley and White Tank campsites for example are smaller in sizes and offers some of the best climbing spots around. Climbers, boulderers and highliners from all over the world come here to test their skills in this astonishing environment. Some 8.000 climbing routes are listed on maps and dedicated booklets available at the various visitor centers. You can also book a class if you are just starting out, or hire a certified guide for the day to show you around.
This video from Peak Performance is a great illustration of that…
Directions & Essentials
THE DRIVE
From the Pioneertown Motel drive down towards Highway 62 on Pioneertown road. Turn left on Highway 62 towards Twentynine Palms. (Food and gas available on Highway). Turn right on Park blvd after Joshua tree National Park sign. (there is a visitor center on your right). Drive all the way to the park's gate. Inside the park take left on National Park Road towards Twentynine Palms to exit.
THE PARK
Joshua Tree National Park
website
74485 National Park Drive
Twentynine Palms, CA 92277-3597
(760)367-5500
25$ 7 days entry permit per vehicle
Camping 20$ to 15$ a night on designated campgrounds
Visitor Centers
Two entrances off Highway 62 around Twentynine Palms.
South Entrance off Interstate 10, 25 miles East of Indio.
---
Getting our Kicks on Route 66…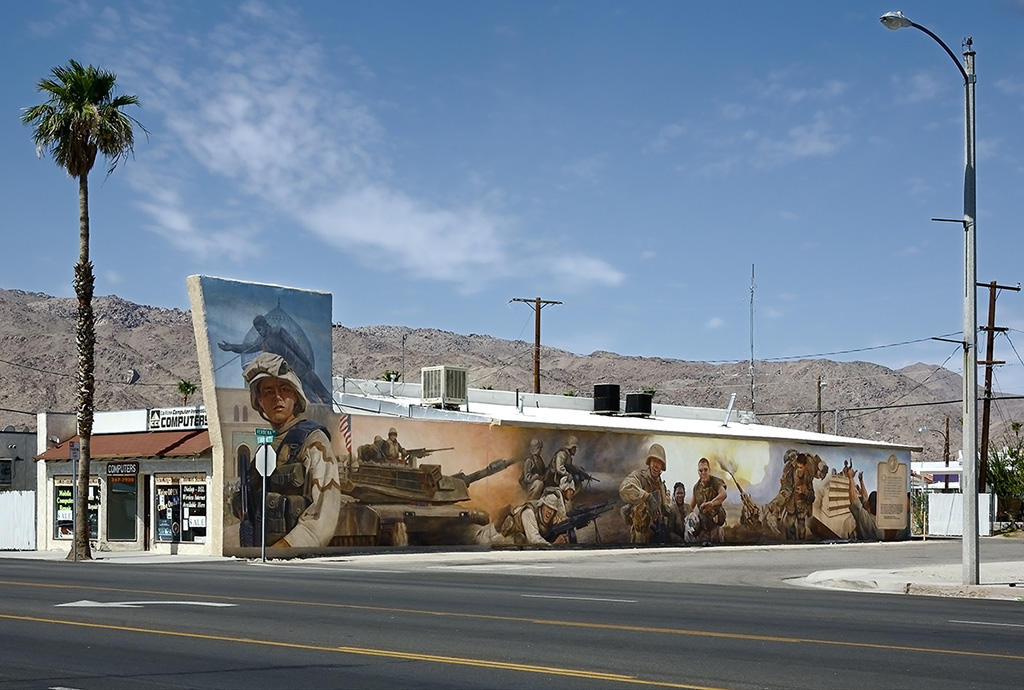 Off the Park, on the north side, is the town of Twentynine Palms. Mostly known for it's Marine corps air ground combat center, and its large number of frescos painted on city buildings, many of them in support of American troops. Most striking, all those isolated homes crumbling in the vicinity.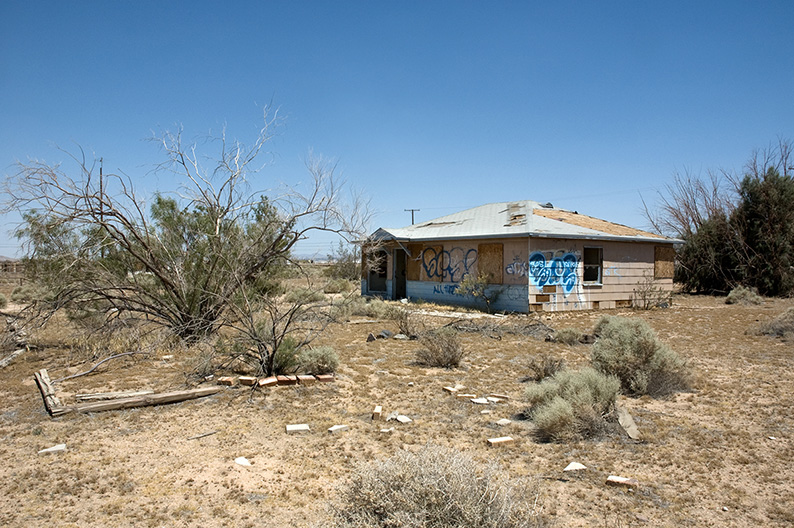 Spread along the access roads, far apart from one another, habited ruins of what were once houses, surrounded by accumulated trash and abandoned vehicles of all sorts, give a sense of post apocalyptic trauma. It's not just around Twentynine Palms, it's all over the Mojave desert – Salton Sea, Barstow, all the way to Las Vegas -, a never ending field of broken dreams and disillusions. Poverty, desolation, decay, are the first words that come to mind. But as I mentioned, those are not empty, people live there. How ? Off what ? I have no idea. Eery !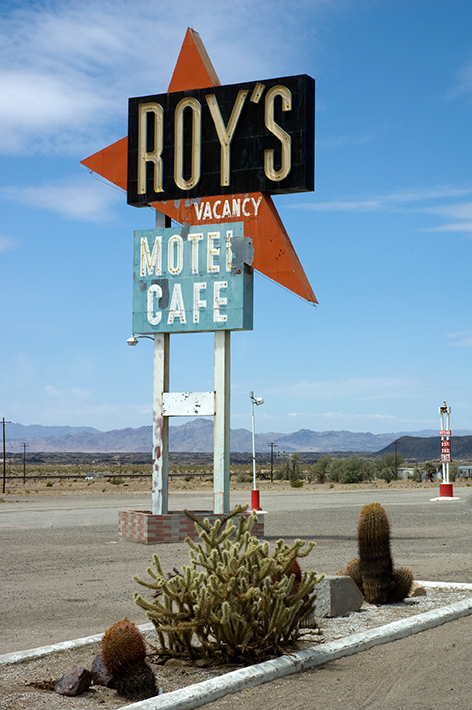 Further along is a US landmark. The fame route 66, the mother road, the main street of America, originated in the late 20's, linking Chicago, to Los Angeles. A must see, a must drive. Once a busy communication artery, it died with the opening of the new, more "efficient" interstate highway system in the 70's early 80's. Motels, shops, petrol stations, diners, all went out of business as a result. It's crazy to see the remnants of an era, in places laying just a flew hundred yards away from the new Highway. So close, yet completely cut off from traffic, suddenly deprived of business, sacrificed and condemned to go under overnight. Reborn from its ashes, the route 66 recently transformed itself into the "Historic Route 66", and turned its history into an asset.
It became an attraction, a piece of Americana, a road trip through nostalgia. Here and there along the way, old stops are living again, catering to tourists like us, people in no hurry, coming for pictures and souvenirs.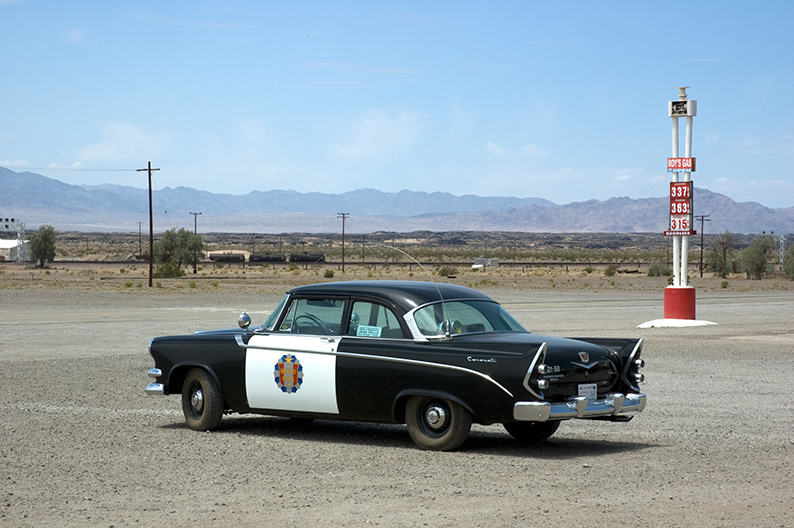 One of those is Roy's Motel in Amboy. Founded in 1938, restyled to it's current look in 1959, the economical heart of Amboy for decades, it went down in 1972 with the opening of Highway 40. Maintained under life support for movies, it is now beginning a new artificial life as a tourist landmark.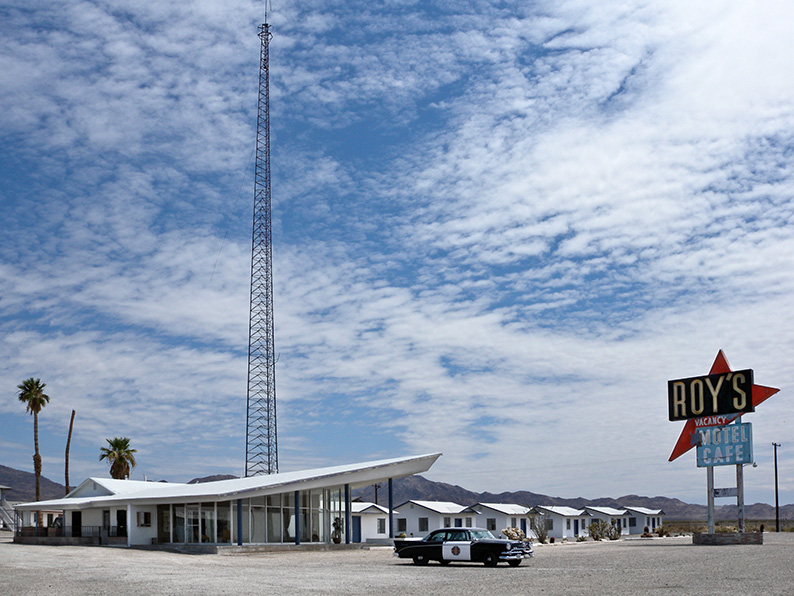 The other landmark nearby is the Bagdad Café in Newberry Springs. Located 11 km west of Amboy. Site of the 1989 movie of the same name, unlike Roy's it is still open for business and you can stop there for a memorable lunch. Steak, fries, ice cream and pie are on the menu.
Directions & Essentials
THE DRIVE
Once out of Joshua Tree National Park, turn left on Highway 62 towards Twentynine Palms. Turn right on Adobe Road (Take the time to see the frescos around town and fill up for gas if you need it), Turn right on Amboy Road all the way to route 66. In Amboy, take route 66 West towards Bagdad café in Newberry Springs (11 km away). After reaching the Café, turn around back to Amboy and continue East on Route 66.
TO DO
Twentynine Palms
Oasis of murals
Amboy
Roy's Motel
Route 66
FOOD
Bagdad Café
Newberry Springs
Route 66
Basic menu
Steak, fries, ice cream and pie
Pricing $
---
Desert crossing…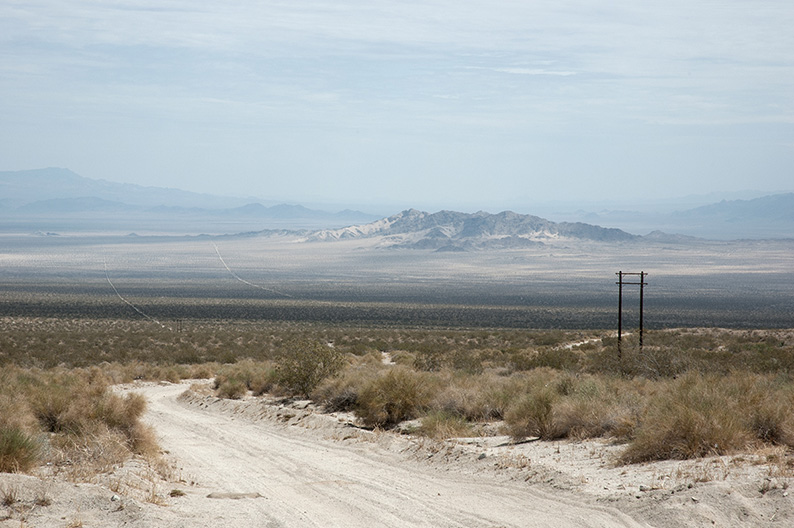 It already has been a lot of driving since we left Los Angeles. Everything here feels so out of human proportion. Endless distances through marvelous natural settings, as if we were traveling through an old western movie set for days on end. Dreaming of pioneers, gold miners, outlaws and indians roaming around this desolated wilderness.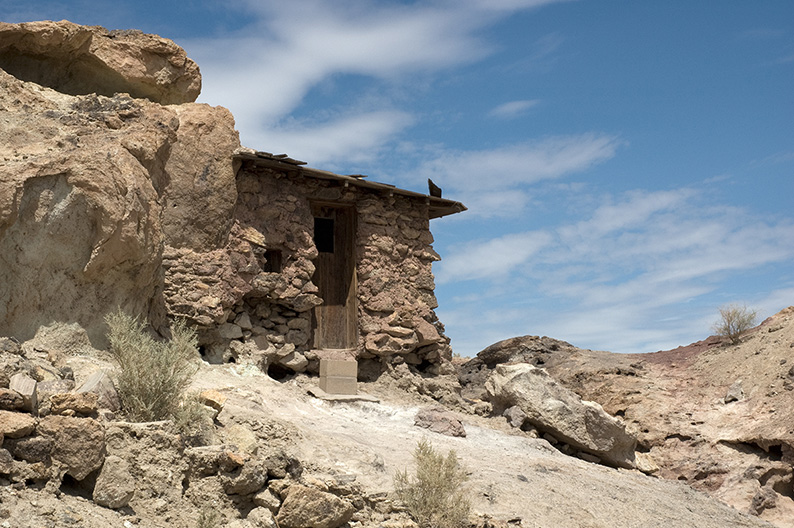 All that is missing to make it perfect is a grand old american car full of chromes and power. On the road, born to drive, born to be wild.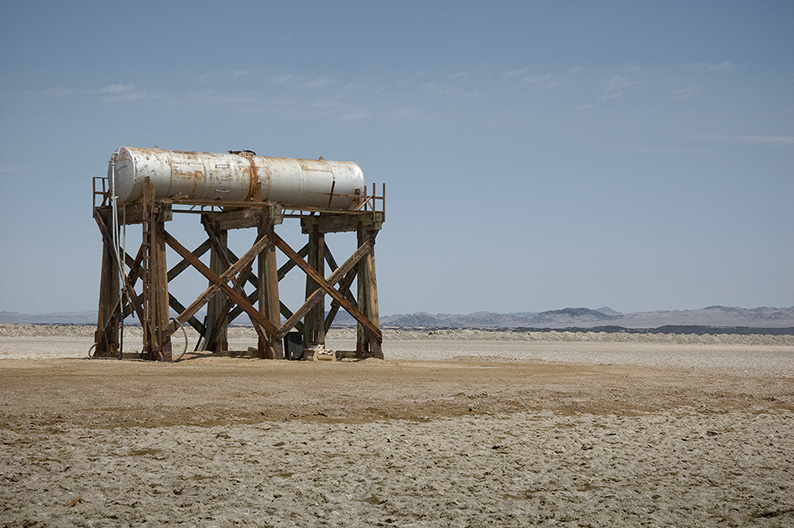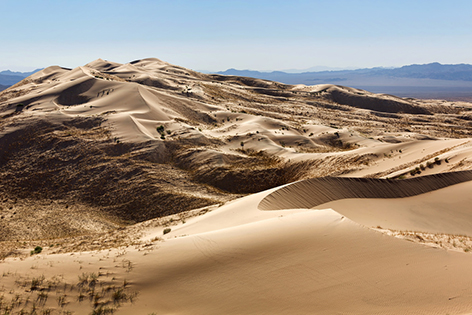 Directions & Essentials
THE DRIVE
After leaving Amboy head East on Route 66. Turn left on Kelbaker Road. Pass over Interstate 40. Keep straight until you see the Kelso Dunes sign. Take left on Kelso Dunes Road all the way to the parking, then comeback to Kelbaker Road and take left until you reach Kelso.
TO DO
Kelso Dunes
Located just on your left on Kelbaker Road, just before the town of Kelso.
A perfect picture spot.
Mojave Natural Preserve
Best visited during spring to see the desert blossom with countless wild flowers.
---
Train & Hobos.
Going deeper into the desert along the rail tracks…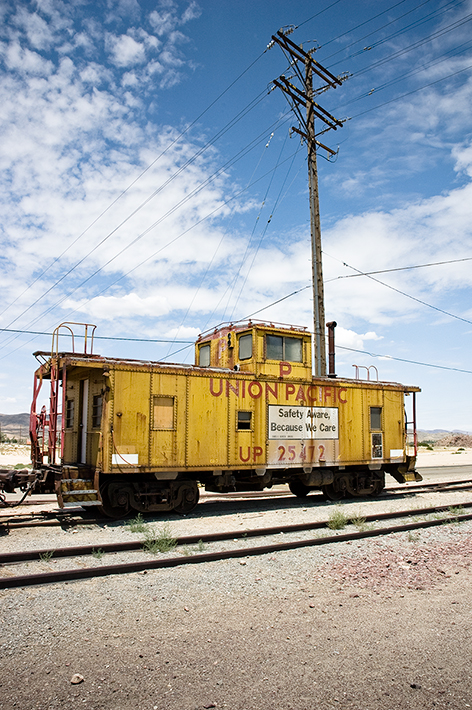 From Kelso to Cima we follow a rail track leading all the way to Santa Fee. Never ending trains pulled by countless locomotives travel that route across America. It's an amazing sight, one that can keep you captivated for hours, as you try to count how many wagons there are, before ultimately giving up.
But beyond the aesthetic of it all, it's forever linked to the Hobo movement. The term "Hobo" has many different suspected etymologies, and was originally describing a homeless vagabond worker, one that would be found along rail roads looking for work, hopping on freight trains to go west after the civil war and the great depression.
The hobo culture had its own slang, 
/graffiti lexicon and ethical codes. 
It also flourished as a cultural phenomenon, 
with writers, poets, musicians, photographers 
and film makers describing 
their experiences and hardships.
Jack Kerouac in Lonesome Traveler, Of mice and men by John Steinbeck, The road by Jack London, Ironweed by William Kennedy, I'm a lonesome Hobo by Bob Dylan, the photography of Mike Brody, and so much more…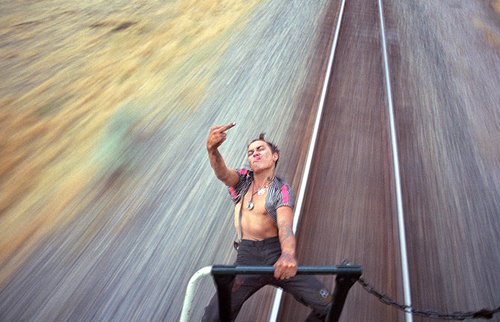 THE DRIVE
At Kelso follow the rail road on the Kelso-Cima Road all the way to Cima. At Cima take left on the Morning Star Mine Road, then left on the Ivanpah Road and left again on Nipton Road all the way to Interstate 15. Take Interstate 15 East all the way to Las Vegas.
---
Viva Las Vegas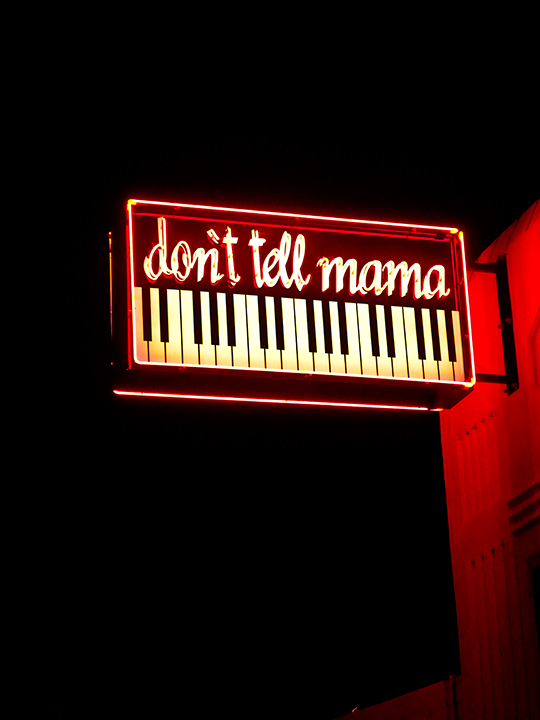 Arriving in Las Vegas. One night only. Obligatory stop after a long driving day before heading towards Death Valley tomorrow. It is something to be seen at least once. That's why we are here, so Helen can get a glimpse. But deep down I hate this place, and I know she has no feel for it either. We stay at the LINQ.
Big, crowded, impersonal… Getting in one of the elevator is like getting inside a Japanese subway car during rush hour. The absolute opposite of what I look for in traveling. The room is a far cry from what we had seen on internet when making the reservation. It has no personality, but at least it's clean and quite. On the TV screen, the hotel channel showcases beautiful and fashionable models, enjoying themselves in a trendy environment. The contrast with the reality of the lobby is staggering. A herd of crammed tourists from all over the world, no class, no elegance. Sin city for the masses.
We walk down the strip. Women, half naked, some really too young for the job, hand out massage parlor, strip shows and prostitution flyers. For them there is no "Happy Ending".
We end up on the terrace of an Italian restaurant for diner. Enjoying the passing crowd. We come from all over the world, like to think we are all different and better than the rest of humanity, but in the end we are pretty much all the same.
Time to get back to the open road…
---
Day 3.
From Las Vegas to Death Valley.
A memorable drive through geological wonderland…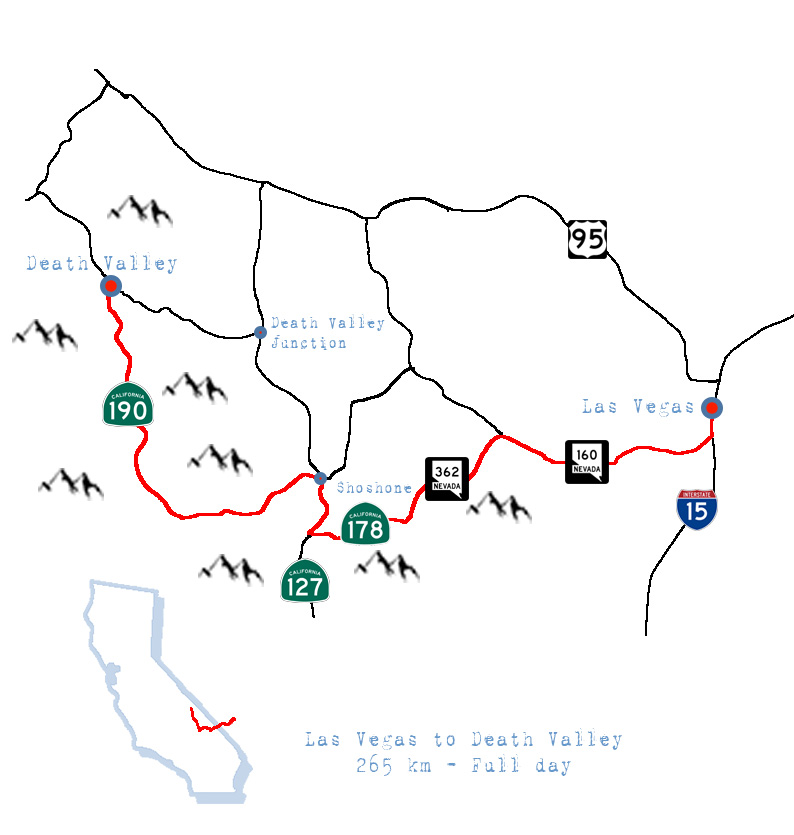 Directions & essentials
THE DRIVE
This portion is shorter and leaves you more time to explore Death Valley National Park. Roughly 270 km long, on scenic desert and mountain byway roads. Count a half day to reach the park, another half minimum to drive around.
For road conditions make sure to check Caltrans website before leaving.
Be aware that on some part of the drive phone coverage is sporadic at best.
Last, petrol station are few, refill accordingly.
Get out of Las Vegas on Highway 15, turn right on Highway 160, and drive all the way to Tecopa Road. Turn left. Drive pass Calvada Springs and Tecopa all the way to Highway 127. Turn right towards Shoshone. Shortly after Shoshone take left on Jubilee Pass Road / Highway 178. On the other side of the pass is Death Valley. Take right on Badwater Road and drive all the way to Artist Drive. Once back on Badwater Road take right all the way to Furnace Creek.
HOTEL & FOOD
Furnace Creek Resort
includes the Ranch $$ and the Inn $$$
Death Valley National Park
Highway 190, CA-92328
Toll Free (800) 236-7916
(760) 786-2345
reserve-fc@wanterra.com
TO DO
Visit Death Valley National Park
P.O. Box 579
Death Valley, CA – 92328
(760)786-3200
A night at the Opera.
Amargosa Opera House
HR-C 608
Death Valley Junction, CA-92328
(760) 852-4441
Only 45 km from the hotel, a great way to spend the evening.
Season's Program
---
Hookers on the Highway.
"From High rolling escort working the palaces of Las Vegas, to afterthoughts for truckers on a lost highway ! "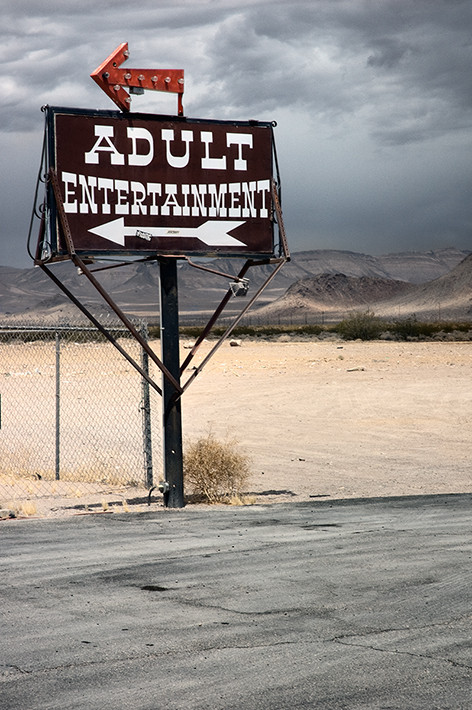 We're driving through Nevada on our way to Death Valley. It's Election season. Apart from the general national election, local ballots will take place all around America. As such, local politicians running for offices place ads on Billboards around towns we cross. They have called the ongoing US election one of the dirtiest, but I had never seen before a full size billboard calling its opponent for state attorney general "A pimp for organized crime". How low can you go ?
Talking of lows… Nevada made prostitution legal. I'm not here to argue over it, not quite my business. However, it can be disturbing to find brothels at every gas stations along our way, no matter how isolated or run down. I can only imagine the descent through hell for those girls who end up in such dirt holes. From High rolling escort working the palaces of Las Vegas, to afterthoughts for truckers on a lost highway !
Rough life !
---
Death Valley National Park.
Death Valley, Badlands, Badwater Basin, Furnace creek… If anything else, the names alone tell you how the first white people to venture around here didn't enjoy it much.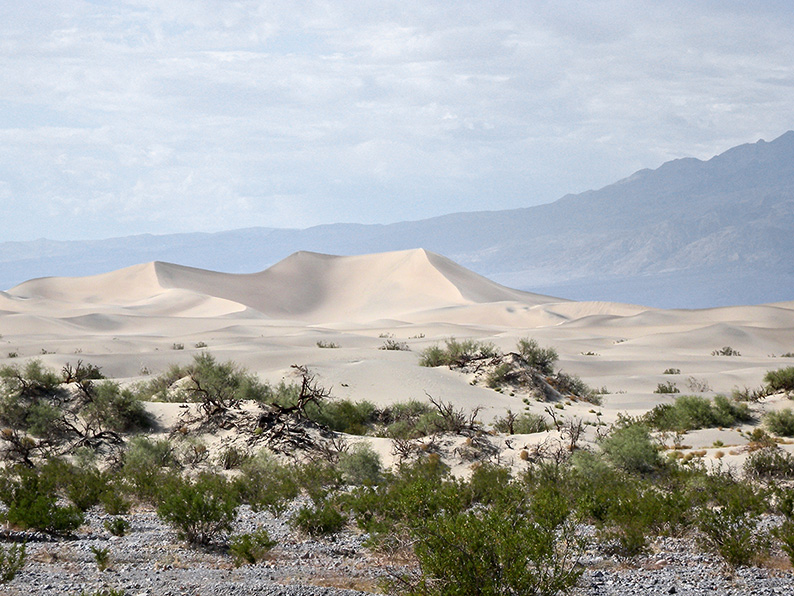 This spot is claimed to be one of the hottest in the world, warning signs all around call for caution, and most of what you will read about the valley is related to its climate. Only when, like us, you come from the Rub' al Khali – the Arabian desert – this is like everyday routine. And frankly, it really looks like home to us. Amazing how, despite standing on the other side of the earth from where we live, the landscape is just exactly the same.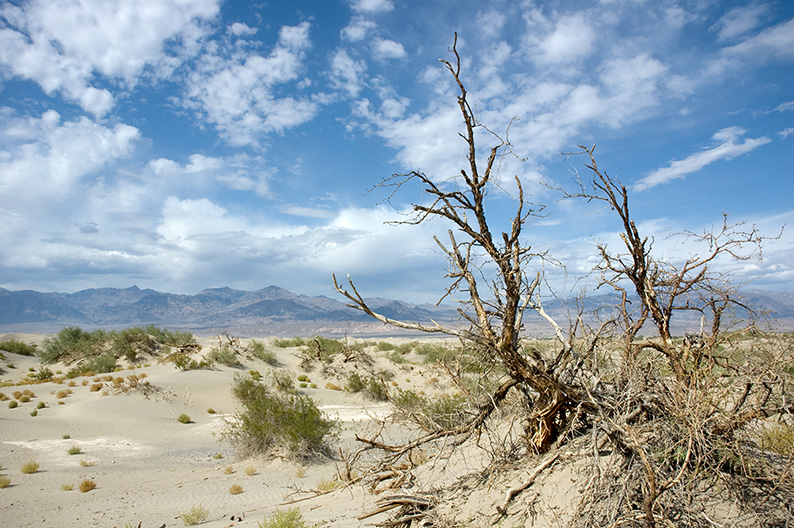 Off course there is a lot more to Death Valley than the heat. Its History; the native Americans of the Timbisha tribe, part of the Panamint Shoshone, who not only survived, but adapted perfectly to their environment, calling the valley theirs until the first gold miners arrived to dig and prospect. Its rich wildlife diversity, coyotes and Jackrabbits off course, like straight out of a Roadrunner cartoon, but also the Bighorn sheep who does not have to drink water to survive, mountain lions, bobcats, or tortoises being the most surprising to me. Its Flora also is amazing under such conditions, with countless flowers blooming during spring. But the most obvious, its geology. Here again the names tell it all; Artist's Palette ! Colorful arrangements of various minerals.
There are many ways to visit the park and really learn about the place. The park's website is the best place to start your planning. If you have a 4×4 or rent a jeep locally, you can go explore the dirt trails, (Farabee's jeep rentals even offers an off-road guided tour). You can also choose a hike for the day or more and camp out in the wild if the temperatures allow for it. (check the park's regulations) The best trails are listed on Alltrails.com.
Directions & Essentials
THE PARK
Death Valley National Park
P.O. Box 579
Death Valley, CA – 92328
(760)786-3200
Trails within the park
Alltrails.com
Jeep rentals
Farabee's
HOTEL & FOOD
Furnace Creek Resort
includes the Ranch $$ and the Inn $$$
Death Valley National Park
Highway 190, CA-92328
Toll Free (800) 236-7916
(760) 786-2345
reserve-fc@wanterra.com
TO DO
A night at the Opera a 45km drive from the hotel.
Amargosa Opera House
HR-C 608
Death Valley Junction, CA-92328
(760) 852-4441
Only 45 km from the hotel, a great way to spend the evening.
Season's Program
---
Amargosa Opera House.
A desert night at the Opera…
Because driving on the lost highways of California isn't just about sceneries and adventure…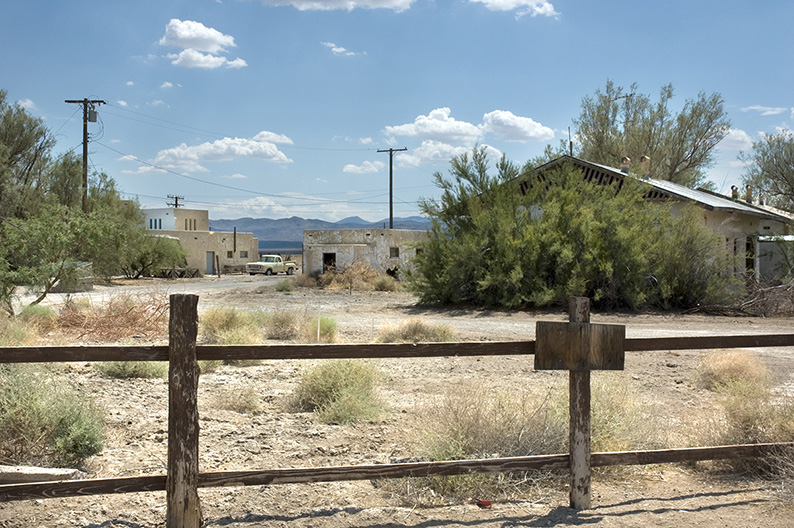 One of the most intriguing places to see near Death Valley is the Amargosa hotel and Opera in Death Valley Junction on Highway 127. Today listed on the National Register of Historic places, the building is a classic example of the Californian-Spanish revival architecture found through out the state. Built in the 1920's by Alexander Hamilton McCulloch for the Pacific Coast Borax Company, in order to provide accommodations for the company staff and executives working in the nearby mine, it became derelict once the mine closed and the company moved out in the 40's. As many other mine towns in the area, Death Valley Junction soon after became a ghost town.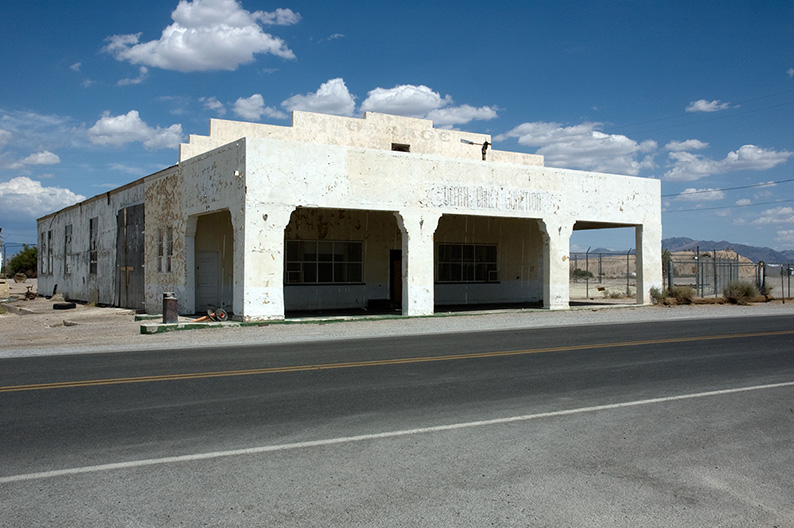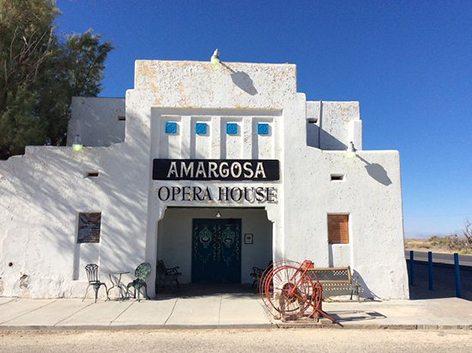 It's only in the mid 60's that it changed for the better. Artist Marta Becket, a dancer and a mime rented the place and began its restoration. The effort didn't go unnoticed, and after publications in National Geographic and Life magazines, people came to see for themselves.
The Opera has since been a must stop for tourists and music lovers alike. But it's only worth the detour at night to come see a show. Only 45 km from Furnace creek where we'll be staying tonight, it is well worth the drive to come see a show in the evening. Check the season's program and try to book your trip accordingly.
Direction & Essentials
THE DRIVE
From Furnace Creek, take Highway 190 towards Zabrisky's point and drive all the way to Death Valley Junction on Highway 127. Turn right you can't miss it.
THE OPERA
Amargosa Opera House
Website
HR-C 608
Death Valley Junction, CA-92328
(760) 852-4441
---
Day 4.
We leave behind the desert heat of Death Valley for a fabulous drive up towards the cool mountain air of the Sierra Nevada…
Directions & essentials
THE DRIVE
With two mountain passes on the menu, Panamint at 1600m and Sherman at 2759m get ready for some elevation. 315 kms total, most of it on scenic mountain roads, so count close to a full day to complete, as you will stop.
Make sure to check Caltrans website before leaving. Sherman Pass on the second half of the drive is closed during winter and often subject to snow related closures. If you can't get through, use Highway 178 to reach Kernville instead.
Be aware that on some part of the drive phone coverage is sporadic at best.
Last, petrol station are few, refill accordingly.
Head North on Highway 190 out of Furnace Creek and drive up to Panamint Pass. Stay on 190 as it turns left towards Olancha at the Junction with Highway 136. Turn Left on Highway 395. Turn right on 9 Mile Canyon Road. Keep straight as the road becomes the Sherman Pass Road. Drive all the way to Mountain Highway 99. Take right towards Johnsondale, or left towards Kernville depending on your hotel reservation.
HOTEL
Durrwood Creek Side Lodge
100 Mountain Highway 99,
Kerville, CA-93238
(760) 376-2719
Pricing $
TO DO
Enjoy the drive.
Kayak and Rafting on the Kern River.
Hiking around the Kern River.
---
The Sierra Nevada.
Driving from the desert heat of Death Valley National Park towards the high mountains of the Sierra Nevada, for a first look at snow summits and the rapids of the Kern River. Today's journey is taking us on a scenic ride to a completely new scenery…
Time to get moving if we want to reach our hotel before dark. We leave Furnace Creek and drive up on Highway 190 towards the Towne Pass, where we'll have a last scenic view of Death Valley. Two fighter jets zoom by right above us, in an incredible thundering din echoing throughout the mountains. Top gun !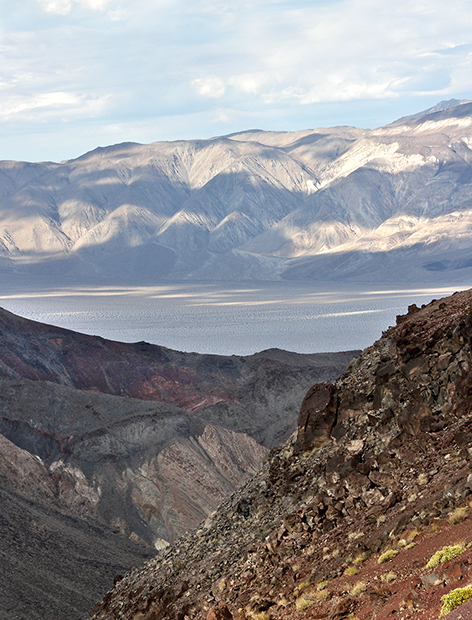 Once the other side of the pass, on the Panamint springs plateaus, a large group of Harleys pass us and wave. The scene is perfect, a lonesome flat road with the high sierras in the background, as motorcycles ride into the sun.
Now, bikers have changed a bit since Marlon Brando in the Wild One. The outlaws seems to have been replaced by retirees and yuppies enjoying a luxurious way to ride on open roads. The band of brothers confronting society have turned into clubs of well to do aficionados. Some of whom tend to take this hobby a bit too seriously, hoping the leather outfits with large "coat of arms" on the back, will turn them into bad to the bone wild road warriors, before they return to the office on Monday.
Below us the Owens Valley, on the feet of the tall Sierra Nevada mountain range. Somewhere, behind a few summits, stands Mount Whitney, the highest peak in the US outside Alaska. It's a beautiful view, but we are disappointed… No snow ! We were hoping to see snow ! Instead, dry meadows and bold granite summits, old wooden barns and abandoned pick-ups rusting away.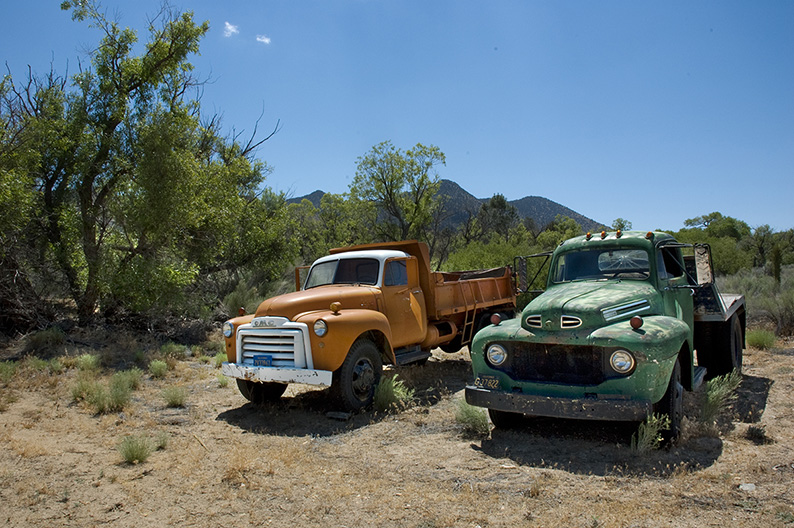 I had promised Helen she would see snow capped mountains, and the excitement was building up as we were finally moving away from the deserts of the south, and reaching the mountains. Coming from Arabia, snow is a magical thing you never ever see, and can only dream about. I have been here before, and each time I came there was snow, regardless of the season. Not this time. Tell me climate change is a Chinese Hoax !!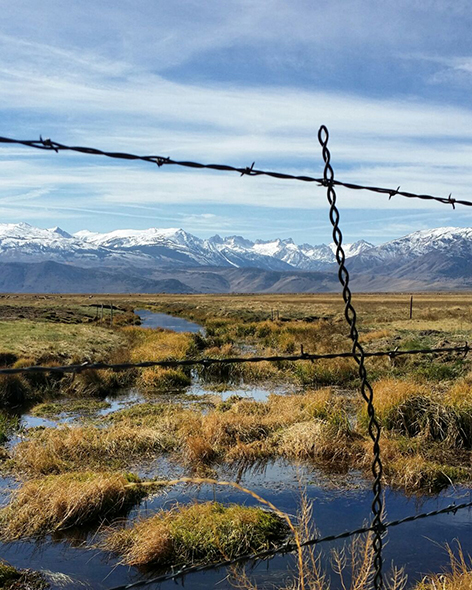 It's only when climbing the Sherman pass that we begin to see some signs of snow. The mood changes instantly, her eyes sparkle as we enter heaven… She loves California.
---
The wild waters of the Kern river
In the heart of the beautiful southern Sierra Nevada, the wild waters of the Kern River attract thrill seekers from all over the country looking to test their skills and push their limits, while nature lovers indulge in the other wonders the valley has to offer.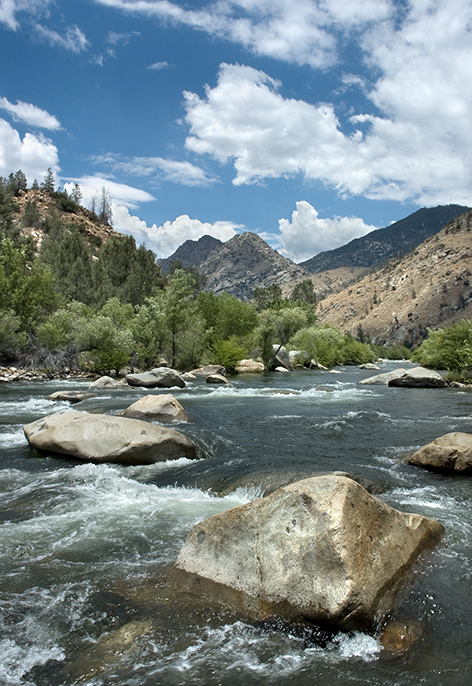 Coming from the Arabian desert, a wild river isn't something we get to see often. Understand never, if you count out the Wild Wadi Water Park for kids in Dubai. So I can feel the excitement building up in the car as we come down the Sherman Pass and approach the Kern River Valley.
The river is a hot spot for water sports. 165 miles long, divided in two by a dammed reservoir called Lake Isabella, it boasts some of the best rafting trips in the country. From the April to July, local outfitters offers various water runs depending on your skills and fitness level. From Class V rapids for thrill seekers and adrenaline junkies, to Class II sections for families and kids, it will please everyone (see the detailed description of the different classes of rapids below).
But don't be foolish, the Kern river is dangerous. Nicknamed "Killer Kern" for a reason, it has taken the lives of 280 people since 1968. Each year people drown after falling in the current. To enjoy it safely it is best to follow a certified guide with a local permit for the three different zones on the river; the upper Kern, the lower Kern and the Fork.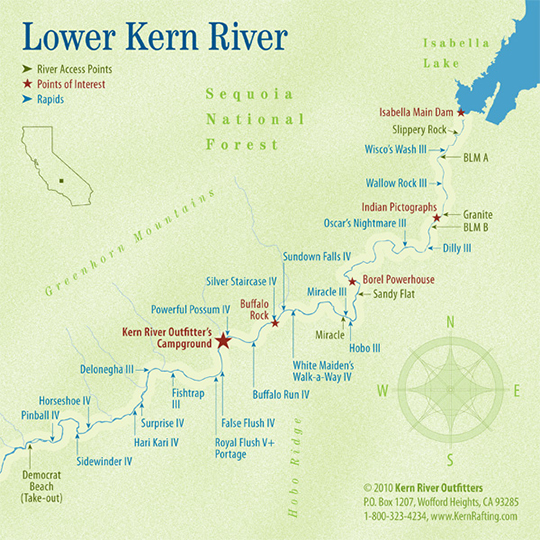 The lower Kern flow is regulated by Lake Isabella, while the upper Kern is a wild runoff of snowmelt water and depends on the amount of snow the mountains received during winter to reach its full potential.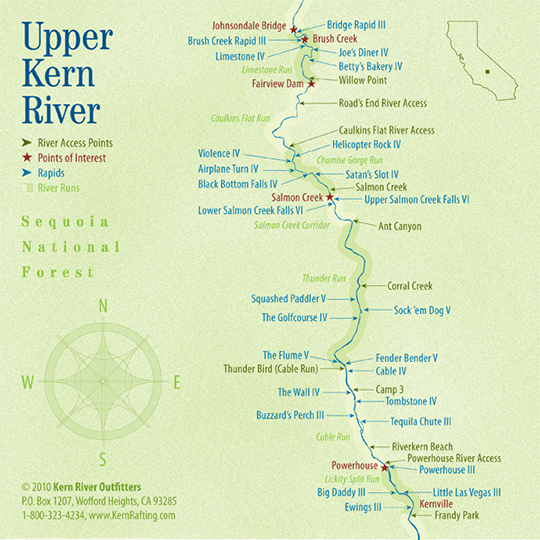 The fork, on top of its ferocious rapids, also requires to trek up the river through canyons to reach them, making each trip a complete adventure.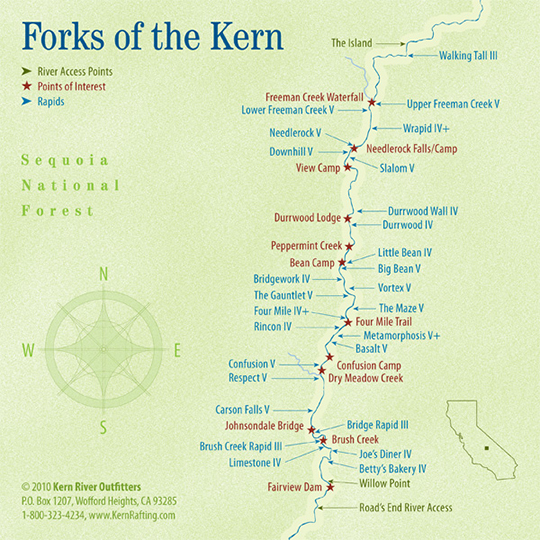 You'll find most outfiters and hotels located in Kernville not too far down the river. It's an old western mining town transformed into an outdoor adventure center, offering many more activities besides rafting. For example, if rafting and kayaking is a bit too bold for you, you can drive down Lake Isabella which is known to be a good windsurfing spot. I see it more as a jet sky paradise, where on a hot summer week-end it must be very crowded with speed and noise.
Other activities include fly-fishing the California Golden Trout, for which you'll need a special permit, rock climbing, or simply trekking the various trails surrounding the river.
Contacts & Infos
Kern County tourism bureau
2101 Oak Street
Bakersfield CA-93301
(661) 868 5376
RAFTING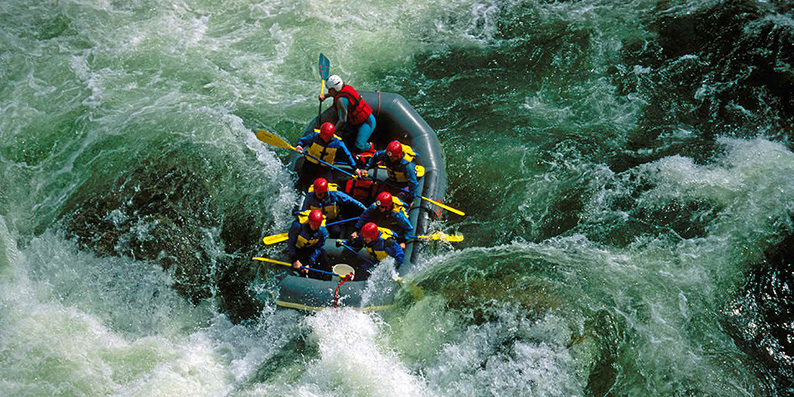 Kern River Outfitters
6602 Wofford blvd
Wofford heights, CA-93285
(760) 376-3370
Kern river tours
P.O. Box 3444
Lake Isabella, CA-93240
1-800-844-7238
krt@kernrivertours.com
Mountain & river adventures
11113 Kernville Road
Kernville, CA 93238
Phone: 760-376-6553
Classes of rapids
Class I: Fast-moving water with riffles and small waves.
Class II (Novice): Straightforward rapids.
Class III (Intermediate): Rapids with moderate, irregular waves that may be difficult to avoid and can swamp an open canoe.
Class IV (Advanced): Intense, powerful rapids requiring precise boat handling in turbulent water. Risk of injury to swimmers is moderate to high, and water conditions may make self-rescue difficult.
Class V (Expert): Extremely long, obstructed or very violent rapids that expose a paddler to added risk. Swims are dangerous, and rescue is often difficult even for experts.
Class VI (Extreme and Exploratory Rapids): These runs have almost never been attempted and often exemplify the extremes of difficulty, unpredictability and danger.
Source: American Whitewater
FLY FISHING
Kern River Fly Fishing Guide Service
11301 Kerville rd
Kernville, CA-93238
(760) 376-2040
CULTURE
On a cultural note the Kern Valley Museum is also an excellent choice if you want to learn about the gold mining and Wild West.
HOTEL
Durrwood Creek Side Lodge
100 Mountain Highway 99,
Kerville, CA-93238
(760) 376-2719
Pricing $
---
Day 5.
The Sequoia & Kings Canyon National Park.
Hike in the Sierras on a trail below the world tallest trees, follow breath taking canyons or climb steep granite domes, the Sequoia & Kings Canyon National Park offers more than time can allow.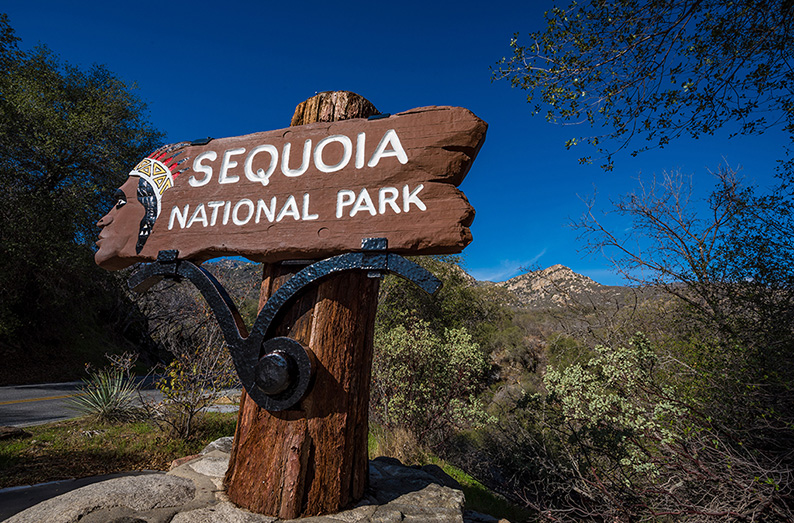 Driving through a mountain road at dawn on a clear day is magical. The blueish light as we wait for the first pink and orange rays of the sun to make their way above the peaks, gives a completely new look to the road we were traveling on just yesterday. Nature is slowly awakening, opening the way for a new day full of promises.
From the Kern River Valley we head on towards the Sequoia & Kings Canyon National Park. It is the third park we have planned to visit during our trip, after Death Valley and the Joshua Tree. Each park offers a specific natural treasure, this one being mostly known for the world's largest trees, the Sequoia.
Part of vast conifer forests covering a large part of the Sierra Nevada mountain range, the Sequoia grows only on the western side of the mountains, facing the Pacific ocean. Located in coves, (40 of them named within Sequoia &Kings Canyon park) usually between 1.200 m and 2.500 m, they stand tall above all others, which makes them so striking.
An easy way to visit is to just drive through and stop to walk the short loop that will take you to the General Sherman, the biggest Sequoia of them all. But that would be missing out on so much, like watching the preview of a movie and think we have seen it all. Nature is best appreciated on foot. Instead park you car and really walk around. Not just to take a picture for your Instagram account to show you were there, but make it a hike, enjoy the trails, take the time to look around and learn.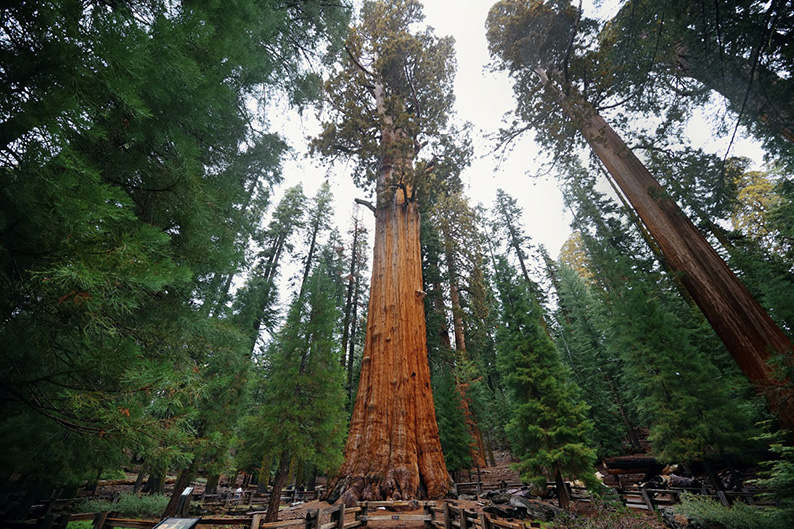 The park has 800 trails spread within the 808.000 acres of designated wilderness, and proposed 29.500 more. An immense area "untrammeled by man, where man himself is a visitor who does not remains" as mentioned on the park website. Magnificent groves with the world largest trees, tall granite peaks to climb, glacial canyons, caves, lakes, meadows, most only reachable by feet… for us to visit and cherish.
Prepare your trip in advance and research what hike is best for you. Alltrails.com lists all of them based on difficulty. You'll find all the necessary informations, photos as well as comments from previous hikers to help you choose. The other must is the park website. You'll find out about camping on the designated campgrounds (14 of them), the required permits depending on your planned activity – hiking, campfire, fishing – the risks of attracting bears if not carrying your food in proper containers, the weather conditions for that day, etc…
Because of the little time we have on our schedule, we decided to stay within the groves and admire the trees. (We'll only drive through Kings Canyon this time.) They stand so tall it is impossible to get a decent picture of one, even if laying flat on our backs looking straight up.
We move away from the crowd to enjoy the "silence" of nature, The wind whistling through the branches, the cracking sounds of balancing trees, the birds… I place my hand on the bark of one Sequoia, hoping to feel a connection. It's all in my mind really, based on the respect I have for a creature whose lifespan makes mine a blimp, reminding me we're all part of a greater world that goes so far beyond ourselves. You are so beautiful, so tall and big, yet so fragile…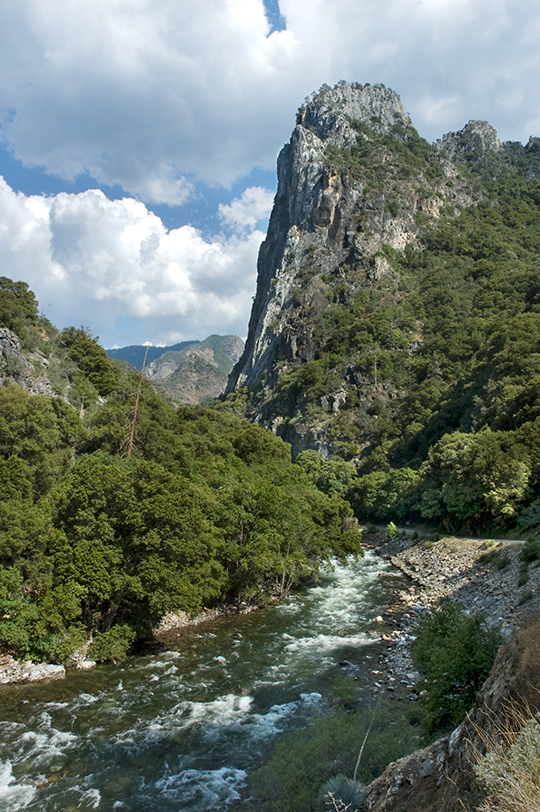 As for every previous destination of this trip it is so hard to leave.
Directions & Essentials
THE DRIVE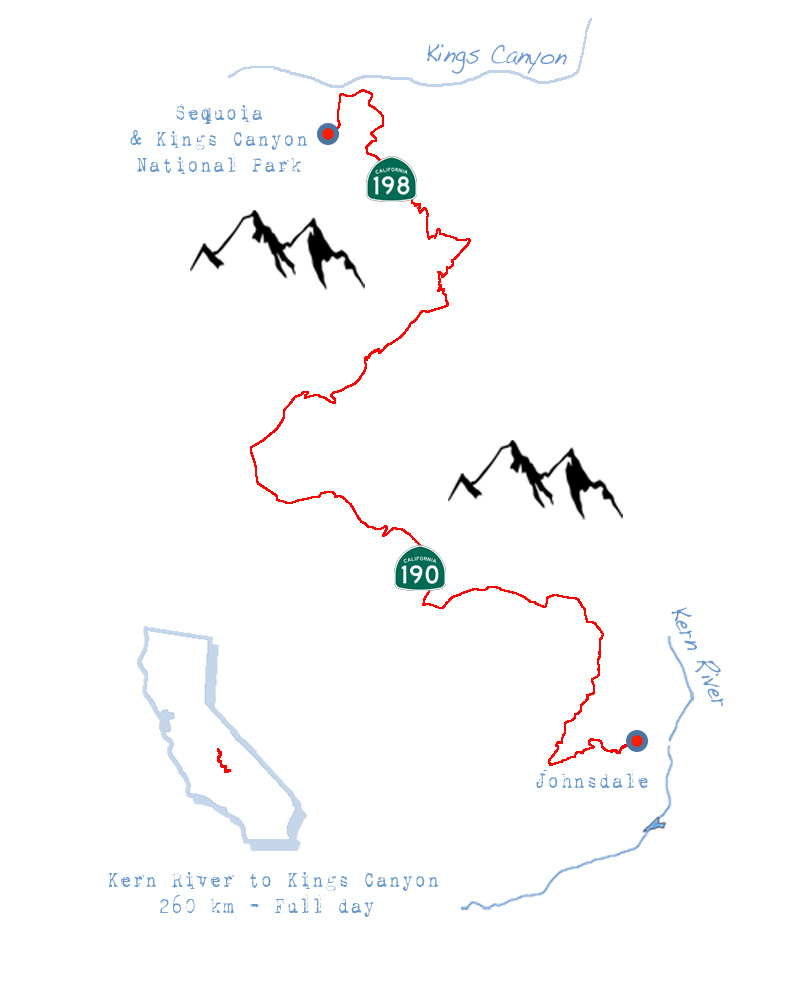 The entire drive is through scenic mountain highways. Make sure to check Caltrans website before leaving, as most of the way is subject to winter closures.
Be aware that on some part of the drive phone coverage is sporadic at best.
Last, petrol stations are few, refill accordingly.
From the Kern River go West on the Great Mountain Highway 99 till you reach the Great Western Divide Highway 107. Take right. The Highway will become Highway 190 after a while. As you enter the town of Springville turn right on Balch Park Rd J37 then left at the fork on Yokohl Valley Drive. Turn right on Highway 198 toward Lemon Cove. Pass Lake Kaweah, and head towards Three Rivers. Keep on Generals Highway 198 until you reach Highway 180. Follow Highway 180 till its dead-end at Kings Canyon.
THE PARK
Everything there is to know to prepare your trip to the park is on the park website.
Sequoia & Kings Canyon National Park
47050 Generals Highway
Three Rivers, CA 93271
Phone:
(559) 565-3341
THE TRAILS
Find the best trails for you in the park, like the High Sierra trail or the Rae Lake leap on Alltrails.com.
PLACES TO STAY
I could list hotels I haven't been to, be really your best option here is to camp !
Campgrounds
Wilderness permits
---
Day 6.
Yosemite National Park.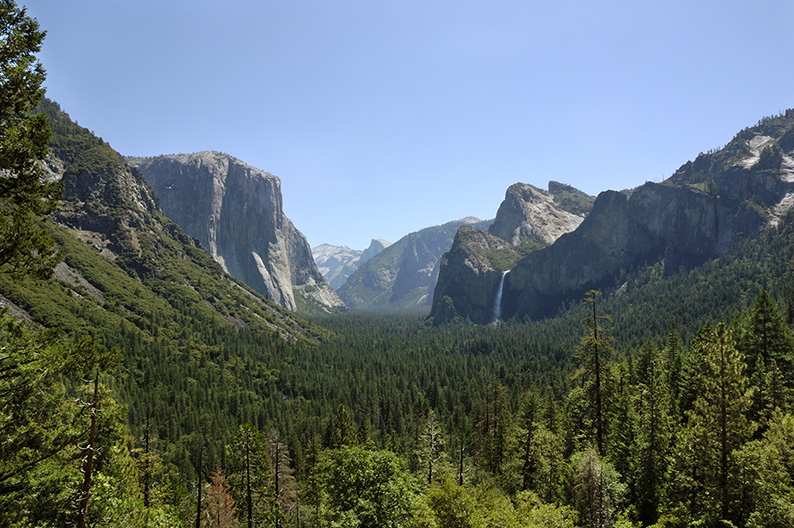 As I now sit at my desk, facing the empty page on my computer screen, trying to describe Yosemite, I am suddenly overwhelmed by the difficulty of the task. How to put into words the majesty of the place? How to convey with my deficient english vocabulary the sensations one can feel when entering the glacial valley, witnessing for the first time its natural beauty?
Majestic, sublime, imposing, awesome, magnificent, stunning, monumental, grandiose, marvelous, mind-blowing… Those are some of the few adjectives I can find in the dictionary. But still it feels short, almost flat in comparison. John Muir or Ansel Adams, two figures closely attached to the park, talked about a revelation when discovering the valley for the first time. An awakening that transformed their lives for ever after. Where, through their writings or photographies, they worked relentlessly to help us understand the significance of such a place and the importance of preserving it from entrepreneurial greed. A place so special and unique, mankind agreed to spare its beauty from its destructive appetite.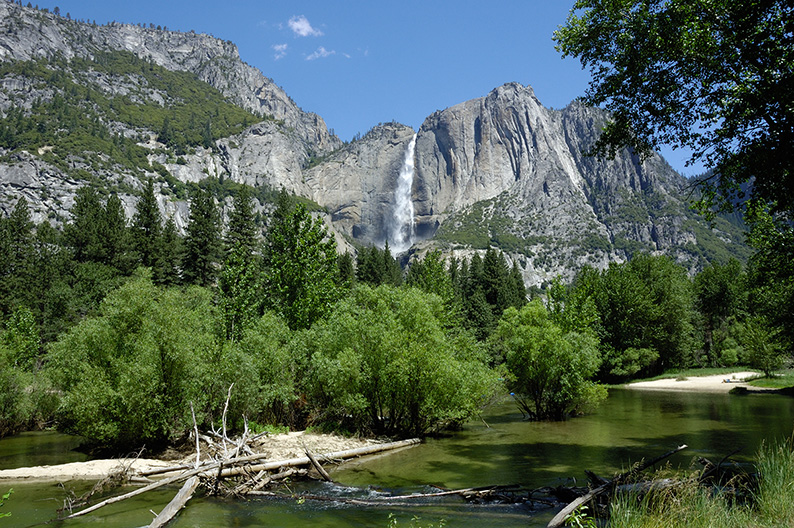 the splendor of Yosemite burst upon us and it was glorious…. One wonder after another descended upon us…. There was light everywhere…. A new era began for me."
Ansel Adams on visiting Yosemite for the first time
Today Yosemite is famous around the world and one of the most visited national parks in America along the Grand Canyon and Yellowstone. Most people will come for a quick tour of the valley, but as with all the other parks we have visited so far and described to you in this guide, Yosemite deserves much more than that. A vast network of trails allows you to see the area from so many different angles, offers a multitude of photo opportunities, and un-obstructed contacts with nature. With a wilderness permit and a map in hand, walk away from the crowd and find the right places to quietly observe the beauty around you.
The park website, as always, has all the informations you will need to make your trip to Yosemite a success.
Directions & Essentials
THE DRIVE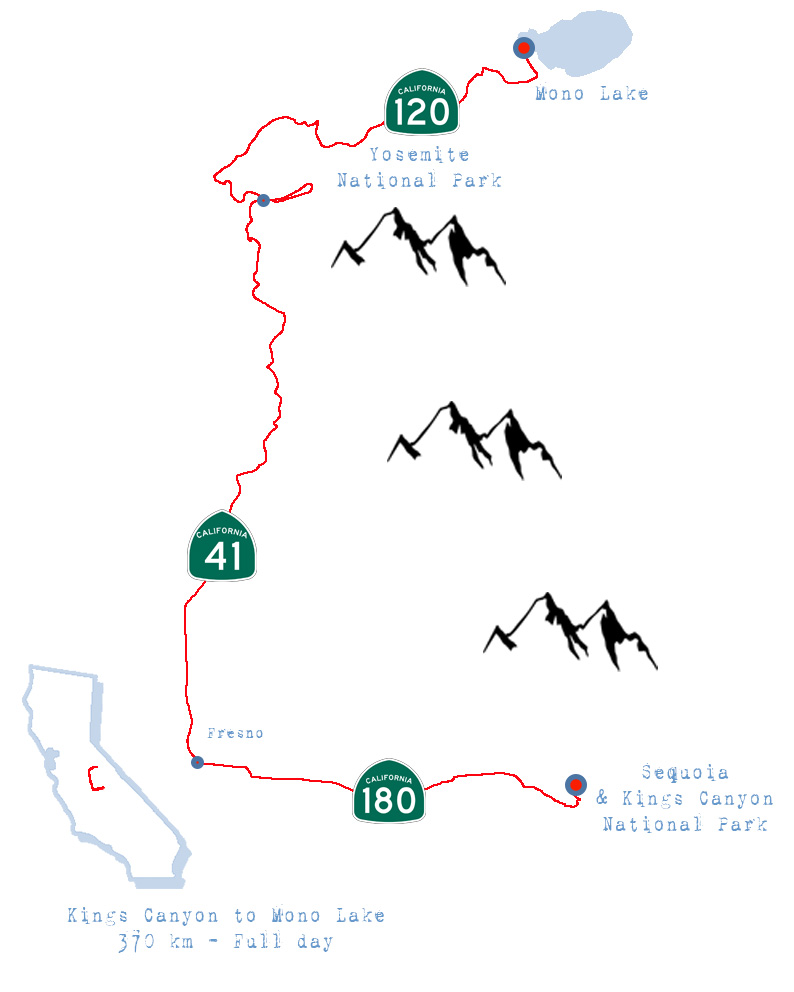 Note: Even though I urge you to get out of the car often to really get a sense of the beauty around you, today's drive is pretty long and if you plan on reaching Mono lake before the night fall, you can't spend too much time at each stop, your call)
From where you camped in the Sequoia & kings Canyon National Park get back on Highway 180 – E Kings Canyon Road – towards Fresno. In Fresno, take right on Yosemite Freeway 41. Follow the road all the way to the Yosemite park entrance. The toll to enter the park is 30$. Once in the park keep going on the same road till you enter the tunnel. Your first view point of the valley is at the end of the tunnel.
Keep on the same road all around the valley. Make sure to get out of your car and admire the scenery. Many trails start from the bottom of the valley.
Once done with the valley loop, take right on big Oak flat road towards the Tioga Road 120 towards Mono lake.
Drive all along the road which offers many view points and reasons to stop.(The road is closed from October to May. Check with CALTRANS for traffic conditions first.)
THE PARK
Yosemite National Park
website
PO Box 577
Yosemite National Park, CA 95389
Phone: (209) 372-0200
TO DO
Again this guide describes a road trip and is only passing through Yosemite. If you decide to spend more time here there is a lot more you can do. Spending a day in the park leaves you time to enjoy a walk on a trail of your choice.
There are too many trails to list. About 800 to choose from.
Check the Park website to help you choose based on the time you have on your hands, and your fitness level. The most popular ones require a permit in order to limit traffic.
Also check alltrails.com for further informations on trails.
PLACES TO STAY
The hotels we are listing are by June Lake and Mono Lake right outside the park. They are in the typical mountain cabin rustic style you will find all around.If you plan on staying longer within the park, you'll ten need to search for more options between local hotels and campsites.
June Lake villager
Cottages by June Lake for 100$ a night
Double eagle resort
More "sophisticated" resort by June Lake. Around 200$ a night but you'll need to reserve early as it gets sold out fast.
Tioga Lounge
Self described as a "rustic all charm", with the best view on Mono Lake you can get.
Around 140$ per night.
FOOD
We haven't stopped for lunch so instead of talking about something I don't know, here is a list of the ten best restaurants within the park
If you plan on eating on the go, either in your car or on the trail, you must know and comply with the park's food regulations, specifically regarding bears.
---
Day 7.
From Mono Lake to Lake Tahoe.
Mono Lake is magical in the morning. To see the sun rise on the lake, casting deep shadows from the limestone Tufa towers is a blessing for photographers. The pink, red, orange reflections of the rising sun on the clouds, contrasting with the deep and crisp blue skies is a must stop.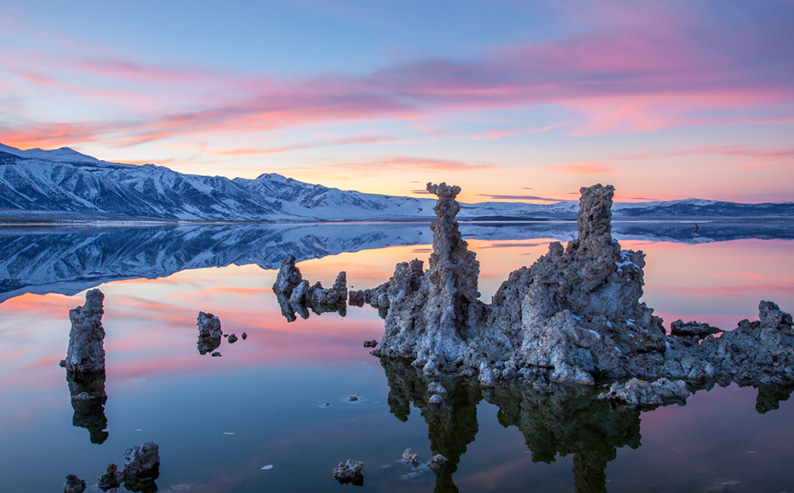 What you see today is the direct result of disastrous man made interventions, cutting off most of the lake's natural water supplies to bring needed fresh water to ever expanding urban areas like Los Angeles. By doing so, the lake has been left to evaporate slowly. In the process, this vestige of what once was a much larger inland sea, has now reached an extremely high level of mineral salt. Yet, somehow, some creatures have managed to adapt and survive in those new hostile conditions, like the Brine Shrimp, the concentration of which now attracts birds who feed on them.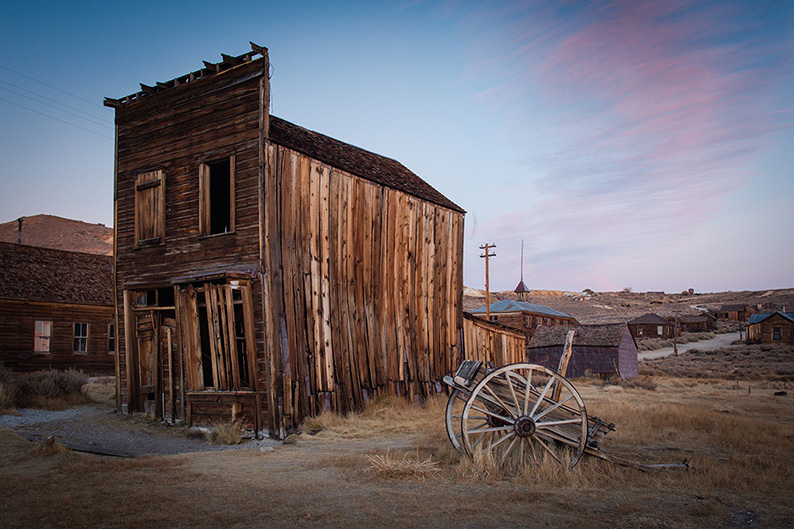 Not far from there, north of the lake off Highway 395, at the end of road 270, stands one of the most famous ghost town of the wild west, Bodie. Again the early morning hours (or during the "gold hour" of the sunset) is when the light is bringing the best out of the abandoned mining town. Well preserved, not yet transformed into an amusement park type of attraction, the town gives you a good sense of what life was like back in the days of prospection. Take your time, and here too, bring your camera.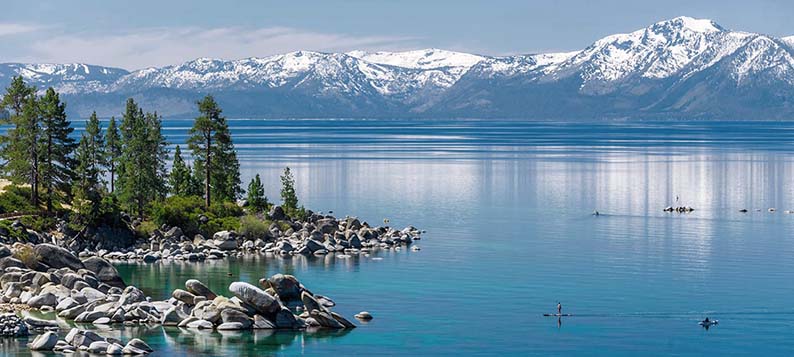 Next, a succession of mountain roads with breathtaking views on the Sierras all the way to Lake Tahoe. And that is the main attraction really, more than the destination.
I haven't much to say about Lake Tahoe itself. Our hotel, the Postmark, was really not something I would recommend. Not clean and with very odd bathrooms; a very large Jacuzzi type tub surrounded by mirrors including on the ceiling, that looked more suitable for a Nevada hooker's motel than a ski resort lodge.
Talking about Nevada, the town is split on the border between California and Nevada, so you can cross from the Golden State over to the Silver State and pick a casino and enjoy the evening in front of a table of black Jack, or waste your luck on a coin machine, if that is your idea of fun. I prefer a good night of sleep after a long drive to be fresh in the morning for a walk on the magnificent trails surrounding the lake. That includes the PCT passing near by. It's again well worth considering spending more than a night in Tahoe, if you want to enjoy some of the trekking options around you. We decided to wake at dawn and explore till 11am in order to reach our next hotel before sunset.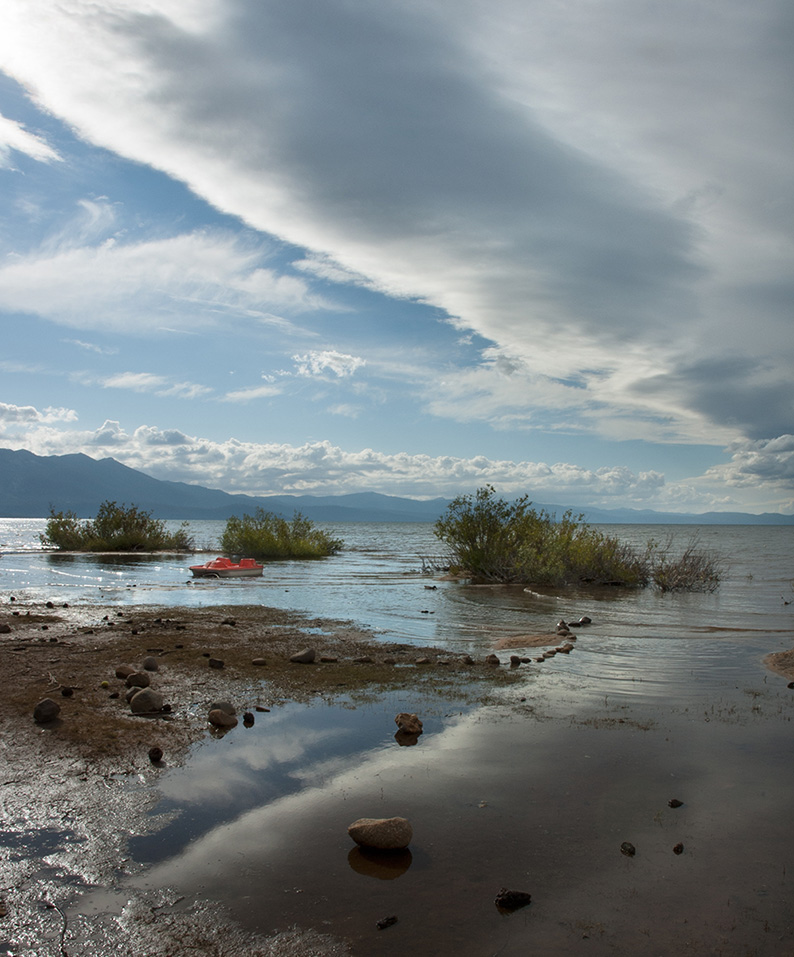 Directions & Essentials
THE DRIVE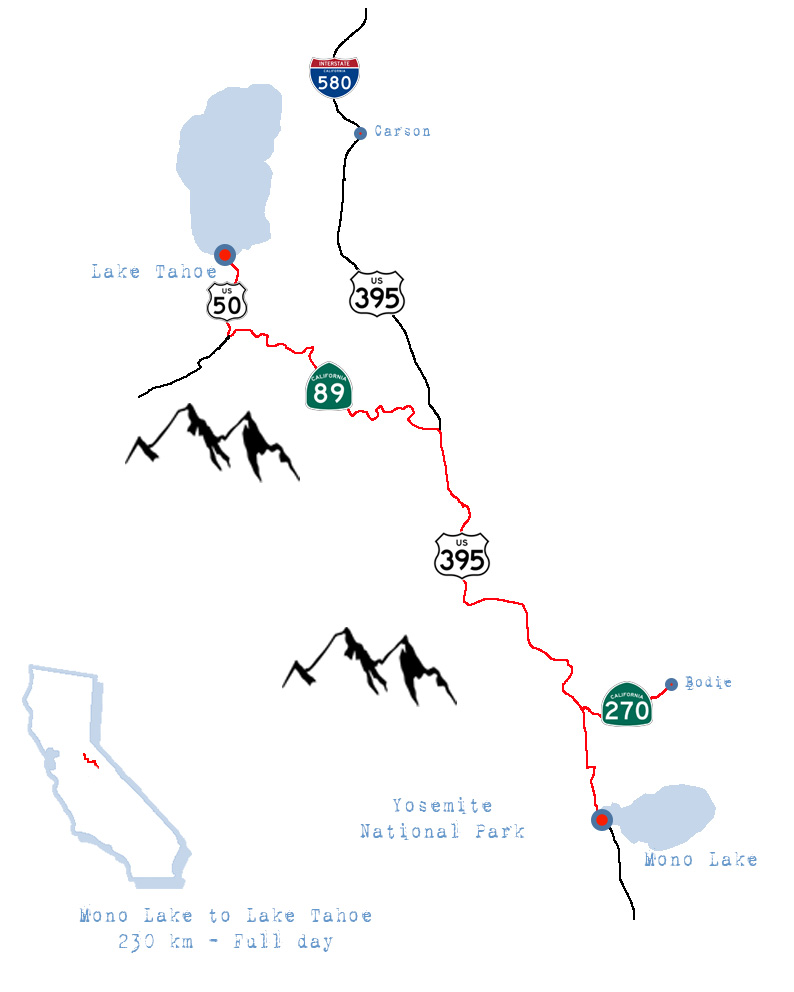 From where you slept get back on Highway 395 North at the intersection with Tioga Pass Highway 120 – Where you'll be facing Mono Lake. (You may take right on Road 167 to see more of the lake and come back towards Highway 395 North to get back on track)
Once on Highway 395 North keep north all the way to Bodie road Road 270, where you'll turn right all the way to Bodie. Once done with your visit, get back towards Highway 395 and turn right. Drive along all the way to Highway 89. Take left on the Highway (its often closed during winter)and drive all the way to Woodford where 89 merges with 88. Take a left on Highway 88/89. Drive along till you reach Highway 50. Take a right and drive all the way to Lake Tahoe.
You will drive along scenic mountain pass which are subject to closure during winter. Check with CALTRANS for traffic conditions first.)
TO DO
Mono Lake and Bodie State Historic Park
PLACES TO STAY
I should say, where not to stay ! We booked a room at The Postmarc Hotel in Lake Tahoe, and as described above, not a place I advise you to stay. There are plenty of other options in Lake Tahoe. Your feedback will be welcome.
---
Day 8.
From Lake Tahoe to Lake Almanor.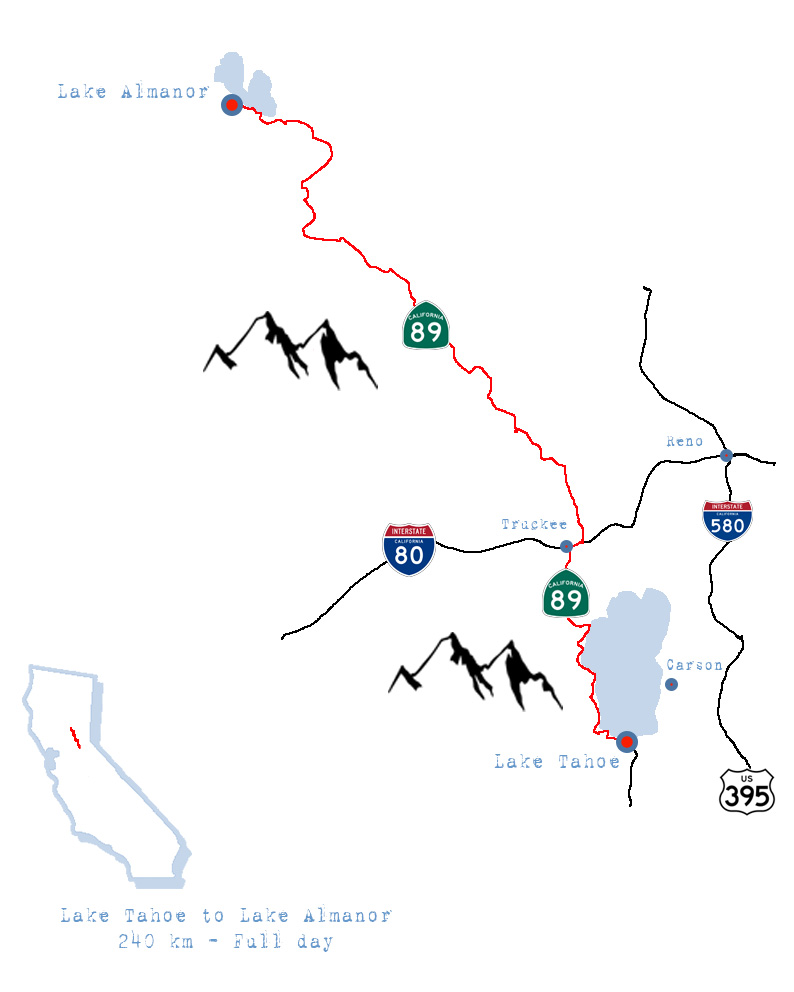 From a lake to another.
Most people visiting California concentrate on the southern part of the state, only venturing up north to see San Francisco and maybe the Napa Valley. Very few will stretch their trip to explore the wild landscapes of the northern counties and that is a shame.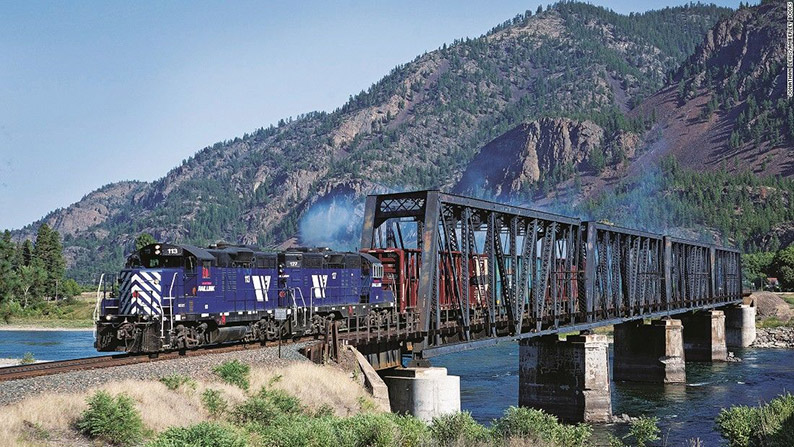 Of course if your idea of traveling is to indulge in fancy hotels after a day of high street shopping, then you are in the wrong place. (As a matter of fact you're in the wrong place just reading this blog !)
But if you are looking for rough log cabins lost in nature, old fashion no non-sense diners on the side of sinuous mountain roads, then you are up for a fantastic time. (Mind you, finding Vegan menus here isn't always the easiest, but we can't have it all, can we ?)
Directions & Essentials
THE DRIVE
The drive from Lake Tahoe to Lake Almanor south of Mount Lassen is a constant reminder how bless with beauty this land is. Hillsides covered by pines piercing through low hanging clouds, wild rivers carving valleys crossed by rusted metallic bridges, lakes in grassy meadows, railroads whistling in the distance, this is timber country ! The road is a never ending panorama, a joy for those who travel with their eyes open !
From Lake Tahoe, follow the West shore of the lake on Highway 89 towards Truckee, until you reach Interstate 80. Take East on 80 till Truckee, then north again on Highway 89. Follow the Highway North towards Sierraville. Stay on Highway 89 all the way to Lake Almanor. Note that 89 merges at some point with Highway 70. You will see both signs now and then.
TO DO
Just drive !!
PLACES TO STAY
No fancy boutique hotels here. Cabins and campgrounds are your only options. We camped on our own by the lake, which if you have the required gears is probably your best option.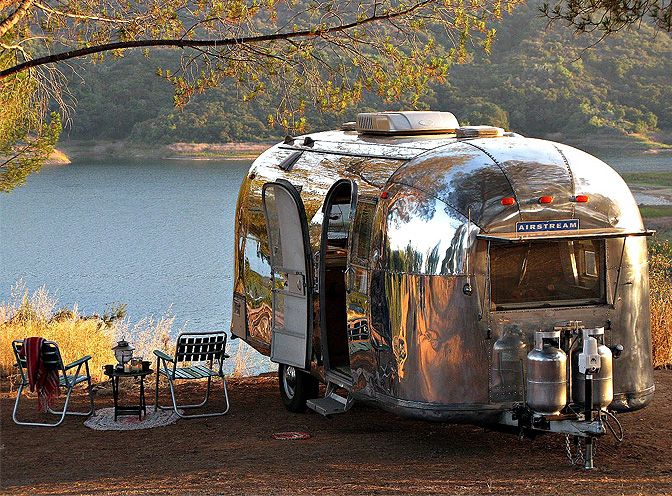 If not here is a list of the local places:
Plumas Pines Resort
3000 Almoner Drive West
Canyon Dam, CA 95923
Tel: 530 – 259 4343
Wilson's Camp
2932 Almoner Drive West
Canyon Dam, CA 95923
Tel: 530 – 259 2267
---
Day 9.
From Mount Lassen to Eureka.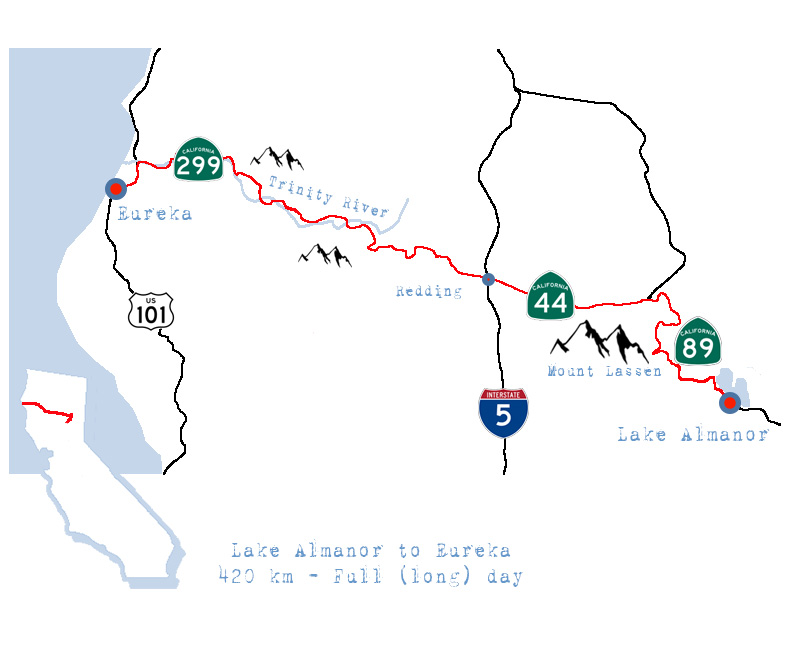 Today's drive starts with another national park, Mount Lassen Volcanic national park. Another natural heaven deserving far more time and attention that we have allowed ourselves for on this adventure. (I say this EVERY TIME, simply because it is true. Every national park we have crossed is a destination in itself where you could easily spend at least a week to explore, and only scratch the surface of what it can offer. Between all the outdoor activities for you to enjoy, all the flora, fauna, geology and else to learn about, driving through or even a day is obviously not gonna cut it. Again see this as a sample of what is there for you when you decide (if you can) to give it more of your time.)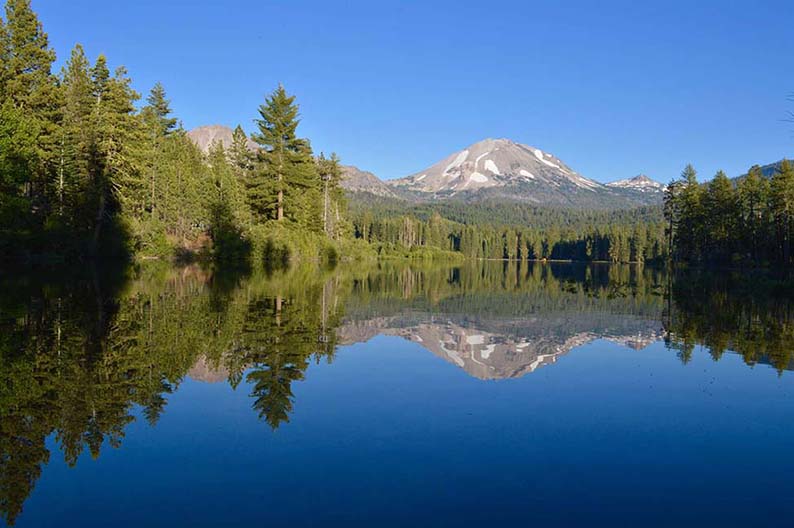 Mount Lassen is an active volcano, it's last eruptions dating back to the early 20th century. It is part of a broader mountain chain, the Cascade Volcanic Arc, stretching from British Columbia to Norther California. 18 volcanoes are referenced in that range. The park area is located on the east side of the volcano and was created to "preserve the devastated areas as they were" (Wikipedia) after the 1915 eruption.
Driving up to it is a treat as it stands isolated, its summit covered in snow most of the year. The white tip being visible for miles away. Then the road circles around the mountain offering breathtaking views of the chaos left by the lava, before taking us back down to the northern tip of the Central Valley and the town of Redding.
There isn't much to say about Redding except that it was a convenient place to fill up and have lunch. Things were about to get interesting again soon after though, once on Road 299, the Eureka Way, leading us all the way back to the Pacific Coast, while following the Trinity River Valley. Wood hills, isolated hamlets and campgrounds, derelict pick-ups driven by old men with long white beards and big hats while their dog seats by their side, a charming preview of what we imagine the Pacific Northwest to be. The kind of place we would love to call home and leave the madness of our world behind.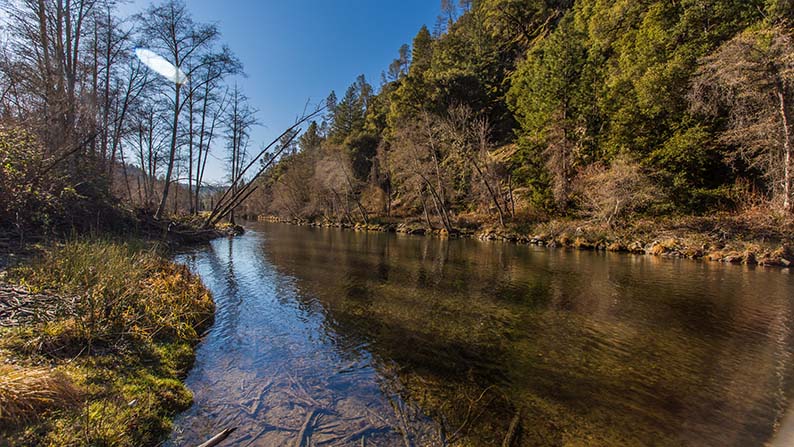 The road is in great condition and traffic is sparse, which is good because the distance to cover today needs no delay if we want to reach the ocean before the sunset. Planning ahead, we left very early this morning and it turns out to be a smart move. Because we are lucky, the weather becomes cloudy and soon before we arrive to the coast, rains starts to fall as if on cue. Eureka will not offer us a magical sunset, but instead a display of a multitude of grays and dark blues, filling up the sky with menacing clouds. What better setting for a romantic night in a beautiful victorian house on the ocean ?
Directions & Essentials
THE DRIVE
Note: This is quit a bit of distance for today (420 km of mountain roads), and depending on the season you might not be able to reach Eureka before the sunset. You might also find it too long (Like my wife did). In that case I suggest you split the day in two and stop for the night at Redding. That way you can enjoy longer pauses while driving or take a nice walk while in Mount Lassen National Park. By now you should have the experience to know how much driving you can tolerate per day. Know that you can catch up the extra day by only staying in the Bay Area one day instead of two. Your call.
From the lake Almaro camp site or resort, drive up north on Highway 89 towards Chester. Turn left on Highway 36. You will join again Highway 89 going north leading you towards Mount Lassen National Park. Enter the park and follow Highway 89 around all the way to Highway 44. Take left on Highway 44 and follow till you reach Redding. (depending on the hour follow on or stop here for the night.) Cross Redding and take on Highway 299 towards Eureka. In Douglas City take right on Highway 3 which becomes Highway 299 again after Weaverville. Follow that road all the way to the coast and Highway 101. Turn Left on 101 towards Eureka.
You will drive along scenic mountain pass which are subject to closure during winter. Check with CALTRANS for traffic conditions first.)
TO DO
Mount Lassen National Park
P.O. Box 100
Mineral, CA 96063
tel: (530) 595-4480
PLACES TO STAY
Carter House Inn
301 L Street
Eureka, CA 95501
tel: (800) 404-1390
Around 200$ for a standard room.
$$
The hotel is fantastic. Right near the ocean in the old victorian district of Eureka, the pale yellow mansion is a sharp contrast with the old rustic cabins we have enjoyed the past few days. We are back in sophisticated settings. A delicious diner, served by an enthusiastic and knowledgeable waiter, before cuddling in a bohemian chic room listening to the falling rain on the windows.
For a more complete review of the hotel, check out my dedicated post.
---
Day 10.
From Eureka to San Francisco.
From now on it's all about the coast. Well wait, we can't see any of it ! The morning fog is so thick we can only ear the waves in the distance. It makes driving down the legendary Highway 101 towards the Redwood forest of giants a very eery experience. Large trucks loaded with timber logs storming out of the clouds just before passing you.
But what is definitively not the right type of weather for driving on main highways, couldn't have been more suited for the Avenue of the Giants, where we can stop and start a walk among the tall redwood pines. The increased level of humidity, the inability to see just a few trees away, transports you to a parallel world. A world of Hobbits and other magical creatures hiding from the curious eyes. Another dimension, really, where we seem suddenly dwarfed by nature, out of scale, insignificant in comparison with those majestic but enormous trees.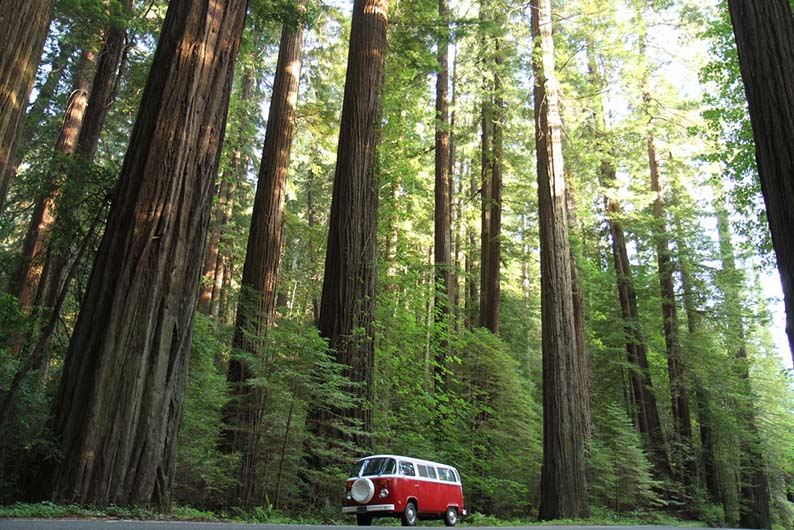 Here and there along the back road, lost in the middle of this isolated beauty, some early days hippies came to find refuge from our world of consumption. Living from what earth is offering them, they tend to look at us as lost souls disturbing their peace. Parked along side one of those derelict homes, rest a car completely covered with revolutionary and political stickers, mixed with painted peace signs and other spiritual enigmas.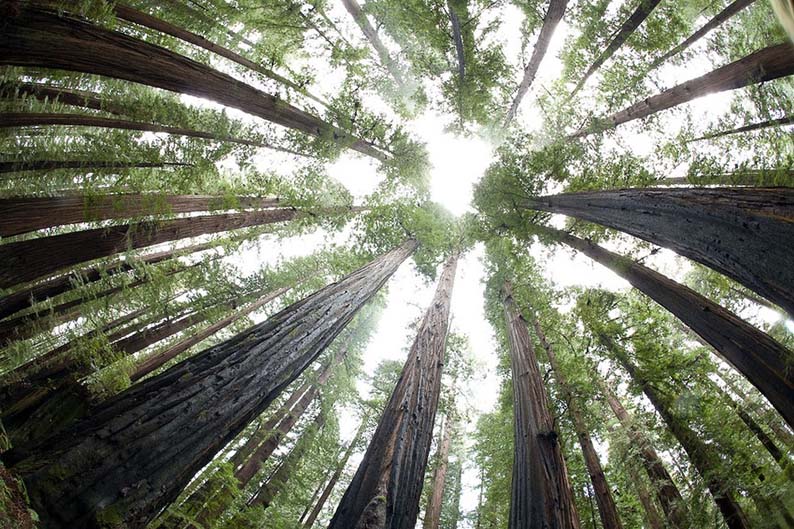 The rest of the day is a race against the clouds, hoping to find clear patches of sky over the rocky chaos of cliffs overlooking the ocean, before it disappears in the fog again. Only when approaching the bay area will the sky finally clear offering us a magical sunset over the Pacific.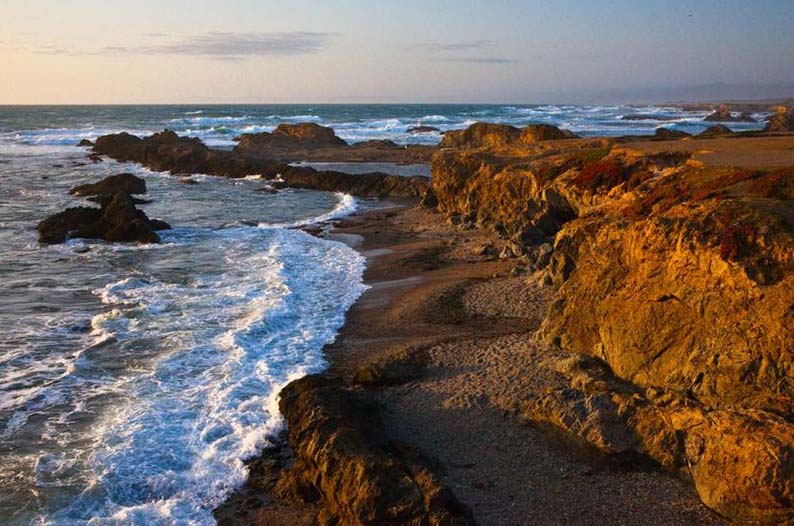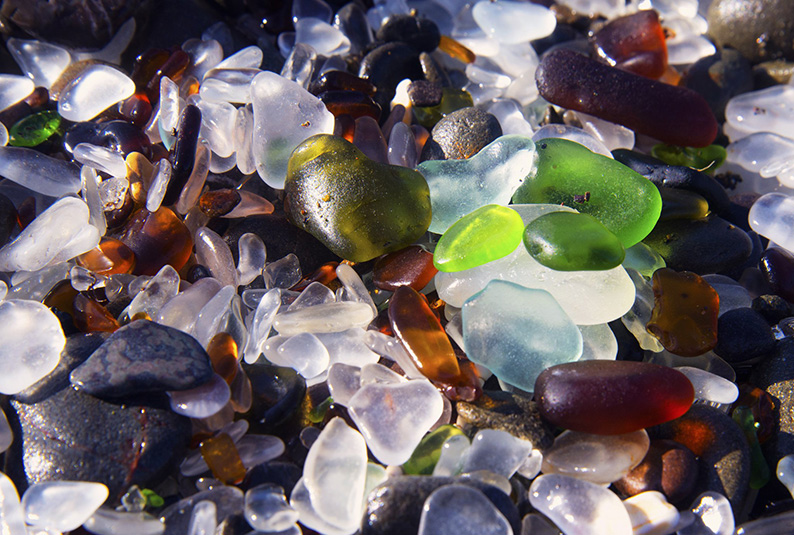 Directions & Essentials
THE DRIVE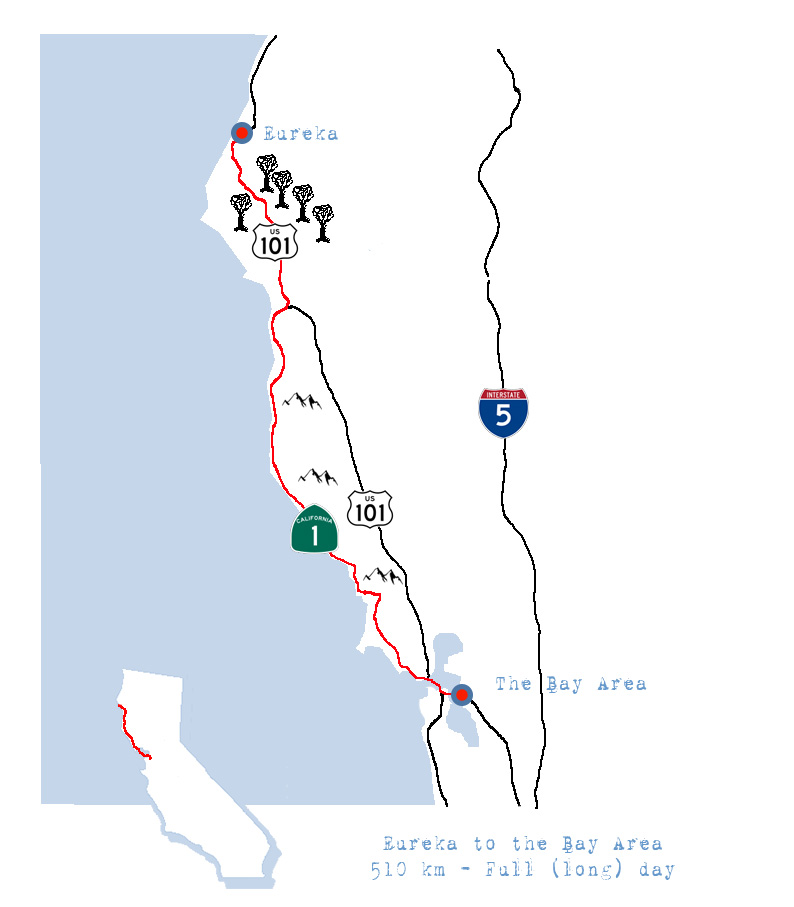 Note: This is by far the longest drive of the trip. And driving on Highway 1 is not a speeding affair. We didn't make it before night time, which is fine because American cities always look stunning under the moon. Don't try to beat the light. Instead plan for a late arrival, which will spare you the madness of rush hour traffic around the Bay. (Especially after a full day of driving !!) If it's really dark, no moon or a very cloudy day, take a cut after sunset and head for the nearest freeway. If it's a clear and bright night, you'll be rewarded with stunning views of the ocean despite the late hour.
From the hotel get back on 101 and head South all the way to the Avenue of the Giants (Road 254) after the town of Scotia. Follow the Avenue till the town of Redcrest. There get back on Highway 101 South all the way to the Junction with Highway 1 at the town of Legget. From there it's all the way down the Coast for amazing views (if the sky is with you) until you catch up with the 101 in the town of Sausalito. A few miles ahead is the Golden Gate and your entry to the city of San Francisco.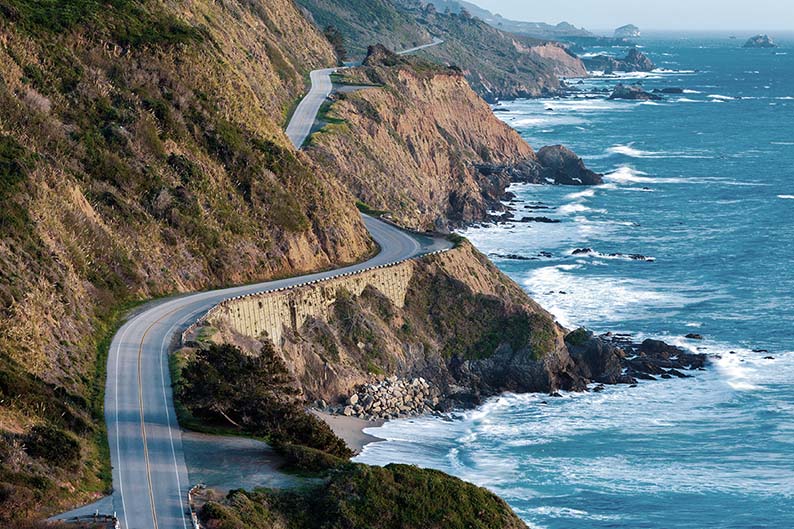 You will drive along scenic coastal roads. Check with CALTRANS for traffic conditions first.)
TO DO
The Avenue of Giants
A beautiful forest of giant Redwood pines off 101 Highway south of Eureka.
Highway 1 from Fort Bragg to the Bay
The Golden Gate Bridge.
PLACES TO STAY
Our experience at the Downtown Oakland Marriott wasn't good (see below). But you're lucky there are so many more options in the area, that you should be able to find something decent for you. On the down side prices are quite high !
---
Day 11 & 12.
The Bay Area.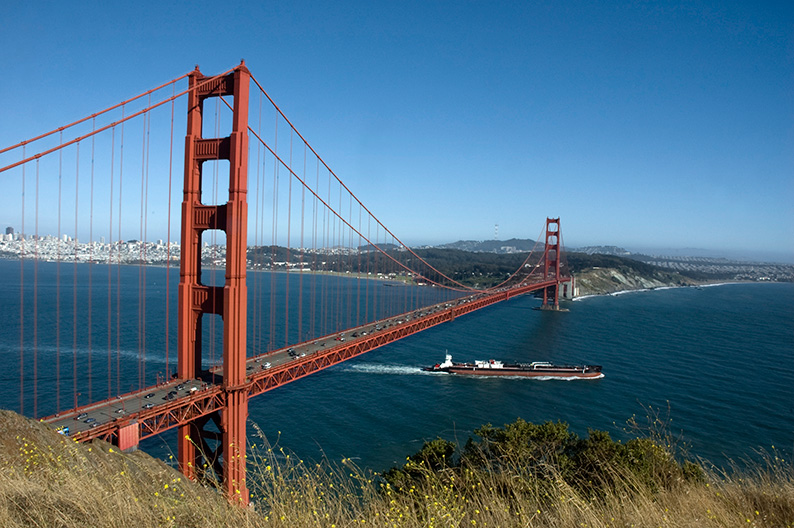 The bay area is special to me. I have lived here for almost 5 years back in the early 90's. In San Francisco the first two years, then in an amazing loft space in the Oakland harbor long before it was trendy! You'd think I know the place, but things have changed so much in the past 25 years, I can hardly recognize any of it.
My old building for example is now looking dapper. A new "questionable" paint job, robbing it of its industrial edge, probably meant to attract a more "selective" type of tenants… The stores I knew, the bars I hung out, all are long gone, often replaced by worldwide brands I can find in any other city… Even the Mission district of San Francisco is now gentrified. What happened to my original taco joints where you really had to speak Mexican to be taken seriously ?.. South of Market is full of modern buildings, not to mention a "Giant" baseball stadium.
The feel is different from what I knew, yet it remains unique, a beacon of liberty and progressive values, leading the fight against the sad and divisive mood coming out of Washington this days.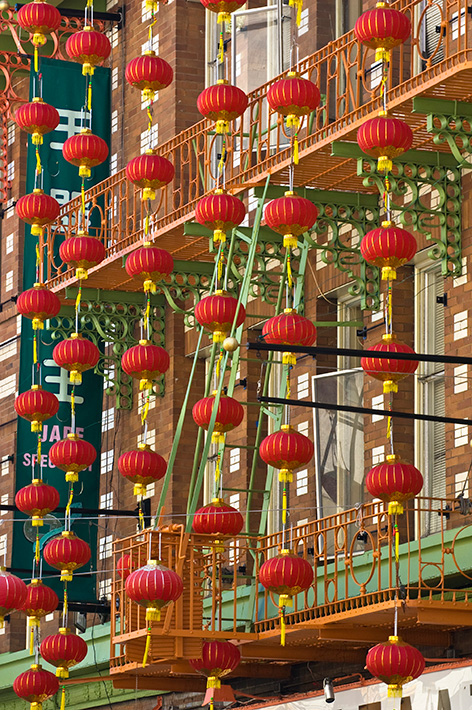 I'm not gonna tell you what to do while in the bay area. Too many options for me to list here, and too many travel blogs covering the subject. All I did was trying to show my wife the life I had here and what was left of it.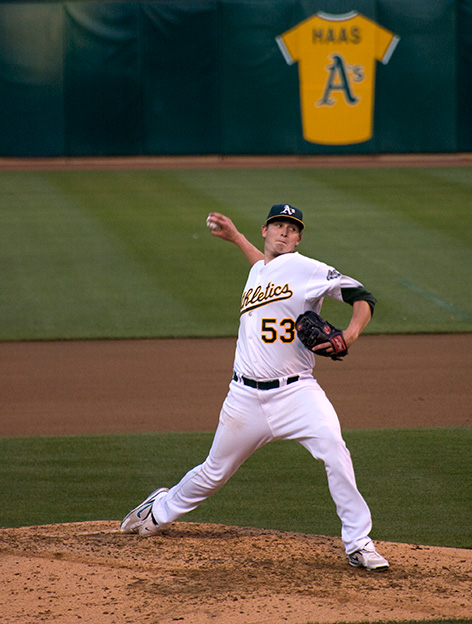 However I can tell you where not to stay, the Oakland Marriott. I picked it because it was a lot cheaper than a decent hotel in San Francisco. Yet it turned out to be very disappointing. Cheaper is a good thing, unless you have to pay extra for everything you expect in a decent hotel, which in the end brings the bill to a higher amount you would have paid if you had stayed in San Francisco ! For starter, parking is 40 $ for the night, while it's free on the street and there is plenty of space for us to park. The wifi, even a bottle of water, and the list goes on and on. A far cry from what their numerous tv ads would like you to believe.
---
Day 13.
On Highway 1. From the Bay to Cambria.
Highway 1, all along the coast taking us back to Los Angeles and the end of our trip. We have planed a couple of days to enjoy it fully, and we will sleep tonight around the Hearst Castle in San Simeon. The road is listed as one of the most beautiful drive in pretty much every book and webzine dedicated to the subject. The old capital Monterey, Carmel, Big Sur, Morro bay, San Louis Obispo, San Simeon, Etc…
All deserve our attention, as well as the magnificent stretches of road in between, where we cruz along the cliffs overlooking the Pacific Ocean. Stunning wild beaches shared by wildlife and local surfers, well preserved Spanish missions to visit, Arty communities, world renowned wineries… So much to see in so little time. Fortunately, unlike the northern stretch of road we did driving down San Francisco from Eureka, this part is enjoying clear skies and offering endless views on the ocean.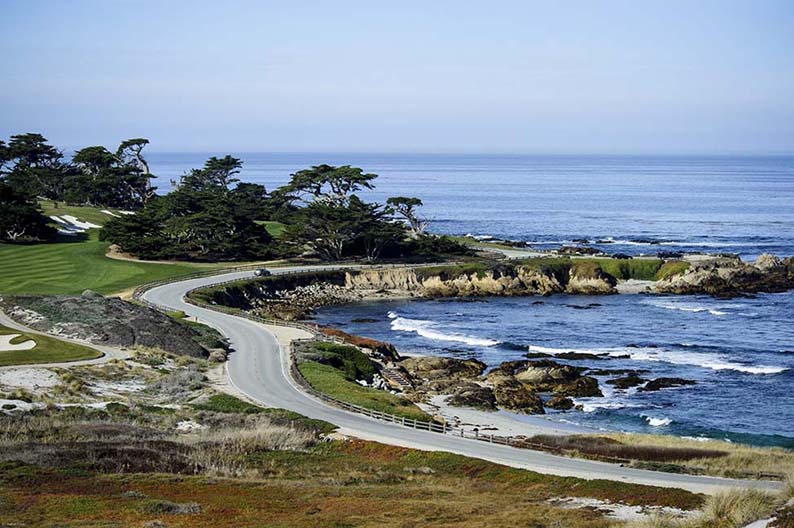 The first notable stop for me is in the town of Pacific Grove, right below Monterey. A magnificent coast line, charming victorian houses, the Point Pinos lighthouse, and countless Monarch butterflies (it's the emblem of the town) who migrate here between October and February. Follows the 17 Mile Drive via Pebble Beach, all the way to Carmel. One of the most scenic drive of the day, along coastal cliffs, pebble beaches, giant cypress trees.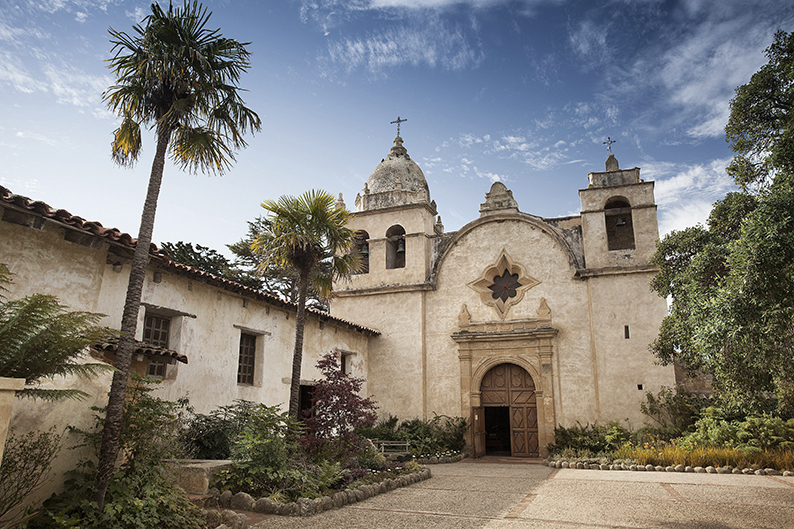 Next is Carmel-by-the-Sea, and the famous San Carlos Borromeo del Rio Carmelo Mission, more simply known as the Carmel Mission. Built in 1770, the building is a perfect architectural example of the California Spanish style found throughout the state. It was back then, a vibrant center of the catholic faith, supervising the rest of the missions spread in this new found territory.
Once out of Carmel you'll enter the Point Lobos State Natural Reserve. Another testimony of the astonishing beauty of the area. Cypress forests hanging on the cliffs, sea Lions warming up to the sun rays in isolated coves. It's a good idea if you find the time to walk along sea Lion Trail or the Cypress Grove Trail to get a sense of what Heaven must look like.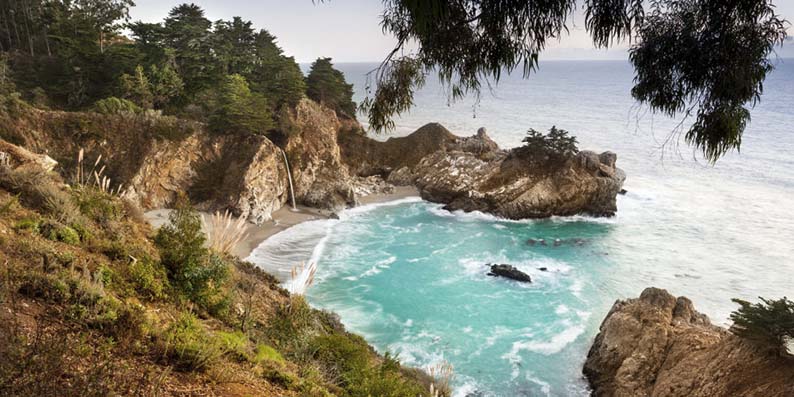 This feeling of amazement will stay on as we drive down the Big Sur Coastline. The air is crisp and the surf is strong. We take regular stops just to feel the fresh saline air. In Big Sur, we look for remaining signs of Jack Kerouac and the beat movement, Henry Miller, and all the other writers and artists that came to this enchanted natural beauty to find inspiration. Well preserved thanks to the Andrew Molera State Park, you can again enjoy nice walks along the trails and the beaches.
The rest of the day is spent driving down towards Cambria where we have reserved a room at the Cambia Beach Lodge. Every turn is a tribute to nature, to beauty, to marvel, where you would like to stop and take a picture, jealous of those living here.
Directions & Essentials
THE DRIVE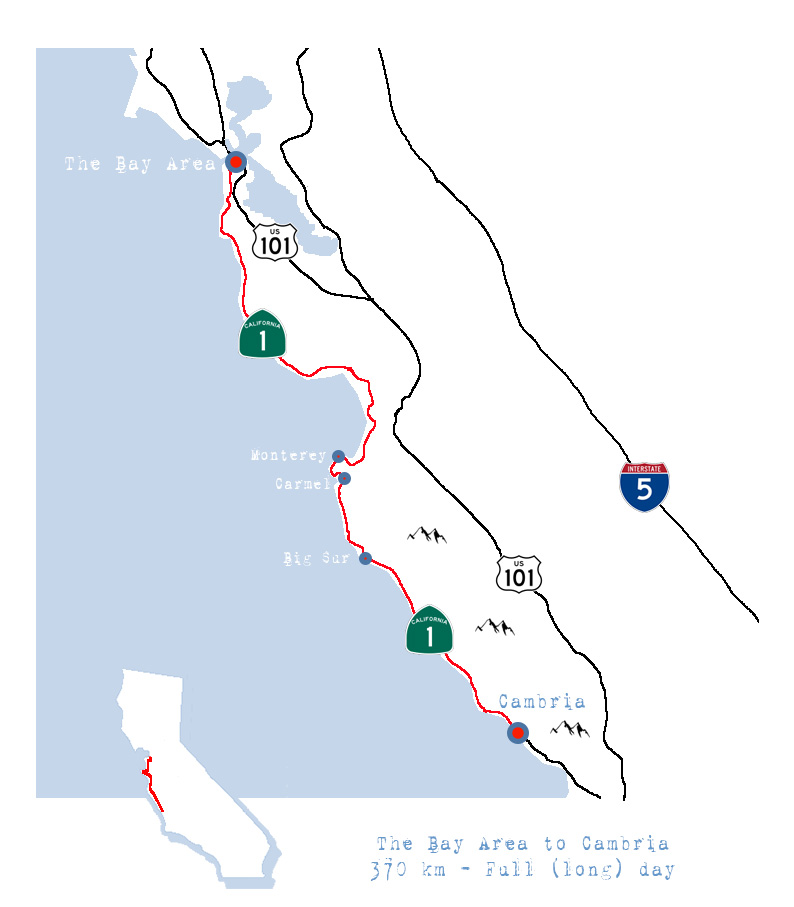 Simple , Stay on Highway 1 all the way to Cambria !!
Well almost. Get off in Monterey to reach the 17 miles drive all the way to Carmel by the sea, then get back on Highway 1. If you left the bay area late because of morning traffic or a late breakfast, you can skip the 17 miles drive in order to reach Cambria before it gets dark. Your call.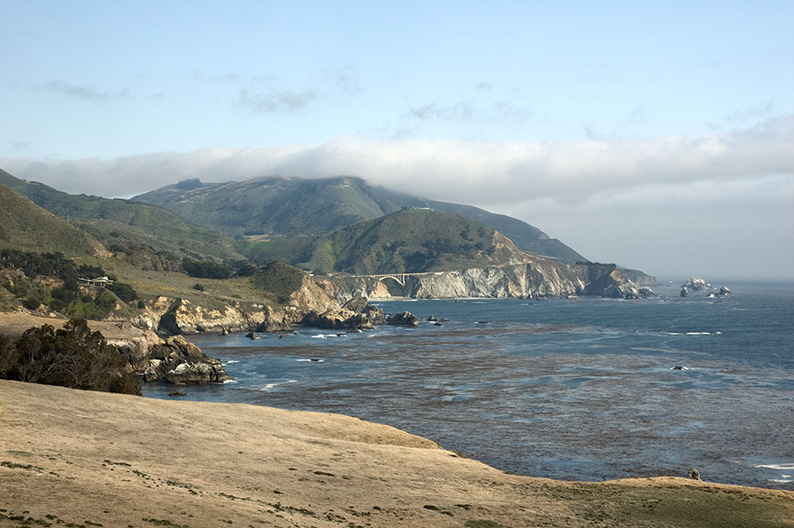 For informations on Highway 1 conditions, check with CALTRANS for traffic conditions first.)
TO DO
Pacific Grove for its victorian houses and Monarch butterflies
Point Pinos Lighthouse
The 17 Miles Drive
Carmel by the Sea Spanish Mission
Point Lobos State Natural Reserve
Big Sur Coastline
Andrew Molera State Park
PLACES TO STAY
Cambria Beach Lodge.
6180 Moonstone Beach Drive
Cambria, CA 93428
phone: +1 805 927 4624
fax: +1 805 927 7003
email: hello@cambriabeachlodge.com
From 130$ to 200$ for a standard room depending on the days and the season. But we just paid a 100$ as a late booking.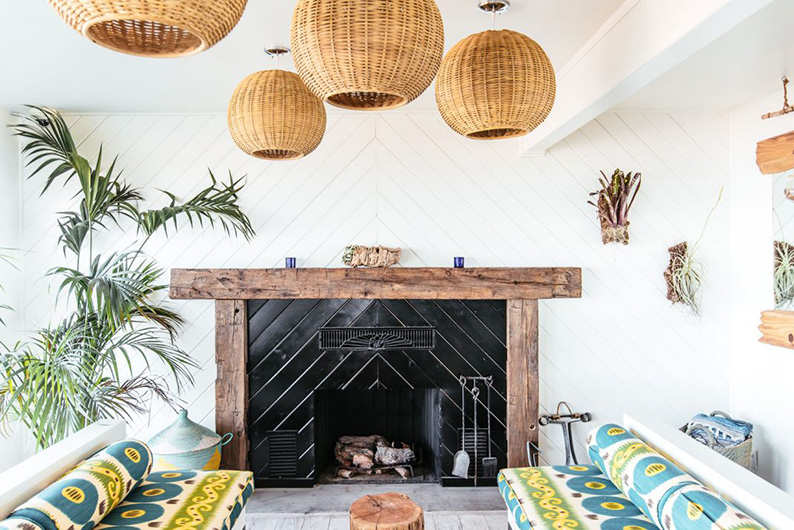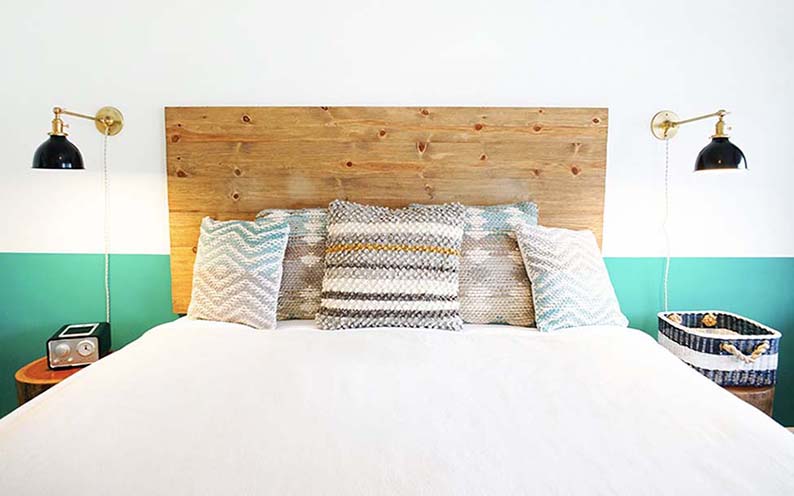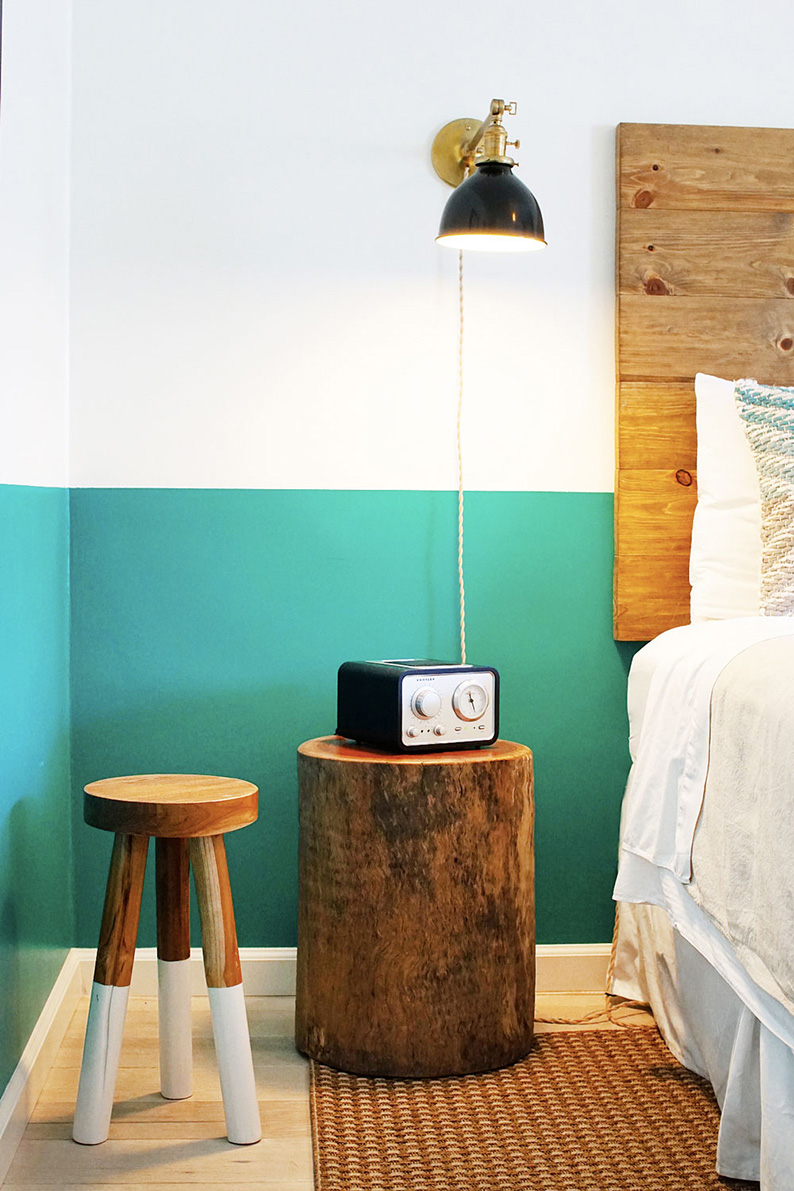 Fantastic place by the ocean, simply renovated recently with taste, one of our favorite choice on this trip.
---
Day 14.
On Highway 1. From Cambria back to LAX.
We stay at the Cambria beach lodge (see above) Wonderful little motel by the beach, just renovated with taste and simplicity. Loved it despite the walls being a bit thin.
In the early morning we take a walk on the beach as the fog begins to clear. Surfers waiting for the perfect wave, and to our delight, whales playing close enough to the shore for us to see.
We head down to "town". As stated in Wikipedia, Cambria stands for Whale in Latin. Not a surprise after the show we just enjoyed earlier on. Like many of those seaside villages you can feel the arty vibe and past influences of the Hippy movement. Great restaurants, great little boutiques and a fantastic wine store showcasing some of the best products from the local wineries near Paso Robles. Zinfandel mostly, but also Cabernet Sauvignon and Merlot are grown here and rapidly gaining international recognition.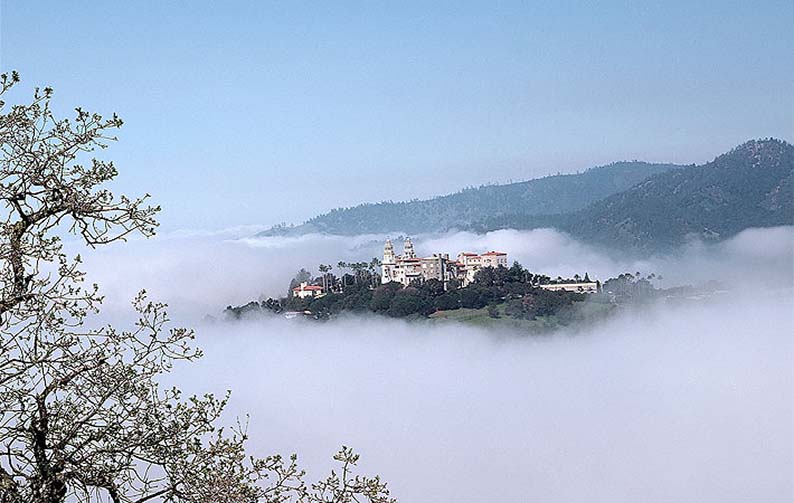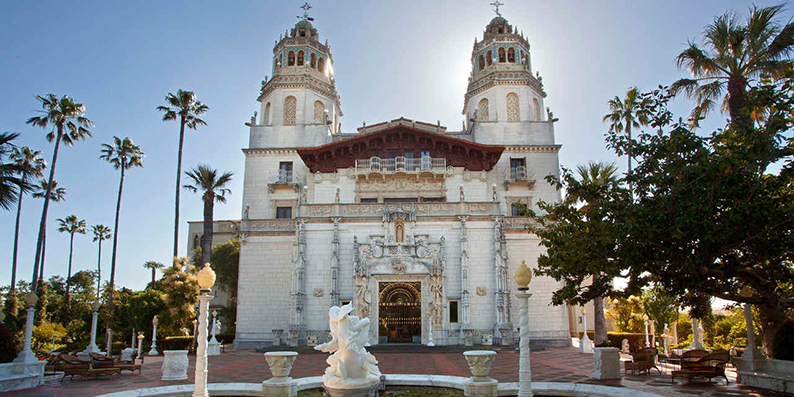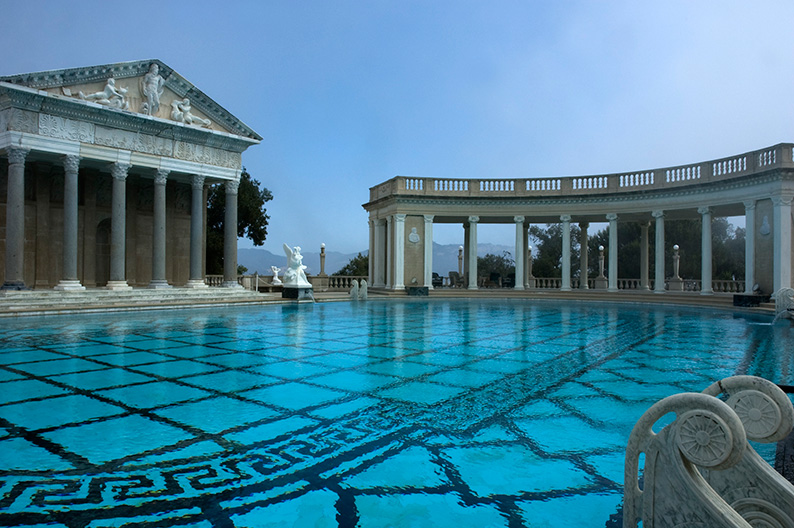 Our first main attraction of the day is the Hearst Castle, sitting on top of a hill (La Cuesta Encantada) overlooking the Ocean near the town of San Simeon. The old property of San Francisco newspaper magnate William Randolph Hearst, this ranch is an extravagant, yet elegant, mix of various architectural influences, ranging from Spanish adobe to Venetian to Moresque, where the tycoon could entertain his guests. A never ending project overseen by architect Julia Morgan, that started in 1919 and continued till Hearst left in 1947, the estate is now owned by the state of California and can be visited. It's a cultural must stop along the coast, but it can be very crowded during the summer.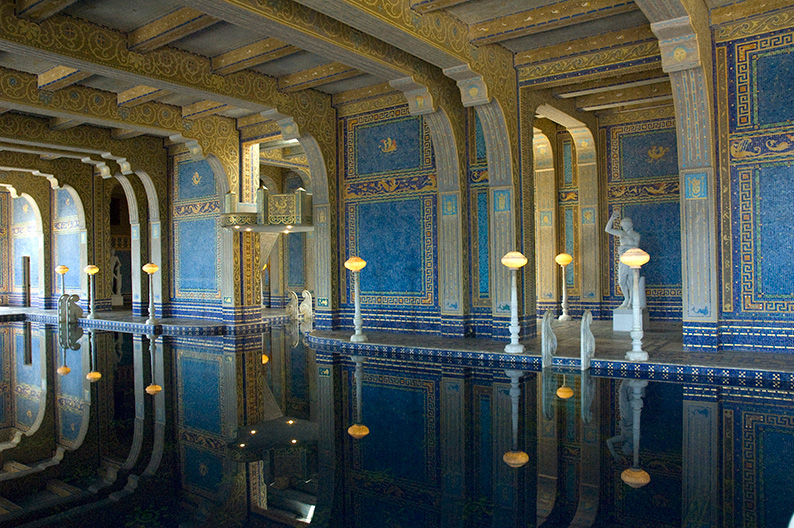 Our next cultural stop, the last one on this trip, is Santa Barbara Mission. (You can actually take on an entire trip dedicated to the California's missions by following the The California Mission Trail, which takes you through 21 settlements along the State) Santa Barbara is one of the best example. Erected in 1786, then rebuilt in 1833 and 1953 because of earthquake, it is one of the most visited. Its Architecture is characteristic of the California Adobe style, very popular with other Santa Barbara public buildings.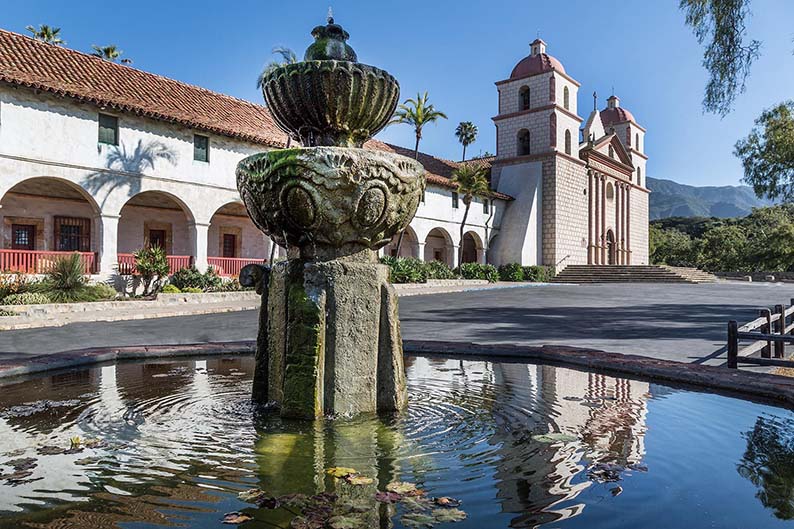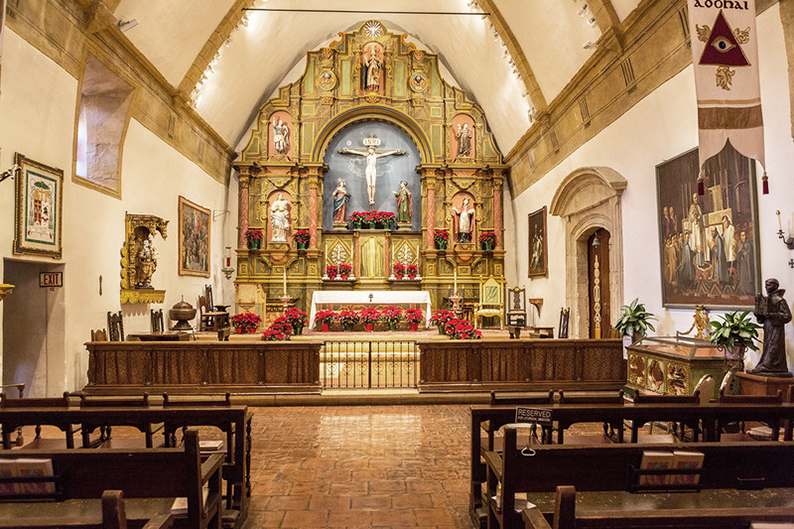 Directions & Essentials
THE DRIVE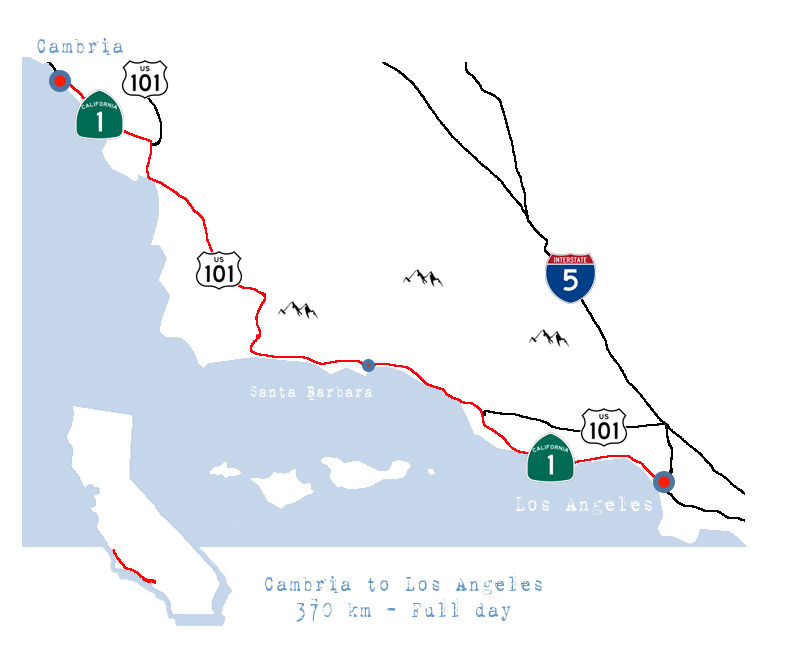 First go back on Highway 1 direction north all the way back to San Simeon in Order to visit Hearst Castle. Once done with the visit head back south on Highway one all the way to San Louis Obispo. Catch, Highway 101 South all the way down to Ventura, where you'll take back Highway 1 all the way to Santa Monica. From there good luck with local traffic on your way to your hotel. (It's better to arrive in LA late to avoid the craziness of rush hour.)
Check with CALTRANS for traffic conditions first.
TO DO
Hearst Castle
Santa Barbara Mission
---
Conclusion.
Santa Barbara was our last stop on the fabulous road trip. One that took us all around this beautiful State. From deserts, through canyons, mountains, volcanoes, ocean coastlines, vibrant cities and ghost towns… Two weeks was not enough, but even a life time wouldn't be enough to see it all and appreciate all the wonders this land is blessed with. A reason to come back, again, and again, and see each time a little bit more.
I can't say what my favorite place in California is. All of it is amazing. However I can rank our favorite places to Stay.
In first place; the PioneerTown Motel in the Yucca valley.
Second place; the Cambria Beach Lodge on Highway one.
Third place; The Carter House inn in Eureka.
Enjoy, have a great trip and we look forward to your comments.