France is NOT an off-road country. The government taxes heavily polluting vehicles and local authorities ban all off-road vehicles on their communal trails. Wild camping, understand setting up camp outside designated campsites charging you for the night, is illegal. But above all those mentioned legal reasons we could debate about for hours, the truth is there are not that many trails worth exploring in France.
Yet, we were surprised to see how popular the Off-Road Fair taking place in the beautiful French Alps' village of Valloire is. For its 17 edition, on top of the 150 official exhibitors, the fair organizes savvy workshops, where you can learn about all sorts of things related to the off-road activity, as well as outings, in the otherwise forbidden surrounding mountains, for those wanting to test their vehicles and skills. Like the previous years, a very large public of enthusiasts from many neighboring european countries is coming to check the latest trucks and gears on display. Off course it ain't the Las Vegas SEMA Show or the Overland expo in Arizona, but given the French situation I just mentioned, it is still very impressive and well worth the trip.
Here is what caught our eyes as we strolled around the fair.
The off-road tour operators.
Because it is so complicated to enjoy your favorite activity in France, most off-road enthusiasts have to travel abroad to get a real taste of adventure. But as it is often complicated to venture alone in foreign countries, a lot of people prefer to follow a trusted guide, who will lead them safely through the best those countries have to offer. Portugal is the closest destination offered, it not only has great trails passing through a stunning nature, but also reveals a very rich history with the numerous towns and villages you'll cross along the way, not to mention fantastic food and wines. To no surprise, North Africa, and Morocco in particular, remains another very popular destination. Close enough, offering a mix of desert sands, mountains, and great cultural stops, it is a must for whom seeks a radical change of scenery. For those interested in colder setting, Iceland is another great package. Finally, for those looking to explore further, Africa, the Silk Road, and even Chile, to name a few, where on the menu.
Here are the ones we talked to for those specific destinations (they cover others as well off-course):
Portugal
Jipaventura
North Africa and Namibia
Imagine Raids 4×4
Iceland
Geko expeditions (check the rest of their offers, well worth your time)
Nord Sud Evasion
Chile
Inventum Adventures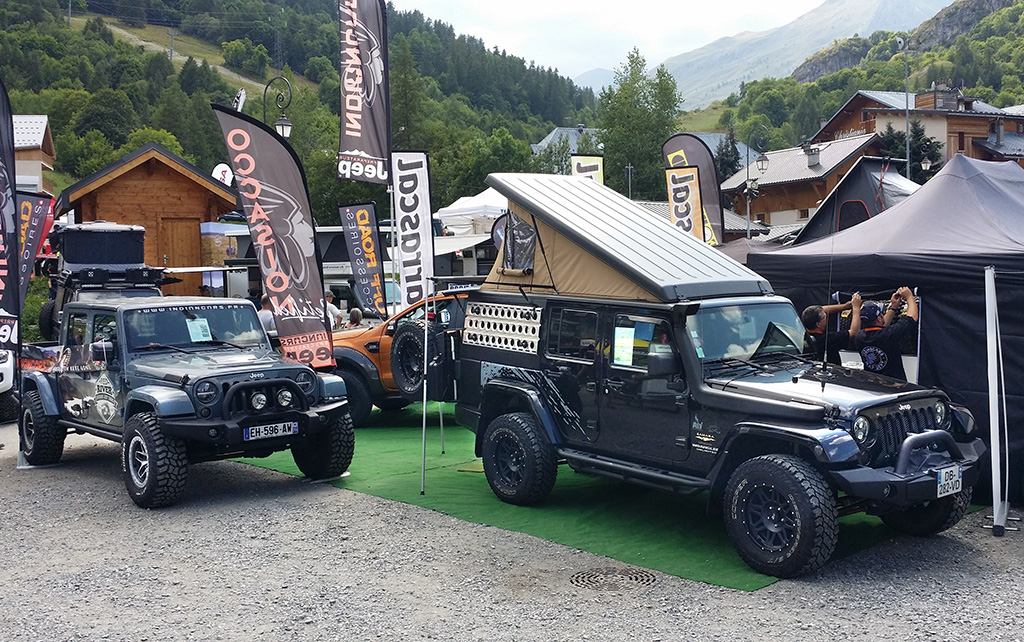 The Campers.
Europeans are big on camping. Travel the continent's roads during summer and you will notice the many trailers and mobil homes flocking towards sunny destinations. It is no surprise the concept would sooner than later transfer to the off-road industry. Vehicle customized arrangements, turning standard trucks into ultimate off-road campers, is turning into a phenomenon. On display where some very impressive transformations. If you are a regular reader of Lost and Curious you will know how we prefer the minimal approach to camping, but there is no denying that if you can afford that kind of comfort, there is nothing wrong with indulging yourself. Make sure to check them out.
The one that we had a great exchange with is Tom's Fahrzeugtechnick Expedition Vehicles.
The roof tents.
Another busy sector, and one we were very interested in, is the roof tent option. The one manufacturer we really wanted to see is new comer Ikamper and its Sky 4X tent. And, even though we have not tried it yet, what we saw made us even more interested. Looking great and sturdy, feeling comfy and very easy to open and close, with available options and accessories depending on the weather and seasons you'll be traveling to, not to mention a great outside extension, all that for 3.499 € + 789 € for the extension (all taxes included), it is definitely worth taking a closer look.
In France it is represented by Point S in Voiron
voiron@points.fr
The Specialists.
I will mention the two that I know. Indian Cars and ZZ Kustoms, both specializing in Jeeps. Indian Cars is base in France near Paris, while ZZ Kustoms works out of Switzerland. Off course if you have a Toy or a Rover, you might look further on and pass on your feedback to me.
The gears.
Front Runner of course, their main booth being a bit out of the way from the main alley, but given the quality of their products, well worth checking out. Euro 4×4 parts being the leader in the market had a very complete display and available people to answer our questions precisely.
A special mention for a small but very important product, distributed by hotwatertravel.com, a clever portable shower.
Communication.
We went to check out the two main GPS providers. Globe 4×4 And Navigattor. The concept is simple. They provide a GPS and maps to go with it. Those maps can be custom made based on your need and destinations. And this is the real advantage of the product. A gps device, like a Garmin for instance, works pretty well when you have a downloaded track to follow. However, once you have to change course for whatever reason and need to reconfigure your path, a precise map (or google earth) is vital. If you are in Europe, your Garmin or any map-app on your phone with a good connection will help you find the right way. Only, if you are in a remote location without internet connection, you won't be able to use Google earth, and if you are in a remote location without serious maps, you won't have precise enough informations to make an "educated" decision. Globe 4×4 and Navigattor claim to be able to help you in those situation. I have not tried, and would need to test those products to give you my opinion on their efficiency, but it is worth your time to go ask them about your personal needs.
Conclusion.
We stayed for a day, but we feel it would have been great if we could have stayed for more. If you are going before it ends this week-end, plan on staying for at least two days to see it all and possibly enjoy the off-road activities. If you can't go, check the list of exhibitors and go check on their websites what they have to offer.