A former strategic trading post along Wadi Ham, Masafi is known today for its mineral water company, the Friday market and its fort. Not quite a place you would make a detour to visit, but a perfect refuelling stop on my journey.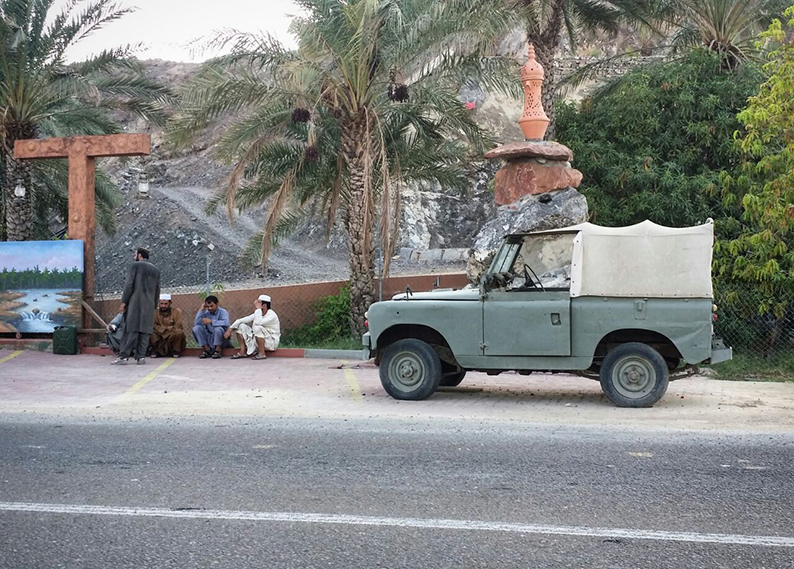 I arrive in Masafi late that same after-noon, after what was a pleasant drive along mountain trails. It even got rather technical towards the end approaching Masafi, with a steep rocky descent into a very small and narrow wadi. Too eventless of a trail throughout would be boring fast.
Entering Masafi feels like entering a small village in Pakistan. I say this with the confidence of a man who's never been to Pakistan.
Masafi sits between two emirates; Ras Al Khaimah and Sharjah. The way they divided some of the mountain areas between Emirates doesn't always make geographical sense. It's the work of an english man who went from village to village asking the locals which Sheikh they knew to be their leader. Based on the answer given, the place was declared belonging to the corresponding Emirate. Therefor the patchwork we have today.
Being strategically located on vital ancient trade routes, Masafi was protected by a fort. Part of a defence network along Wadi Ham, the construction is surprisingly small in comparison to other forts near by. Particularly considering how it stands at the intersection of the routes linking Fujairah to the Western Emirates of Sharjah and Dubai. The visit is short. Still it is probably the nicest place to see in town. Freshly renovated, as most of the other stronghold of Wadi Ham, it is interesting for its display of the falaj running underneath, which brings us to the real economical interest of the town, its water !
Masafi is mostly known for its mineral water company, found in every market in the UAE. To think this place, so arid on the surface, can produce up to 90.000 bottles a day is simply unbelievable. It goes to show you how much water lays underneath and how we are tapping into it irresponsibly.
Finally Masafi has a Friday market, which as its name indicates is open each Friday… And pretty much every other day of the year 24 hours a day. It is a perfect place to get fresh produce, but not only; rugs, plants, potteries, cheap souvenirs, you can find a lot of things here. It would be a perfect place for me to recharge on fresh fruits and vegetables, only if I had a cooler with me. I don't. Without it anything will go bad within hours in this heat. It's ok, there are plenty of local vendors ready to sell you fruits and vegetables along the way. They seat under an umbrella, next to their cars, the trunk wide open, full of produces they cultivated themselves.
Why don't I have a cooler ? Why don't I have anything really you would normally find in the well equipped overlanding rig ? Weight is my enemy. The more you carry, the more energy you need to carry it. And this applies to everything in life. "His dream was to achieve a minimum." That's what I would like to have on my tombstone if I had a choice !
Instead I have to find a place to eat among the eateries in town. My culinary options this evening ? Pakistan, Afghanistan, India, Lebanon, Yemen. Nothing purely local ! Oh, and nothing like fast food junk either. No Mac Donalds, KFC, Subway or Starbucks here. No wonder people are skinny!! For me, eating out can be complicated. I'm vegan and I don't speak arabic. Go explain the owner or the cook who wants to please me, and offer me his specialty that it is against my "religion" to eat it ? Not that he wouldn't be able to mix something delicious for me based on my requirements, but having to explain why, how and what is just too time consuming. Lebanese, humus will be perfect.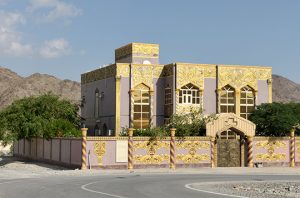 There are five stars hotels in Masafi, but their star rating system might just be off our commonly accepted chart. So as usual I'll find a place quiet in town and sleep in my car, windows wide open. Driving around, looking for the perfect spot, I see fresh new "neighbourhoods" with big houses popping out the ground. A fascinating display of new found wealth not always in the most acquired taste to say the least. Mixing flashy colours and abundant guild, in a desperate attempt to impress and outdo the next one standing. Well to do locals are pushing the barriers of decency, turning what was once a beautiful village sitting in harmony with its surrounding, into an eye sour !