A fantastic place to eat and socialise, just not a place to sleep…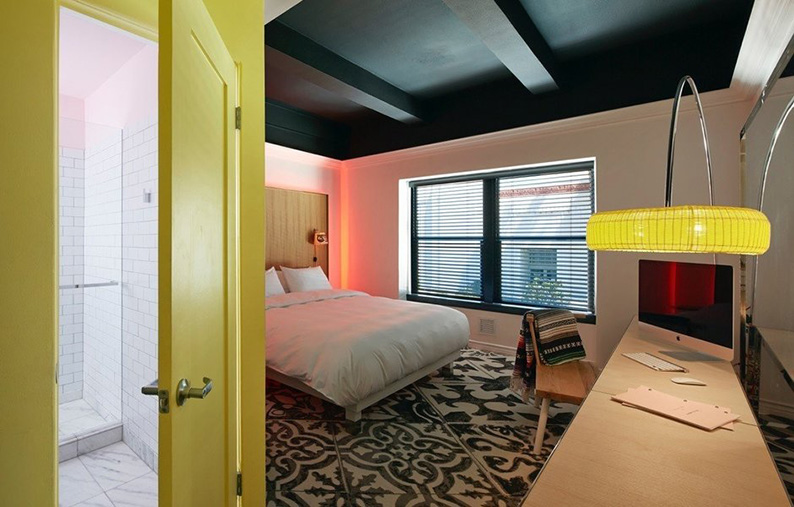 Before I tell you about my experience at the Los Angeles Mama Shelter, let me give you a little bit of history behind the concept.
The Mama Shelter idea came about in Paris at the turn of the new millennium, when Serge Trigano decided to team up with Cyril Aouizerate and star designer Philippe Starck to create a cheap, accessible, urban hotel. One that would break all the codes, and play to their advantage what was considered till then an absolute no-no for success. The location; far from the town center or any real tourist attractions… The rooms; undersized, near empty, furnished and decorated with ultra cheap fixtures and materials… The menu; as basic as it gets… In other words, nothing on paper to attract potential consumers, or worst, even investors. As a matter of facts, nobody believed in it, and it took 8 years to finally get the project off the ground. But, to everybody's surprise, it was an instant hit ! Why ? The design of course, all of it at such an affordable price ! Starck, a star attraction on its own, had managed to use all the constrains to make it unique, the place to be, without going broke for it. People, DJ's, models, and all aspiring trend setters from the gentrified boroughs of West Paris where now to be seen at Le Mama ! And as every success tends to do, the concept has since been replicated in few more places, Los Angeles being one of them.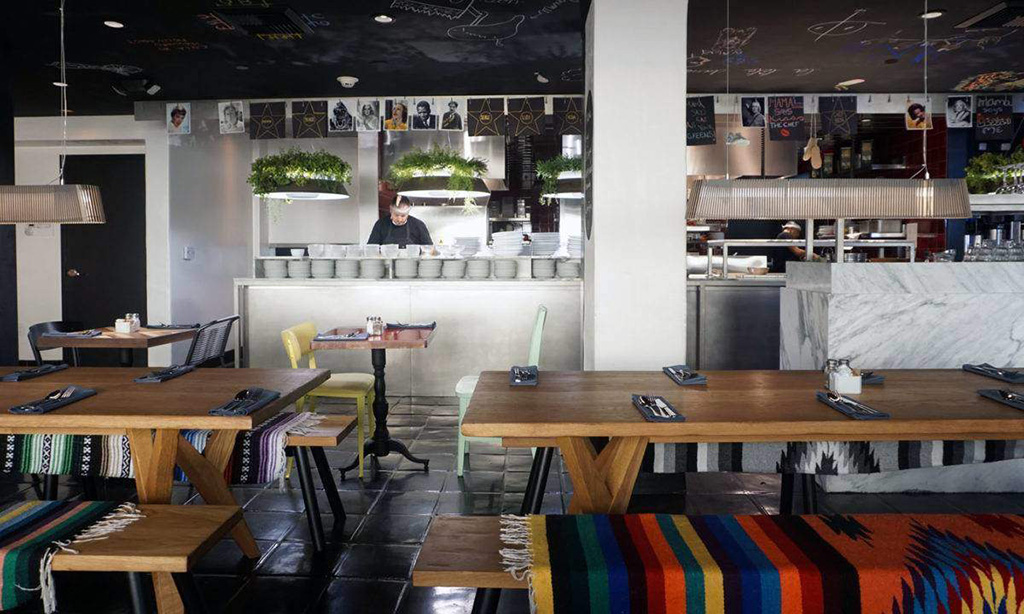 Having myself been at Le Mama in Paris many times, I was confident my stay in LA would be a pleasant one. From the first look, you get the original vibe from the "Mother Ship", if I may say. It's definitely trendy and fashionable. The "crew" is very much what you would expect out of a Hollywood crowd; young, tattooed, culturally diversified… You get my point. And that goes to same for the patrons mingling around the bar and restaurant.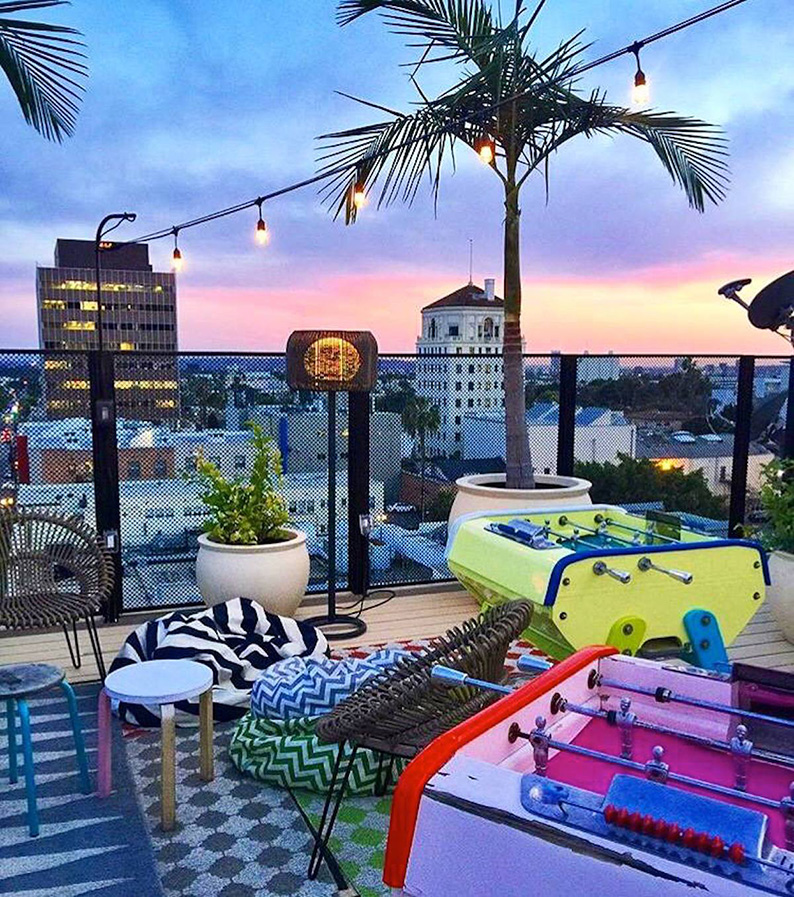 Now the first noticeable difference comes with the rate for our room. It's no longer cheap. At 200€ a night on average, we are at twice the amount I'm used to pay in Paris. Yes, the rooms are bigger, but the decor is still basic and the materials on the "affordable" side. The room being bright, as opposed to the dark ones in Paris, you notice the cheap side of it far more. The other unfortunate difference is the acoustic ! it's pretty loud in here. To the point ear plugs won't help. Not what you are hoping for after a long 16 hour flight to LA.
Hotels should start to realize that their main purpose is to provide sleeping accommodations. Sounds obvious ? Think again !
Yes, it's nice to be trendy. 
Yes, it's nice to be stylish and fashionable. 
Yes, it's nice to be young and hip. 
Yes, it's nice to have a cool restaurant. 
Yes, it's nice to have a night club 
catering to the young and wannabe famous. 
But in the end, what really matters 
is a competent staff, 
comfortable beds, 
clean and quiet rooms. 

If you don't have that, 
you're not in the hotel business, 
you're in the entertainment industry !
After complaining to the management, I request to be moved to a "quiet" room, as we had originally requested. Experience as told me that it's a waste of time. If you didn't get it on arrival, chances are the second option given to you won't be any better. And you bet, that did not fail. The "quiet" version of a room at the Los Angeles Mama Shelter is on the fifth floor right below the Dj booth of the roof deck ! No comment !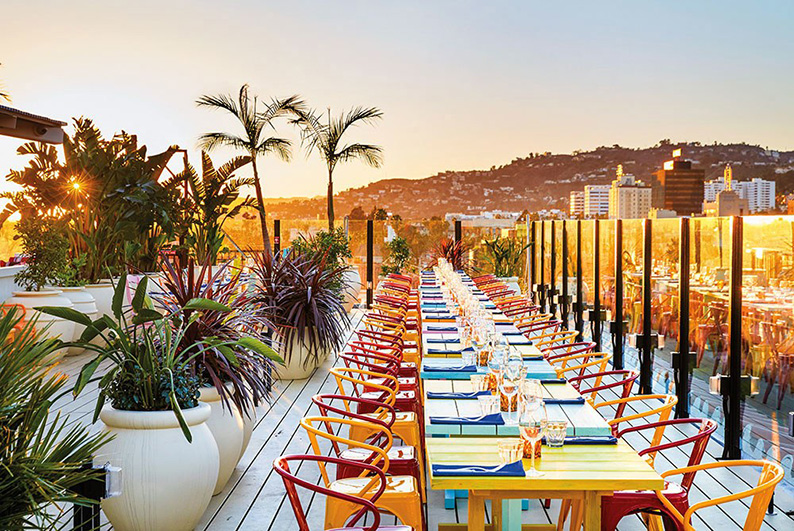 At least in America bars close at 2 am, so you can still find comfort in the idea that you'll have a shot at peace for at least half the night, the one when jet lag takes over and finish the jobs !
Finally, the other thing worth noting is the absence of room service. I get the original concept where you did cut corners in order to provide the cheapest price possible for the room, but not here in LA with a 200 € price tag. You're no longer in the cheap darling. Me having to go down to the restaurant, order, wait for my food and climb back up to my room with my platter for diner isn't cool. Yes, the menu options where nice, and you had Vegan dishes for me to enjoy, but that won't make me forget that I had to waist 30 minutes waiting for it on a stool, while I could have been resting in bed !
Now that is not to say that the Mama Shelter is entirely bad, I just don't recommend it if your looking for a quiet place to sleep. For the rest it's actually great. Great looks, vegan options on the menus, great local crowd, fantastic roof deck, all of it in a great location… As I said earlier, a great place to hang out, not one to stay the night !
The Mama Shelter
6500 Selma ave
90028 Los Angeles CA
(323)785-6600
Price $$
(Basic room around 200$ + taxes)
This hotel & restaurant review is part of a broader travel guide covering California. For the entire guide, click here.