Down from Misfat, I head towards the newly re-opened Al Hoota cave. A 2 million year old underground cave at the bottom of the mountains with two main attractions. I should say three, if I include the low cool temperatures inside, which sounds so delicious to me right now. So first, its underground lake which grew so big a few years back they had to close the cave. It's now back to "normal" and the water is divided in four small water reservoirs in the back of the cave, and the main lake. You can visit about 500 meters of the 4.5 kms of the cave. It's a bit small but yet very impressive. The second main attraction is its "Lion", a large stone formation clearly looking like a lion's head overlooking the visitors as they go through the lighted path.
Next stop on this cultural excursion, the Bahla Fort. All those visits are very near one another, making this part of Oman so attractive.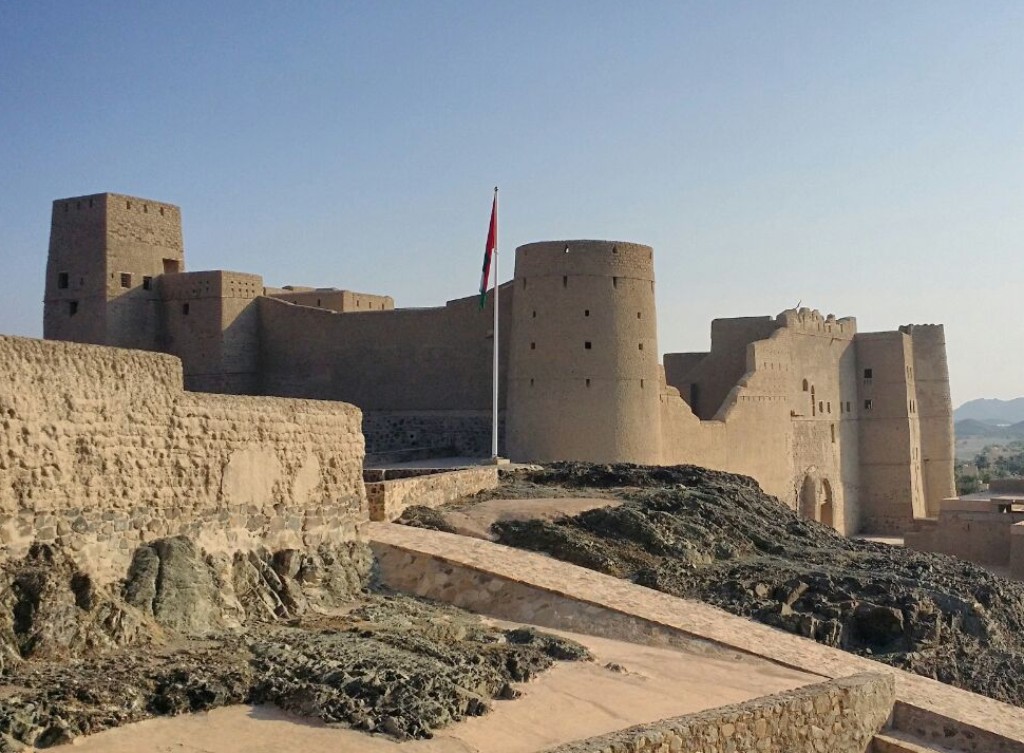 To quote Wikipedia, The fort "is one of four historic fortresses situated at the foot of the Djebel Akhdar highlands in Oman. It was built in the 13th and 14th centuries, when the Oasis of Bahla was prosperous under the control of the Banu Nebhan tribe. The fort's ruined adobe walls and towers rise some 165 feet above its sandstone foundations. Nearby to the southwest is the Friday Mosque with a 14th-century sculpted mihrab."
Don't expect much information on site regarding its history or a local tour guide to explain it to you unless you book it in advance. You'll have to do your research on your own, before or after. Don't be afraid of bats either, as they seek the shade and cool temperatures provided by the interior rooms during the day. (You shouldn't be afraid of bats regardless, and try not to disturb them as they rest waiting for the night).
The fort is beautiful and has been restored very well, without being overdone, as it can sometimes happen. It's also amazing to see how, without any air-conditioned units, just by smart architecture, you can have a comfortable temperature inside despite the blazing summer sun.
It's now 4pm. The fort is supposedly closing, but a very large group of german tourists has just walked in for a private tour. I have to say, I'm amazed by the number of german tourists in Oman. So much that twice already locals have asked me if I was german and seemed disappointed I was not. Since I don't consider myself from anywhere but everywhere, When asked where I'm from, I tend to pick up names of isolated islands in the Pacific or simply make up Lalalands and wait for people's reactions. It shouldn't be where you're from, but the sum of all the places you have been.
Anyway it's decision time. I want to be in Nizwa tomorrow early for the animal market, but I don't want to sleep in the valley and suffer from the heat. I have to find a campsite back up in the mountains, that is close enough so I can get there before it gets dark. I know a place that will fit perfect, but I have no time to waist if I want to reach it on time. Let's go.